A huge welcome to another Baking Round up fellow bakers and those looking for a little crumb filled inspiration. I hope you are all well and still enjoying the summer. It has certainly felt like a longer one this year, due in part, I am sure, to the school closures and early warm weather.
However I am having to remind myself that the children are actually starting back to school soon and therefore I am trying to spend as much time with them as possible before it is all too late and I will be missing them as much as they drove me to distraction in the first place! We did manage to get away for a week in the caravan early on but I found it a strange old experience and should probably have just stayed in the garden.
Quite frankly I would have been lost without our garden this year. Although I have had to force/persuade the kids out there, they have enjoyed it too and I have finally managed to grow some vegetables, something I have been meaning to do for EVER. Amazingly some have borne fruit/veg. I'm amazed and more than a little proud. Go me.
I also have two much loved Apple Trees in the garden that are positively weightly with a bumper crop of both cookers and eaters. Every year I make stewed apples with all that I cannot cook with straight away to use later, and I love the whole process from start to finish. There is something extremely fulfilling and organic about baking with seasonal produce. I love the eating it all part too, obviously.
So I thought it would be a fabulous help to us all if I could round up some seasonal apple baking recipes, what with it being the start of the apple season. I would love to increase my seasonal baking repertoire, as well as showcase all the fabulous frugal baking my fellow BritMums bloggers have been up to.
I shall begin as we started, with a whole lotta apple love.
This Apple Crumble Cake is one of my favourite bakes of all time. Spiced with cinnamon and heavy on the buttery crumble topping, my stewed apples still manage to remain the star of the show.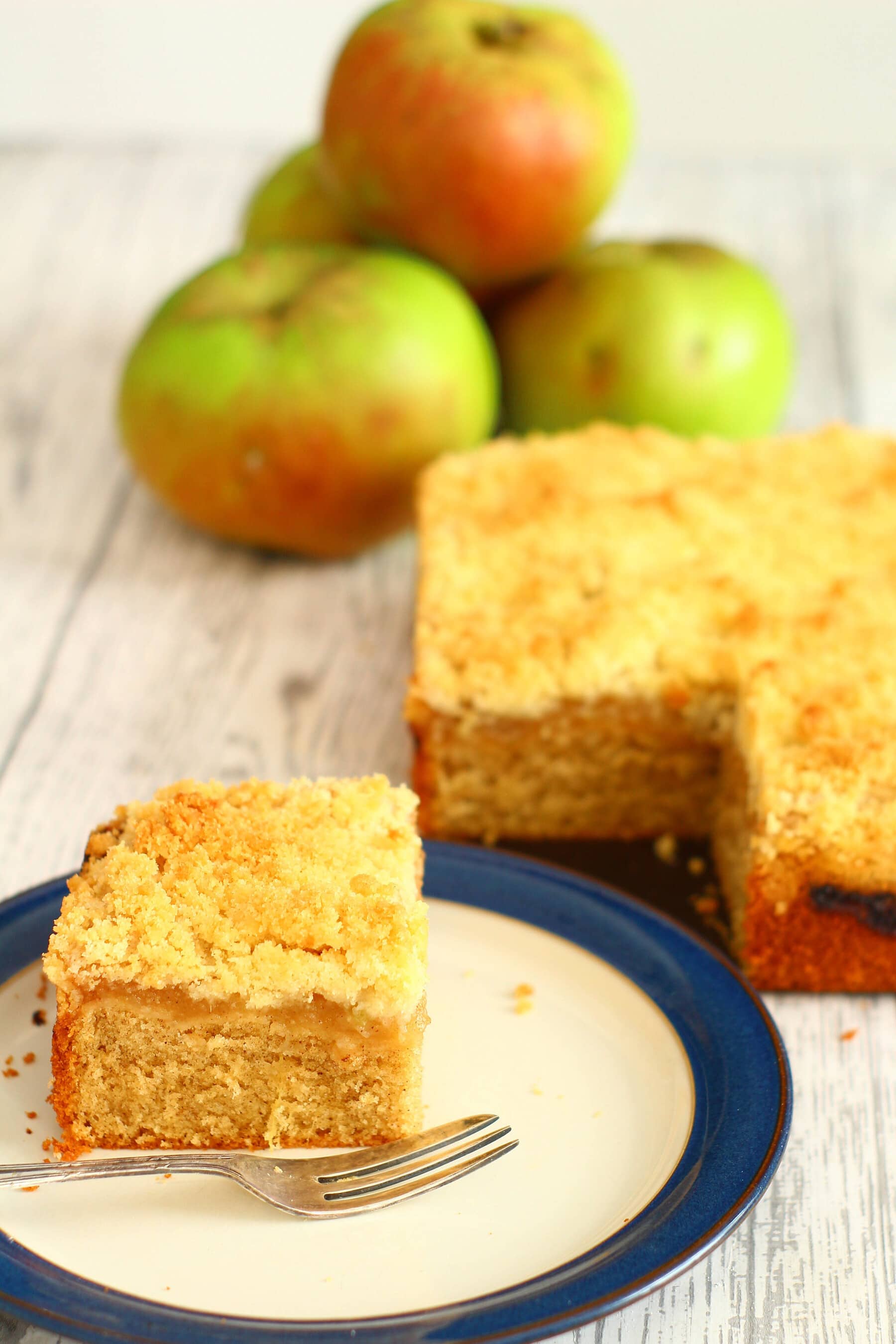 Searching For Spice has her epic Apple Cinnamon and Caramel Cake. A show stopper of a cake and full of delicious flavours, a perfect summer treat. Two layers of cinnamon apple sponge cake sandwiched with cinnamon buttercream and caramel then topped with more caramel.
The Baking Explorer has another real show stopper of a cake with her Spiced Caramel Apple Bundt Cake. Made with brown sugar for that deep caramelised flavour, plenty of Autumn spices, chunks of fresh apple and drizzled with caramel sauce. Apple Boom.
Jacqui from Recipes Made Easy has more of an everyday apple bake with this Easy Apple and Cinnamon Traybake. With lots of pieces of apple, this apple and cinnamon traybake is quick and easy to make and packed full of flavour. A perfect everyday treat that is made for sharing.
Gluturama has another everyday bake with her One Bowl Apple Cake. Ever so simple to make and delicious using seasonal eating apples. Gluten free, dairy free, egg free and vegan.
Muffins are another great way to showcase apples. I have my own Spiced Apple Muffins recipe here. A real family favourite and great for picnics and lunchboxes. Loaded with cinnamon and sprinkled with sugar too. Positively dreamy.
Jo's Kitchen Larder has her own version. Apple and Cinnamon Muffins with cinnamon sugar topping & delicious chunks of apples. Super simple and almost healthy!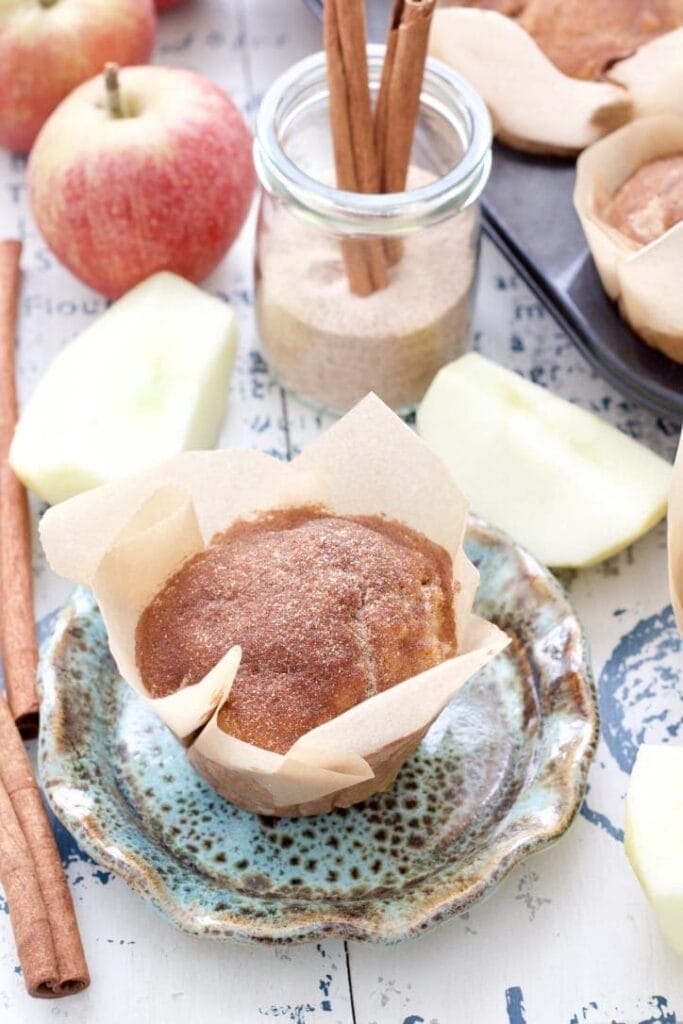 Supergolden Bakes makes this clever Apple Cinnamon Bread. It is quick and easy to make, fragrant, moist and delicious! Made simply with applesauce/stewed apples and scented with cinnamon and nutmeg, it will make your house smell amazing. Dust with cinnamon sugar and prepare to fall in love…
Easy Peasy Lemon Squeezy also uses up her stewed apples in a loaf cake with this Apple and Fruit Loaf. She advocates freezing pulp when apples are plentiful so that you can make this beautiful and easy cake all year round.
Fab Food 4 All has a beautiful Blackberry and Apple bake . A deliciously quick to make spiced Blackberry and Apple Loaf which you can eat sliced on its own or with butter.
Sticking with the blackberry and apple combo and similar to a clafoutis, this buttery and fruity Apple and Blackberry Cake from Jess Eats and Travels is perfect served with some fresh single cream and a cup of coffee!
Another Appley Dessert here from Lavender & Lovage. Apple, Bramble & Pear Traybake. Autumn fruits are brought together in a delightfully easy to make tray bake. This is delicious in the school (or work) lunch box as a seasonal treat, as well as being wonderful when served as a hot pudding with cream, custard, ice cream or crème fraiche.
Another dessert here with this fabulous Apple Crumble Cheesecake from The Baking Explorer. It has all the delicious flavours and textures of both an apple crumble, and a cheesecake! The biscuit base, crumble and apples are all laced with cinnamon and spices, making this dessert ideal for Autumn. I just have to make it and soon.
Only Crumbs Remain has this stunning Apple and Hazelnut Vacherin which consists of crunchy layers of hazelnut meringue sandwiched together with a spiced apple and sultana filling and fresh cream to make a spectacular dessert.
Tales From The Kitchen Shed has another apple pud here that just blows my pudding mind. It's genius and one that is now firmly on my "Must Make It" List. Self Saucing Blackberry & Apple Pudding – A light sponge blanketing a layer of blackberries & apples in its own pool of custard. The perfect one pot Pud!
Apple Pie must surely be included here too. I have a most delicious one along with the story of my daughters birth. It's a comical tale but exactly what happened. I can't quite believe it even now….. You couldn't write it but I did. Apple Pie.
Jess Eats and Travels has an Open Apple Pie. An apple pie without the fuss of creating the pastry lid. This quick and simple open apple pie recipe will impress any last minute guests.
I just had to end this round up with the humble Apple Crumble. Surely one of the best ways to eat up your apple crop. Here is my divine Apple Crumble recipe with just the best nubbly and crunchy crumble topping. It is a great dessert for feeding a crowd and can be made ahead and reheated for easy entertaining (or alone in the wardrobe).
Romina's Little Corner has this single portion, easy Gluten Free Apple Crumble using oat flour and ground almonds for something a little different.
Glutarama
has her
Toffee Apple Crumble.
A truly delish flavour pairing. A simple pudding that's easy to prepare and a real crowd pleaser, warning, you may never make a normal apple crumble again, and as this is vegan, dairy free and gluten free.
I hope this has given you lots of food/apple recipes for thought. I have absolutely loved putting it together and can't wait to get in the kitchen….again. Do let me know if you manage to try any of the recipes included here. I love a good old hairy chinwag.
More delicious apple recipes!
Jenny is a busy mum of two, passionate home cook and compulsive feeder. Blogging at Apply To Face Blog keeps her obsession with simple but delicious recipes sated. She is never happier than with plenty of sticky buns in the oven. A true champion of comfort food, easy entertaining and good times for all, even the cook. When there are no more mouths left to feed or sponges to slice, you can find her knee deep in cookery books and hormones.