Let's face it, muffins rock. They are super simple to throw together and incredibly easy to pimp as suits you, sir. They are perfect for breakfast and positively lovely for lunch. A speedy snack on the go and a tasty treat to savour with a cuppa. So I thought it would be a great idea to bring you some of the best sweet muffin recipes I could find from our brilliant food bloggers at BritMums. Not only are these recipes decadent and delicious but packed full of both traditional flavours as well as the diverse and exotic.
Lets get to it.
Chocolate muffin recipes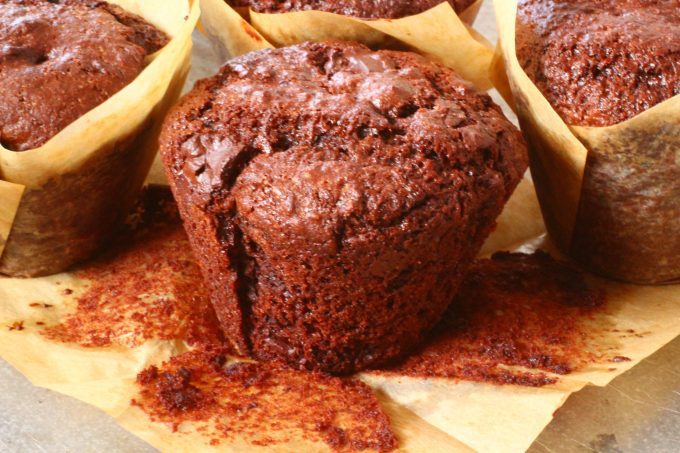 These are my own Double Chocolate Muffins and they are my families' favourite. Damp and chocolatey as heck they always make me glad.
Cooking With My Kids goes one step further with her Triple Chocolate Muffins. They're a delicious bakery style chocolate muffin with the bonus of extra chocolate chunks
Something Sweet Something Savoury has these insane After Eight Chocolate Muffins. Soft, sticky chocolate chip muffins filled with mint chocolate ganache and topped with an after eight chocolate! I gotta make me some of those.
Lost In Food has a more sophisticated take with these stunning Chocolate Pumpkin Streusel Muffins. The sweet pumpkin marries very well with the chocolate and spices as well as giving a lovely moist bake. Who knew?
Donna Dundas loves to bake with Nutella. She says these Nutella Muffins were a massive hit at her house. "They look fantastic, with their cracked muffin tops. They smell absolutely amazing as they bake, they are easy to make, and really, isn't everything better with a big dollop of gooey Nutella in the centre?" I so hear her.
I also have these really good Chocolate Chip Muffins. Heavy on the chocolate chips and vanilla and just wonderfully delish.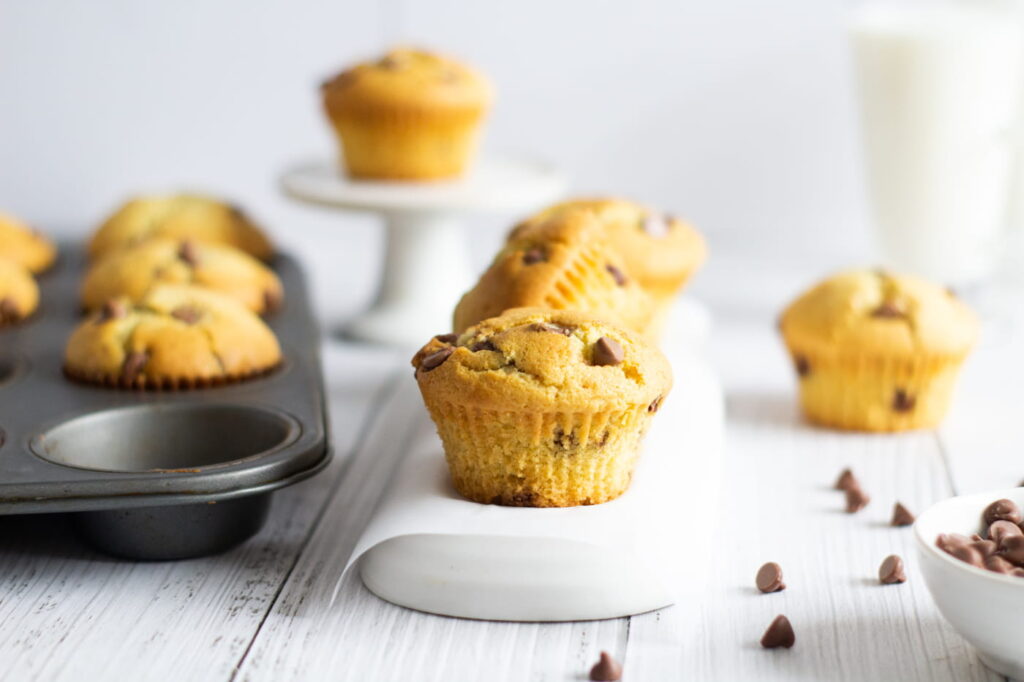 We end our chocolate chapter with The Petite Cook and her Vegan Chocolate Muffins. Moist, with deep chocolate flavour and absolutely fool-proof, these vegan muffins have everything you want. They look flipping gorgeous.
Healthy fruit muffin recipes
I love a fruit muffin. They've got to be one of your five-a-day right? Plus they are great to use up fruit that has seen better days. My Strawberry Muffin recipe is always a summery hit at our house and perfect for a picnic.
Lavender and Lovage has some incredible Rhubarb and Custard Muffins. What a great combo. Roasted rhubarb is mixed with the muffin batter then a goodly dollop of cooked custard is "hidden" in the middle of the muffin before a hazelnut crunchy, crumble topping is added as the final flourish.
Something Sweet Something Savoury has more lovely rhubarbness with her Rhubarb and Ginger Muffins. Soft, fluffy brown sugar muffins with fresh rhubarb, ground ginger and sweet and spicy stem ginger in syrup. I'm dribbling.
Jo's Kitchen Larder's Vegan Rhubarb Muffins are the last of our rhubarb recipes. She tells us, "These easy vegan rhubarb muffins are super moist and fluffy! With added orange zest, ginger & optional crumble topping they're just the best!"
Taste Botanical gives us these beautiful Blackberry Muffins. She says, " Blackberry Muffins are quick and easy to make and are a great way of using this dark, juicy berry! Eat them fresh out of the oven when they are still warm." Yes Please Louise!
Munchies and Munchkins has another delicious fruity flavour pairing here with her Bananatella Muffins. Bananas and Nutella are a match made in heaven and ideal for a breakfast treat.
Recipes Made Easy gives us her clever banana variation and says, "Forget banana bread, these Banana and Tahini Muffins are quicker and even easier to make but taste equally as delicious if not more so."
Tin and Thyme has a brilliantly healthier version with her Vegan Peanut Butter Banana Muffins, made with spelt flour and vegan they are super easy to bring together.
Fab Food 4 All has one of my all time favourite muffin flavours going on. Lemon Curd Muffins, made with her fantastic Granny's Quick Lemon Curd but still very good made with shop bought. Bound to make your mouth water.
The Vegan Lunchbox has Easy Vegan Lemon Muffins. Light and fluffy vegan lemon muffins topped with lemon icing. They look so pretty too.
Another classic flavour pairing is apples and cinnamon and they come together here for an incredible muffin recipe with my Spiced Apple Muffins. One is never enough be warned.
The Petite Cook advises us to eat these Easy Peach Muffins for breakfast. I bet her kitchen smells amazing too! I'm in.
Curly's Cooking has another ideal breakfast muffin. "These Gluten Free Blueberry Muffins are so light and fluffy they make the perfect breakfast or midday treat whether you follow a gluten free diet or not."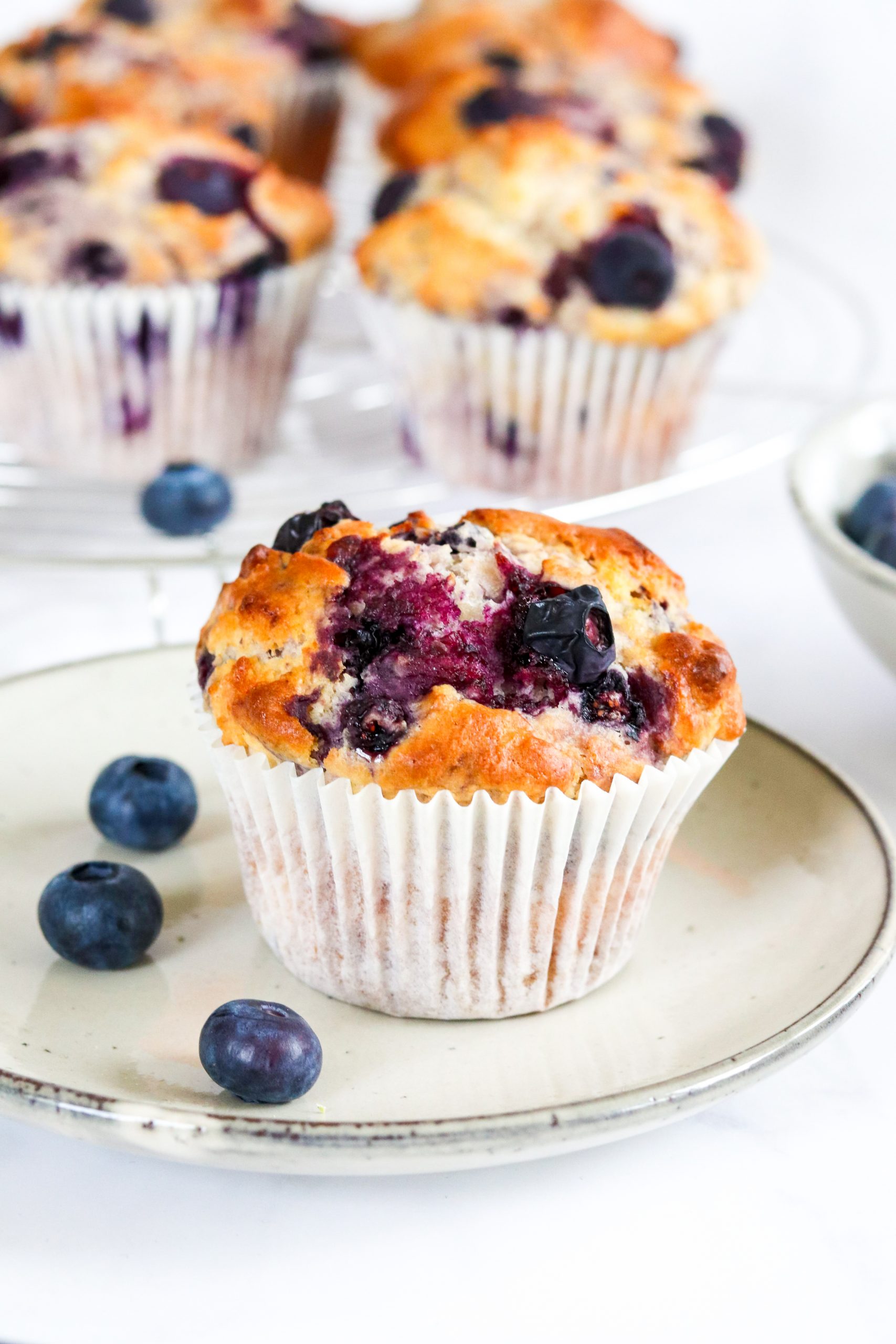 Easy Peasy Lemon Squeezy has a lemony take on this classic combo with a Flora recipe. Blueberry and Lemon Muffins, a light and fluffy fruity sensation that would start anyone's day with a grin.
Muffin recipe made with jam
And talking of grins, I'm ending my marvellous muffin post with my favouritest muffin of all my Jam Duffins. I'm utterly and completely in love with these incredible things. Wonderfully addictive and just as easy to make as an ordinary muffin, served warm from the oven they taste just as good as doughnuts. Squeal! My final gift to you all as this is sadly, my very last post as Baking Round Up Editor.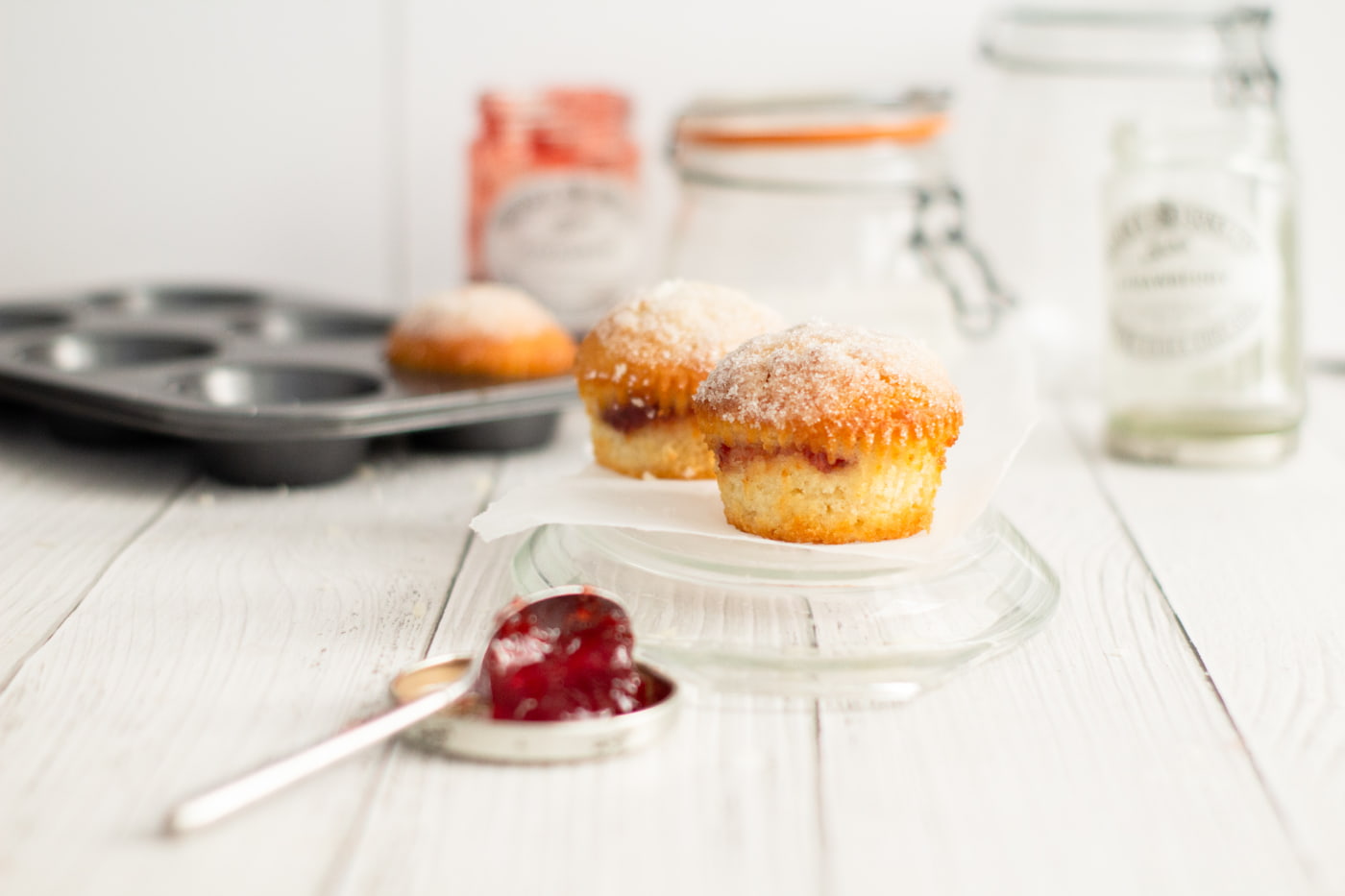 Happy and glorious baking to you all!
Note from Susanna and Jennifer, BritMums cofounders
We are so sad to say goodbye to Jenny from Apply to Face as our Baking Editor. She's shared some delicious recipes and baking ideas with us and featured marvelous fellow bakers! You can find all of Jenny's delicious columns and literally hundreds of best baking recipes in her BritMums archive, so do have a look 'round those for your next tasty bake.
Pin it for later!
Jenny is a busy mum of two, passionate home cook and compulsive feeder. Blogging at Apply To Face Blog keeps her obsession with simple but delicious recipes sated. She is never happier than with plenty of sticky buns in the oven. A true champion of comfort food, easy entertaining and good times for all, even the cook. When there are no more mouths left to feed or sponges to slice, you can find her knee deep in cookery books and hormones.