A homemade birthday cake says love like nothing else. These best birthday cake recipes are fun, delicious and perfect for children and adults.
I have been baking my own family's birthday cakes for years and most have been more than a bit rubbish but I comfort myself with the idea that with each cake I get a little better, a little bit less ham fisted. I am slightly dogged about it actually. Perhaps by the time they are 40 yrs old I will be a true professional although I seriously doubt it.
And I am guessing that the need for homemade birthday cakes has risen during lockdown as we look to stay at home a whole lot more. So I felt it a great topic for this month's round ups especially as both my children have their birthdays this month and I am currently obsessed with chocolate drips and funfetti.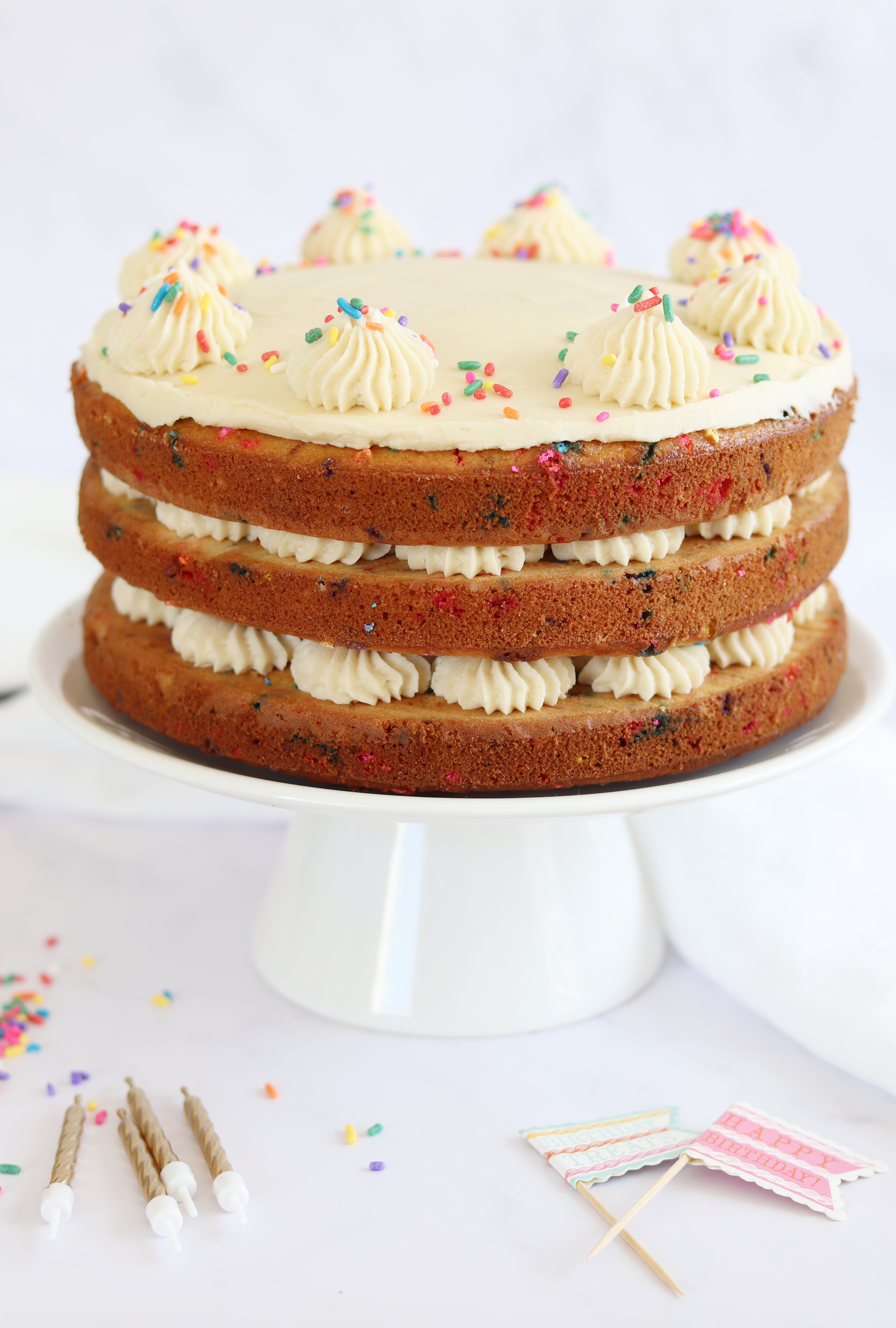 Birthday cake showstoppers
Talking of which, here is our first birthday cake, Funfetti Cake from Curly's Cooking. This is the cake I am going to make for my daughter's celebration cake this year. Layers of vanilla sponge speckled with sprinkles covered in delicious buttercream. Simple but effective and very pretty. She will squeal!
Another brilliant and fun cake for children is this inspired Rainbow Drops Birthday Drip Cake from Casa Costello. Simple but still a showstopper, this appeals to me greatly. She includes her no fail ganache recipe too.
Following is this fabulous flavour combination that is perfect for a more adult birthday experience, Orange, Poppy Seed and White Chocolate Cake from Tin and Thyme.
Straight To The Hips, Baby gives us another pretty showstopper with this Strawberry Lemonade Cake. The topping of pastel-colored crunchy meringues make this cake the perfect dessert for any birthday.
Best birthday chocolate and caramel cake recipes
Moving onto the Chocolate Birthday Cakes is always a pleasure especially as it is my most favourite cake to eat. A good chocolate cake is a very important part of any baking repertoire and I have perfected my own version with this Easy Chocolate Cake, but am always on the lookout for new special recipes to try.
Easy Peasy Lemon Squeezy has this Easy Chocolate Birthday Cake for us. It is a delicious chocolate sponge simply iced with chocolate icing and then decorated with chocolate bars and treats. Perfect if you're not very good with a piping bag.
Going fudgier (never a mistake), this stunning Chocolate Fudge Cake from Something Sweet Something Savoury is a crowd pleasing showstopper! Four layers of fudgy chocolate sponge covered in a silky smooth chocolate buttercream and decorated with maltesers. Oh man!
Something still chocolatey but more appropriate for the older amongst us is this gorgeous Hazelnut & Chocolate Chip Cappuccino Cake from Lavender & Lovage. A glamorous cake that is coffee flavoured with chocolate chips, hazelnuts & a creamy cappuccino frosting.
Tin and Thyme has a drool worthy rich dark chocolate cake filled and covered with a whipped, creamy, salty chocolate icing then topped with salted caramel. This Salted Caramel Chocolate Cake is just what you need to celebrate a birthday or any other special occasion with knobs on.
I positively swooned when I saw this Salted Caramel Cake from Supergolden Bakes – four layers of rich chocolate cake filled with caramel buttercream. There is even a video showing you exactly how to make caramel. What a cake!
Best free-from birthday cake recipes
I love the sound of this Vegan Vanilla Cake recipe from Veggie Desserts. It doesn't have any unusual ingredients and it's very easy to make. Plus, it's light, fluffy and nobody would guess that it's vegan. Perfect as a vegan birthday cake.
Cook Veggielicious has this Vegan Oreo Cake. Delicious chocolate sponge cakes are sandwiched together with Oreo buttercream and decorated with extra chocolatey Oreos on top. This is a decadent vegan chocolate cake that's ideal for a special occasion. My son would go wild for this. He's an Oreo fiend.
Next we have a super-decadent home-baked gluten free Chocolate Orange Celebration Cake from Gluten Free Alchemist topped with orange macarons. Perfect for a big birthday or any other special cake day. How shamazing does that bad boy look?!
Kate also has a gluten free Funfetti Cake that looks just as special.
Here is the ultimate free from birthday cake from Family Friends Food. A brilliant dairy free, gluten-free, nut-free, sugar-free chocolate cake, ideal for anyone diabetic or for allergy sufferers. So good you won't notice what's missing!
This Vegan Lemon & Raspberry Cake from Peachicks' Bakery is perfect for an elegant birthday tea! Zesty lemon cake with jammy pockets of raspberries layered with luscious lemon buttercream. Wowsers that sounds immense and something a little different.
Talking of which, I give you my Ice Cream Birthday Cake. This is the cake that my son asks for each birthday and I am more than happy to oblige. It's a bit retro and not strictly a cake, but I make no apologies, it's heavenly and packed full of caramel, chocolate biscuits and maltesers. Any kid's birthday dream.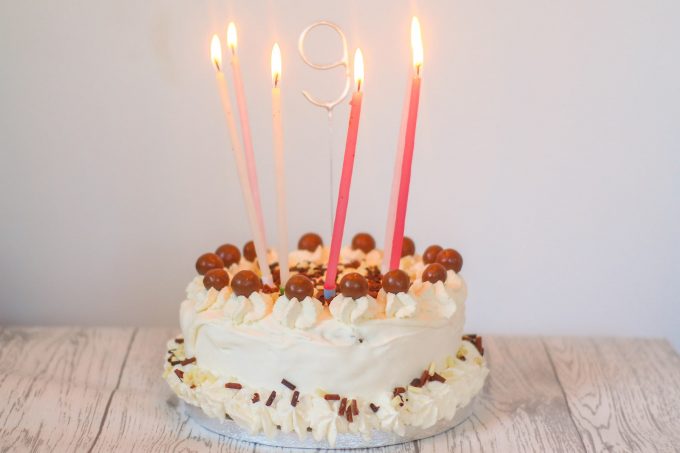 I hope these fabulous recipes have given inspiration and baking birthday joy. Do let me know if you try any of these cakes in the comments below. We would love to hear how you got on.
Birthday cupcakes
These funfetti birthday cupcakes are super easy to make and fun to eat, plus they are for a great cause (Alzheimer's Society annual Cupcake day).
Pin it for later!
More cakes recipes and advice
How to do the creaming method for cakes
Top tips for making fairytale castle cakes
Jenny is a busy mum of two, passionate home cook and compulsive feeder. Blogging at Apply To Face Blog keeps her obsession with simple but delicious recipes sated. She is never happier than with plenty of sticky buns in the oven. A true champion of comfort food, easy entertaining and good times for all, even the cook. When there are no more mouths left to feed or sponges to slice, you can find her knee deep in cookery books and hormones.