I love, no adore, baking recipes that are super easy but really deliver. You know the ones that are a simple mix together of ingredients but somehow miraculously produce a result that blows everybody's pop socks off. Cookies come into this category for me.
However for a long time I ignored the lack of really good biscuit/cookie recipes in my baking repertoire. But deep down I always knew something important was missing in my life. How could I look my children in their little faces, as a baker, without the ability to produce a plateful of cookies and glasses of milk (with straws) at least once a month? The problem was I didn't really know where to start. I am not a great technical baker, in fact if it can go wrong at all, it will in my kitchen. Which, of course, is handy for me in many ways when writing recipes as my troubleshooting is always wide and expansive but it also leads to me wanting to smash up the kitchen and put my mixer outside in the garden to teach it a lesson (if I could lift the damn thing without prolapsing).
It seemed to me that a lot of the British Biscuit recipes that I looked at were quite fiddly so I turned to the Cookie sections in an attempt to find the more bish, bash , bosh approach that I am much more comfortable with. And just like that I was home.
Fabulous and full of flavour these cookies are simple to whip up and make your kitchen smell like a bakery. The elephant in the room is, of course, soft and chewy or crisp and crunchy? How do you like yours? I and my children are now devotees of the soft and chewy bakery style. Crisp on the outside, soft and chewy in the middle and obviously as large as possible. My daughter says she likes them as big as her face. However I acknowledge there is much to be said for a crisp crumb and a jolly good snap.
Cookies come in many forms and include many flavour combos and although I love reproducing the All American vibe in my kitchen, I am more than open to the myriad of amazing cookie recipes out there. This post serves to bring you some of the very best.
Cookie Recipes
The classic Cookies are some of my own personal favourites and baking go to's.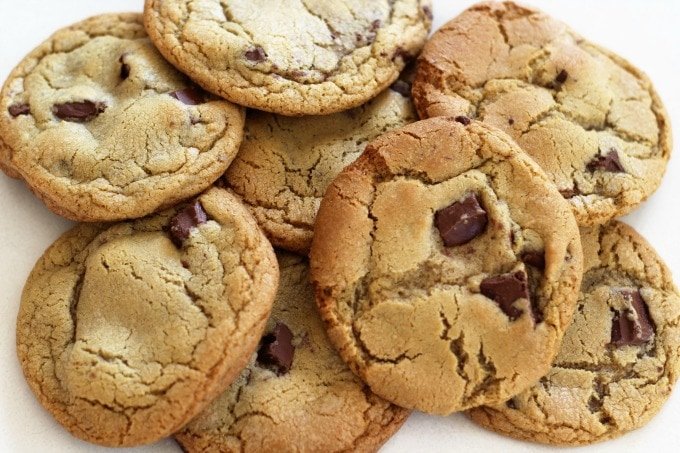 These are just delicious and super easy to put together. They are the cookies I make for my children when I'm feeling the All American Mum vibe. They go potty for them.
Easy Peasy Lemon Squeezy has her retro version here – Choc Chip Cookies-Retro
Here is another very popular cookie recipe at my house. Peanut Butter Chocolate Chip Cookies. I can't express how flipping good they are.
Here is Cat's version Peanut ButterCups Cookies from Curly's Cooking. Filled with Reece's Mini Peanut Butter Cups they sound incredible. She also has these Peanut Butter Chocolate Crinkle Cookies with a deliciously fudgy inside and crisp shell. OMG……
Of course the partner in crime to all these classic cookies are the oh so darkly delicious Double Chocolate Chip Cookies brought to us here by Searching For Spice. Soft and chewy within they are her all time favourites.
Charlotte's Lively Kitchen gives us these momumental Triple Chocolate Cookies. Studded with 3 types of chocolate they promise a serious chocolate fix.
Here are Fab Food For All's version from her college days, Chocolate Melting Moments. So important to her at the time that she went to the effort of tracking the recipe down and made it her own.
These next White Chocolate and Macademia Cookies are soft, chewy and irresistible says Nicola from Something Sweet Something Savoury. As are these Dark Chocolate and Cranberry Cookies from Jo's Kitchen Larder. What a delicious sounding combination. Jacqui from Recipes Made Easy offers up these wonderful White Chocolate and Raspberry Cookies. Another nutty offering are these Chocolate and Hazelnut Cookies from Lost In Food. A delicious flavour combo and very easy to make.
Oat Cookies are super scrummy and remind me of doing my Brownies and Girl Guides Baking Badges. Recipes Made Easy have some seriously good Oat and Raisin Cookies. The type I remember from my childhood. Then we have these Oat Cookies from A Frugal Family which sound just gorgeous as do these Banana and Oat Cookies from Cooking With My Kids. However these Treacle Oat Cookies from A Farmer's Girl Kitchen take this genre to another dark level.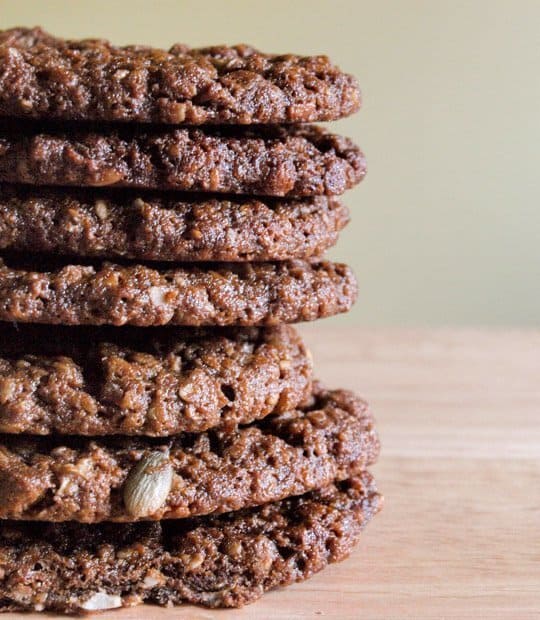 Don't these look incredible in an adult kind of a way?
Our next kind of cookie is the Snickerdoodle. A wonderful mouthful in itself. Recipes Made Easy has these classic Snickerdoodles for us filled with vanilla and cinnamon spice.

Choclette from A Tin And Thyme has a recipe that uses spelt flour alongside the usual cinnamon love with her Spelt Snickerdoodle recipe. Genius. I can just imagine the slight nuttiness that the flour would bring to the cookie party. I also have a stupendous Date and Chocolate Cookies recipe to share with you. Exceedingly moreish and they've got to be good for you, surely. Just as good without the chocolate and that's saying something.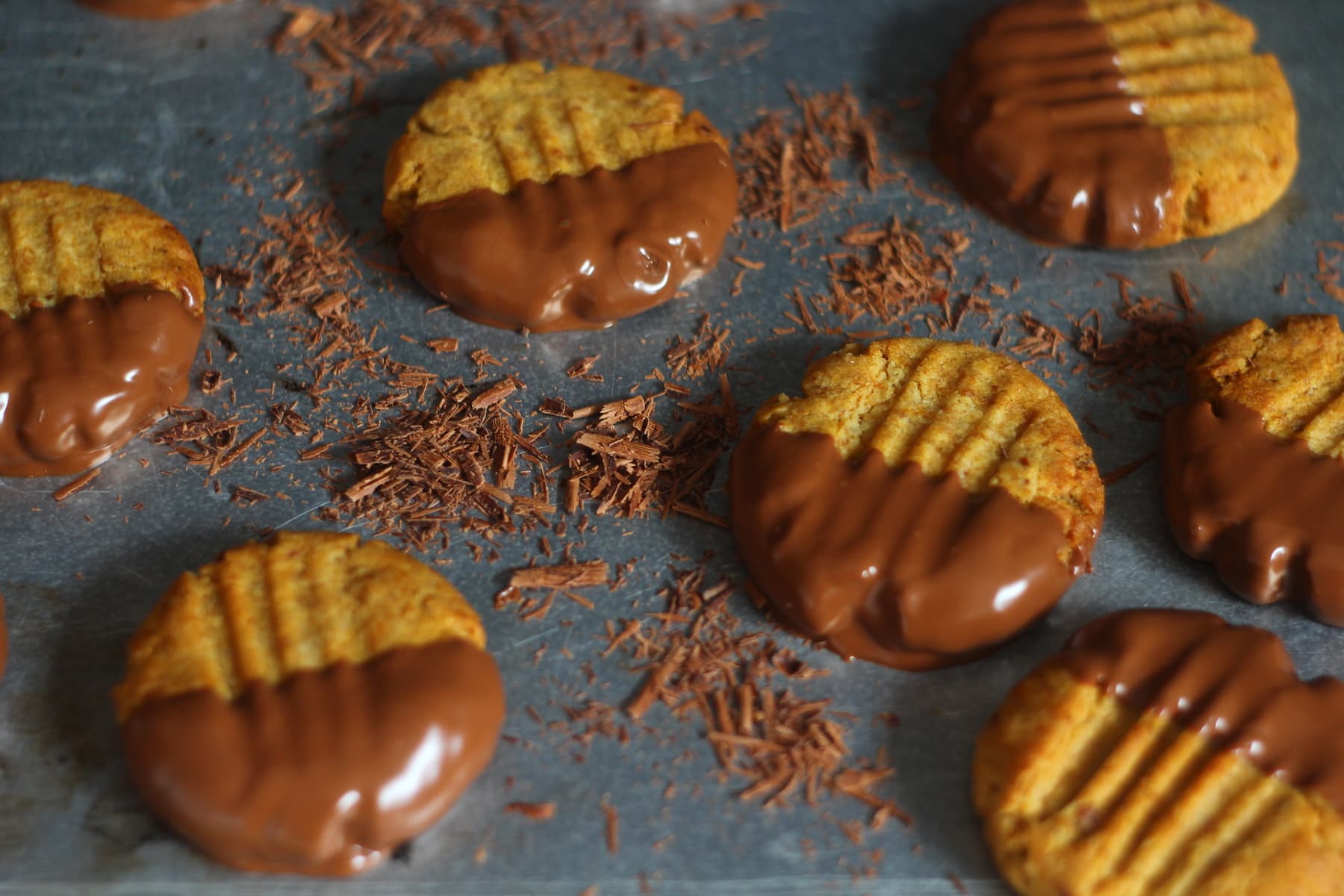 Here we have a couple of less is more recipes here with The Foodie Journey and her French Classic butter Cookies or Sable's Breton . Crumbly and melt in the mouth, these are my kind of cookies too. I have a huge thing for butter and these are full of the glorious stuff. I also have a classic butter cookie recipe myself to share with these Easy Shortbread Cookies. One mix and the job is done, super simple they are in my top 3 cookie recipes.
Now we have some recipes that shake up the traditional cookie establishment. Some more creative cookie recipes if you will. The first of these is Bark Time's Coffee Chocolate and Pecan Cookies. A cookie pick me up. The Baking Explorer has a couple of real stunners – Carrot Cake Cookies and Eton Mess Cookies.
Wouldn't these be perfect for Afternoon Tea? So pretty.
Hodge Podge Days brings us these inspired Spiced Apple Pie Cookies. Jane uses a spiced apple mix to really pack the flavour in. Imagine how they would make your kitchen smell. Now here's something a bit random. Who knew you could make cookies from left over buttercream? Not me but here is the recipe from The Mum And The Mom – Buttercream Cookies. What an outstanding idea. I usually freeze mine and then forget about it for 3 years. Another great idea is this Springtime Animal Cookies recipe from Blissful Domestication. Brilliant fun for the little ones.
Here are a couple of European Cookie Classics to add to the eclectic mix. The Foodie Journey brings her French Classic butter Cookies or Sable's Breton . Crumbly and melt in the mouth, these are my kind of cookies too. I have a huge thing for butter and these are full of the glorious stuff. I also have a classic butter cookie recipe myself to share with these Shortbread Cookies. One mix and the job is done, super simple they are in my top 3 cookie recipes. Sometimes less can be so much more.
The final category is the free from section and it is a biggie. The Foodie Journey has this rather unusual but very tasty recipe for Vegan Almond and Tahini Cookies. Another vegan cookie recipe is from The Peachick's Bakery. She insists this is the best Vegan Chocolate Chip Cookie recipe and the only one you'll ever need.
These Healthy Chocolate Cookies With Hazelnuts is a flourless cookie recipe from Everyday Healthy Living and sounds positively moreish. These No Butter Chocolate Chip Cookies from Cook With Renu are so clever and full of chocolate and these Dairy Free Egg Free Gooey Peanut Butter Cookies from Ready Freddie Go look just dreamy. To finish this section with a bang Craft With Cartwright gives us no fewer than 13 Tempting Gluten Free Cookie Recipes. What an expert she must be.
Thank you so much to everyone that contributed. I literally was overwhelmed. It seems that these wonderful bakes hold a popular place in many baker's hearts. You gotta love a Cookie. Have a Good Day Y'all.
Jenny is a busy mum of two, passionate home cook and compulsive feeder. Blogging at Apply To Face Blog keeps her obsession with simple but delicious recipes sated. She is never happier than with plenty of sticky buns in the oven. A true champion of comfort food, easy entertaining and good times for all, even the cook. When there are no more mouths left to feed or sponges to slice, you can find her knee deep in cookery books and hormones.