Another big warm welcome to another Baking Round-up. Pull up that comfy chair, grab something nice to nibble and put up those feet. You're so worth it…now onto the subject at hand…marvellous and magnificent sweet and savoury muffins.
Muffins: A great treat for the lunch box
I am reminded of all the lunch boxes I am yet to fill this school year. I can see them now, stretched out for miles and miles before me on mini sized school tables. The lids as mouths, clacking away, 'What's for lunch? What's for lunch?' I am damn well dreading it. Unless it is stuffed full of chocolate my children moan and if it IS stuffed full of chocolate, the school moans!
Why I love muffins
I'm always looking for new and interesting ways to keep them happy at lunchtime. Muffins fit the bill very nicely indeed. They are also a great way to feed your family outside of the school lunchbox. This summer I became a little obsessed with these Strawberry Muffins of mine. Full of sunshine they came along on picnics and took over snack duty for a whole week or so as I trialled the pants off them.
This recipe is a blueprint for whatever I fruitily fancy putting in there and isn't that half the point with muffins? They are as accommodating as a mother and child parking space. A workhorse of a bake, there to serve your leftover situation unless you're yearning for a little something more decadent. The diversity of recipes that I found when I put out my muffin call to U.K bloggers was staggering. Proof that muffins are perhaps the unsung heroes of our British kitchens despite having originated on the other side of the pond.
Making American muffins
The muffins mentioned here today are all of the 'American variety.' English muffins, although incredibly delicious, are a different thing altogether. American Muffins originated in the United States in the mid-nineteenth century. They did not become popular in Britain until the arrival of coffee shops such as Starbucks or Costa Coffee. However from then on in we haven't wasted any time and have taken them completely to our British bosom.
So without further ado I'm going in…stay close. Shall we start in the savoury aisle?
Cheese muffin recipes
I am always all over a cheesy muffin if I get even half a chance and my Easy Savoury Muffins are the result of that. They are incredibly moreish and very adaptable to suit what's in your fridge and satisfy your deepest cheesy fancies.
These Cheesy Carrot and Courgette Muffins from Jo's Kitchen Larder came about by accident and during her fridge clear out. Trying to come up with a snack food using a rather tired courgette, a chunk of cheddar and a carrot. Her savoury muffins were born. They sound absolutely delicious and great for the kid's lunchboxes.
The Baking Explorer has these Cheese & Red Pepper Muffins that are a perfect savoury treat, flavoured with yummy mature cheddar, italian herbs, sweet red pepper and half a juicy cherry tomato on top. Flipping gorgeous.
The Gluten Free Alchemist has her Pizza Muffins to also bring to the savoury section. My son would go potty for these. Pizza is his most favourite food in the world. Apparently they have all the flavour of pizza in a handy, perfect for packed lunch, picnic or party table, muffin. Genius.
In the image above we have Cheesy Oat Bacon Breakfast Muffins by From The Larder. A delicious on-the-go breakfast, it is the added honey that take these Cheesy Oat Bacon Breakfast Muffins to another level. She says that it's primarily a savoury muffin but with that generous squeeze of honey added to the batter and then brushed over the finished muffin, you might not be so sure.
Health muffin recipes
Veggie Desserts offers up her wonderful Healthy Bran Muffins. These healthier bran muffins have wholemeal flour, banana in place of much of the oil and a nutritional boost from wheat bran and flax. They're easy to make and perfect for a quick breakfast through the week.
Finally I just had to include these fantastic Miso Muffins with Kale, Carrot and Courgette from Tin and Thyme. Choclette tells us that if you haven't tried miso in savoury muffins before, you're missing a trick. It gives a wonderful umami hit and added depth of flavour. These miso muffins are made with wholemeal spelt flour and loaded with extra veg.
As we draw to a savoury muffin close, let's go in hard with chocolate. A muffin for the masses.
Irresistible chocolate muffin recipes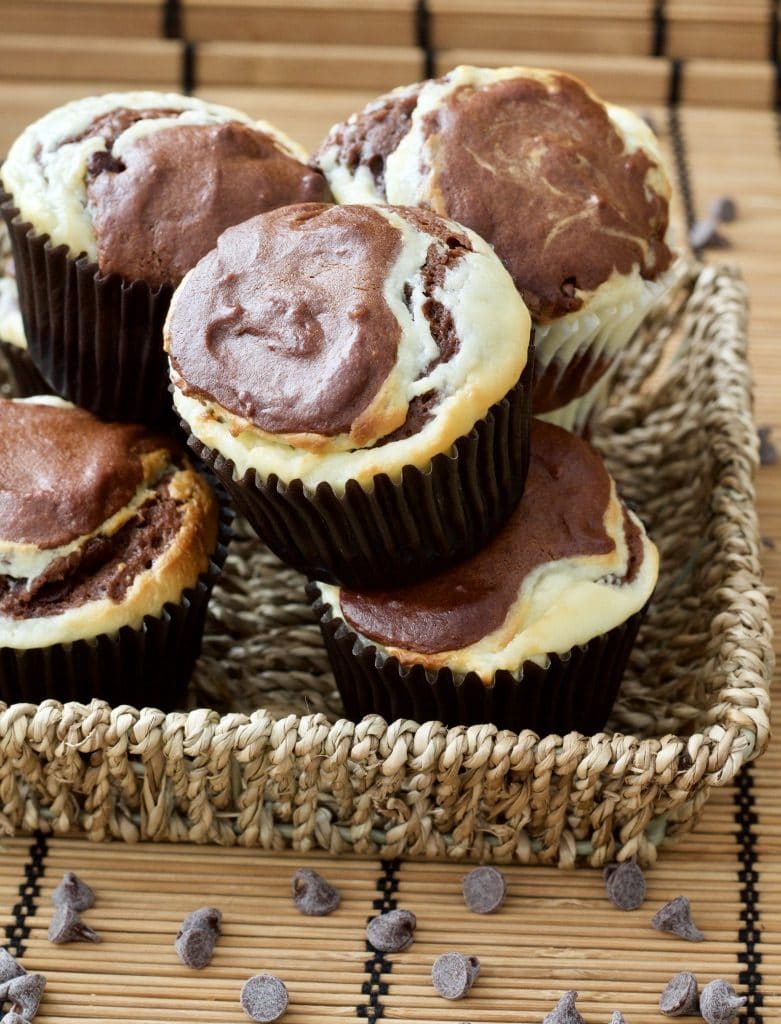 I just had to begin with these darkly magnificent Double Chocolate Cream Cheese Muffins from Jo's Kitchen Larder. I have had my eye on these to bake for ever. Do they not look seriously incredible?
Though my own Double Chocolate Muffins do take some serious chocolate muffin beating I am totally feeling these Chocolate and Banana Muffins from Curly's Cooking. Rich, chocolatey muffins packed with chocolate chips and drizzled with even more chocolate. Don't be fooled though, the banana shines through.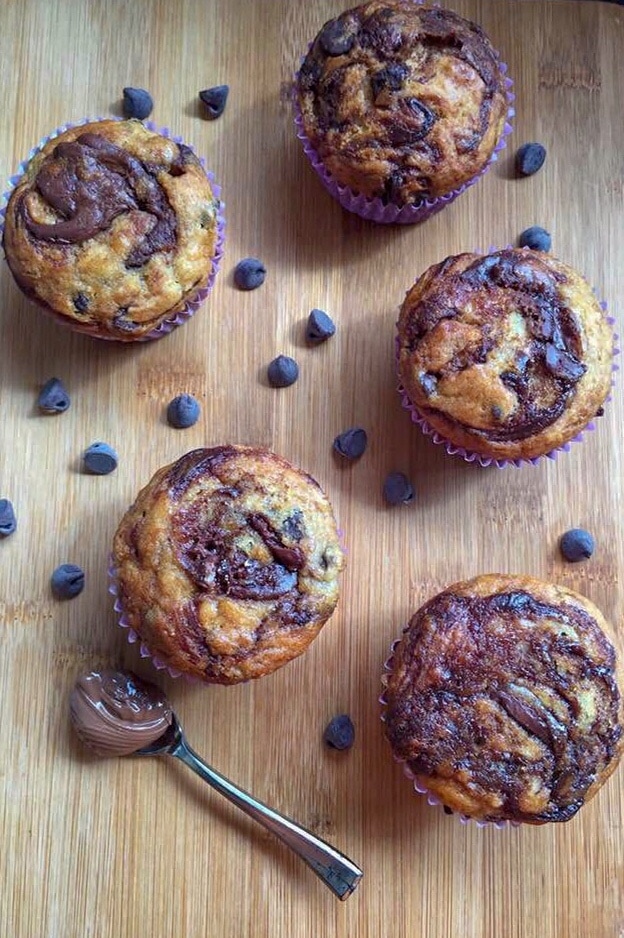 Something Sweet Something Savoury has these incredible Nutella Chocolate Chip Banana Muffins. Soft, fluffy banana muffins with chocolate chips and swirls of nutella. I'm completely sold, they sound dreamy.
Cooking With My Kids has another epic Double Chocolate Chip Muffin recipe. Her recipes are set up to be baked and shared with her children and I just love the fun they all have. Memories made making muffins!
The next most obvious subsection is that of the Blueberry Muffin and all it's wonderful variations.
How to make amazing blueberry muffins
To start the blueberry ball rolling are these Blueberry & Lemon Yoghurt Streusel Muffins from Unconditionally Nourished. Blueberry & Lemon Yoghurt Streusel Muffins are light and fluffy in texture and full of fresh summery flavours with a crumbly oat and almond streusel topping.
Easy Peasy Lemon Squeezy has her Flora Blueberry & Lemon Muffins to add to the blueberry party. Light and fluffy they are a real hit with everyone.
Fab Food For All has these beautiful Blueberry, Banana & White Chocolate Chip Muffins. Her son gives them 10/10 and the extra drizzle of white chocolate really makes them very special.
Casa Costello has these Reduced-Sugar Blueberry Muffins. A step towards reducing her sugar intake whilst still eating something delicious.
These Blueberry & Pear Muffins from The Bear & The Fox sound divine. An absolute hit with her boys.
There are a whole host of further fruity muffin recipes to enjoy too.
Sweet fruit muffin recipes you'll love
I just had to start with these gorgeous Gooseberry Crumble Muffins from Only Crumbs Remain. Juicy roasted gooseberries in a soft muffin with a crumble topping. These Gooseberry Crumble Muffins are perfect for breakfast or a not-too-naughty treat any time of the day.
Time To Craft has these easy Raspberry and Chocolate Chip Muffins. Practically half muffin, half raspberries.
Crumbs & Corkscrews brings us these great breakfast muffins. Her Easy Raspberry Baked Oats Muffins. She says that delicious, easy and healthy, these baked oats muffins are the perfect breakfast for grabbing on busy mornings. Simple to make and Slimming World friendly, they're so good you'll want to keep them all for yourself.
FoodieQuine has these Strawberry, Almond And Chocolate Chip Muffins. Fresh, delicious Scottish strawberries that taste and smell of summer combine with almonds and dark chocolate to make the perfect muffin.
Bringing up the fruity rear are my very popular Spiced Apple Muffins. One of my favourite recipes on my blog. Spiced warmly with cinnamon and studded with stewed apples they are a real hit with everyone that gets their chops around one.
The final muffin section is that of the fabulous free-from category.
Amazing gluten-free and dairy-free muffin recipes
We begin with these Low Fat and Sugar Muffin for breakfast from Kate On Thin Ice. She says that the low sugar content minimises the risk to you and your children's teeth, starting the day as you mean to go on.
The Peachick's Bakery has her beautiful Vegan Rhubarb Muffins which happen to be also dairy- and egg-free.
We have another crumble-topped muffin here with these delicious Strawberry Crumble Muffins from the Gluten Free Alchemist. These are gluten- and dairy-free.
Tin and Thyme have these Vegan Peanut Butter Banana Muffins for your vegan preferences. All but the bananas are store cupboard ingredients. Not only are these muffins super delicious, but they're made with wholemeal spelt flour and are vegan too.
These Gluten-Free Blackcurrant White Chocolate and Thyme Muffins are the perfect balance of tangy and sweet with the gentle earthiness of thyme. Brought to us by From The Larder they are literally bursting with fruit and quite beautiful.
Gluten Free Alchemist loves her gluten-free Spiced Sweet Potato Breakfast Muffins for breakfast. Quick to make the day or more before (the addition of ground almonds and sweet potato keeps them soft and moist for longer. Great for lunchboxes too.
The last muffin recipe that I have for you guys is this Vegan Savoury Muffins with Caramelised Onions & Smoked Tofu from Family-Friends-Food. Moist and delicious, these vegan savoury muffins are simple to make and perfect for lunchboxes, picnics, or as a light supper.
And that, as they say, muffin folks, is that. I really hope you have had a lovely time reading this muffin resume and I encourage you to visit some of these blogs to give these recipes a go. They really do cut the mustard in all things muffin.
---

Pin it for later: Sweet & savoury muffins for easy snacks on Pinterest
More delicious family baking recipes
30 great recipes for baking with kids
Jenny is a busy mum of two, passionate home cook and compulsive feeder. Blogging at Apply To Face Blog keeps her obsession with simple but delicious recipes sated. She is never happier than with plenty of sticky buns in the oven. A true champion of comfort food, easy entertaining and good times for all, even the cook. When there are no more mouths left to feed or sponges to slice, you can find her knee deep in cookery books and hormones.