Another large and warm welcome to you all and I hope this month finds you well and raring to bake, I know I still can't get enough…..ever. This time we're talking about the best lunch box bakes for kids — small, easy-to-eat delicious muffins, scones, flapjacks, sausage rolls and more that are fun to make too.
How have you coped as the children have returned to school? Have you found yourself bereft or thrilled at the lack of chaos in your kitchen? I am a little of both, although I have found the whole getting out of the door on time each morning and absolute nightmare. Seriously…
What to make for children's lunch boxes
What hasn't helped is their new apparent disdain for school dinners. It would seem we turn up our little lockdown noses at all school dinners now, even Fishy Friday. That must be my fault too. Too much lockdown baking and homemade pizzas. What a short-sighted fool I was.
It seems I now am not only responsible for their errant socks, drinks and P.E. kits. Apparently I am also expected to fill their lunch boxes with deliciousness at a moments' notice, spoilt little wotsits.
So I sent the call out to my fellow BritMums bloggers in a lunch box call-to-action and what a fantastic response I received!
Bring joy to a lunch box near you!
Muffins — a great lunch box bake
Muffins are a very easy way to bring great favourite flavours to a lunch box. One basic recipe with different variations can keep even the fussiest of eaters satisfied. Here is the easy recipe for basic savoury muffins that I use and as my children are super plain eaters then I tend to stick with ham and cheese all the way. You can add the flavours or ingredients you like to suit your family's tastes.
Specialty savoury muffins
These Spanakopita Muffins from Super Golden Bakes are packed with feta cheese, spinach and herbs to make the perfect portable snack.
Pizza Muffins from Gluten Free Alchemist sound perfect for fussy eaters just like my own children. Most children love pizza right? What a genius recipe.
Healthy muffin recipes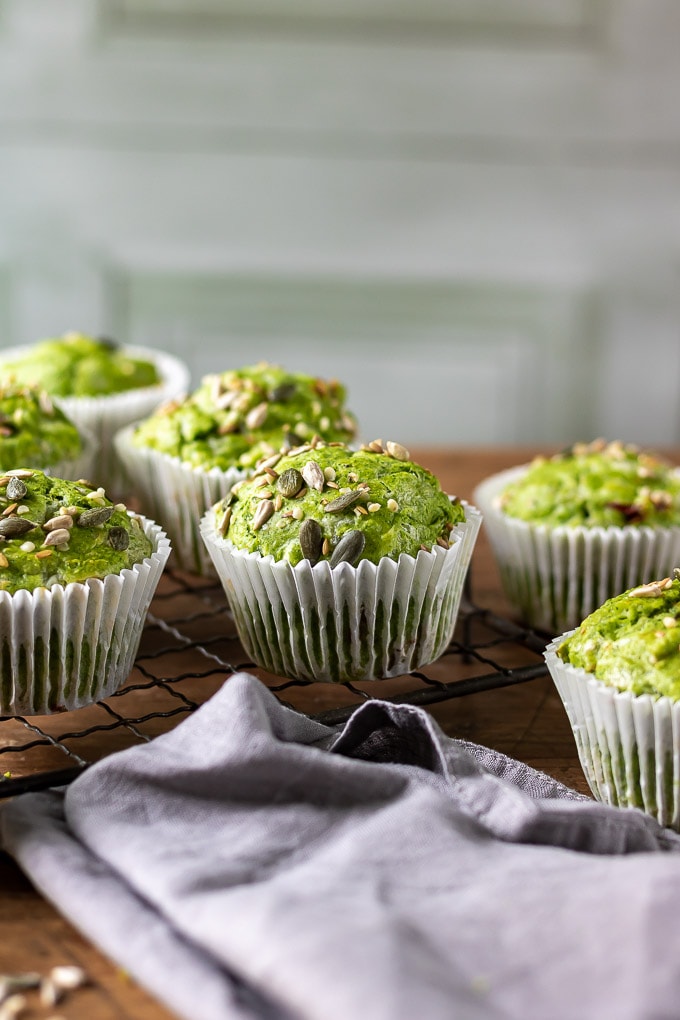 Veggie Desserts have these tasty Kale Green Muffins, perfect for a lunch or snack. A naturally green hidden vegetable recipe that's full of cheese and sun dried tomatoes. I just love the colour of these! Might I even suggest a good one for the Halloween party table.
I often have a slice of cheese and munch on a apple at lunch time. I just love the flavour combination. So I can only imagine that these Cheese and Apple Muffins from Tin and Thyme are something very special.
Packed with loads of fresh veggies, Quinoa Muffins from The Petite Cook are completely gluten-free and make a very healthy and well-balanced lunch box bite.
Savoury scones recipes
Savoury scones are another great idea. I split my Cheese Scones and spread with butter before putting in a sandwich bag. (Be sure and check out our popular post about how to make perfect scones.)
Recipes Made Easy has her Halloumi and Mint Scones for a more unusual take on the cheese scone. I love the sound of these and I bet so do a lot of you. It's a brilliant and popular flavour pairing.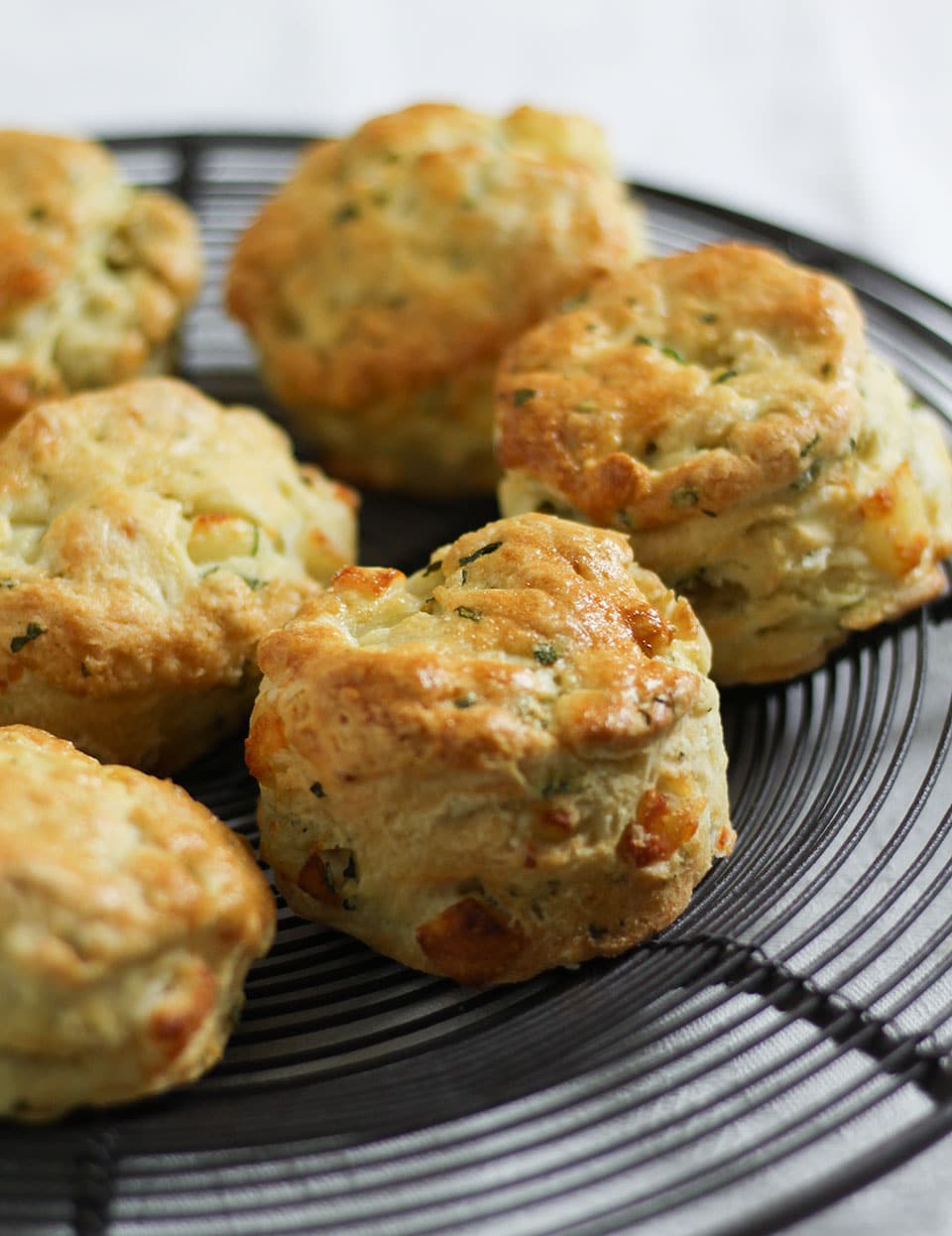 Pies, pastry and quiche recipes for lunch boxes
I can't help but love a bit of pastry. It's a great carrier of all things egg and lending a comfort food vibe to just about anything it encases.
I love — no adore — the sound of these Homity Pies from Gluten Free Alchemist. Made with cheese, garlic and potatoes and all in a handheld size, they do sound delicious. They're a real cuddle in a gluten-free pastry case.
Quick, easy quiche lunch box bakes
I have my own Quiche Lorraine that is perfect for the lunchbox when sliced into wedges and wrapped in clingfilm. My children like it with ketchup so I put a little sachet in there too for Mum brownie points.
Fab Food 4 All has these very cute mini versions. She says, "These Sunny Picnic Quiches are great for making with the kids and they can also enjoy them in their lunchboxes like mine have done."
This Crustless Broccoli and Cheese Tart from Foodle Club is a healthier option whilst still being able to cut into wedges and wrapped in clingfilm once cold.
Pizza and sausage rolls for lunch boxes
Pizza Pinwheels are a fantastic fun way to use up leftover pastry and get the kids involved with making their own lunch. Cooking With My Kids shows us how.
Homemade Sausage Rolls are amazing and Feast Glorious Feast has a great recipe for them here.
Jo's Kitchen Larder has a vegetarian delicious option too. She says, "These Vegetarian Sausage Rolls are packed to the brim full of goodness. Sweet potato, courgette & bean mixture wrapped in flaky puff pastry, they are just the best."
We even have a Vegetarian Pork Pie for you from Only Crumbs Remain. Made with a few veggies and Quorn pieces you can enjoy a homemade meat-free pork pie!
Chocolate chip muffin recipes for lunch boxes
I'll begin with muffins again, as sweet or savoury, they can be rustled up at a baking moments notice.
These soft Chocolate, Oat And Banana Muffins from Farmersgirl Kitchen with chunks of chocolate and a crunchy coconut and nut topping look perfect for a healthier treat.
Feast Glorious Feast has some more healthier muffins with these Whole Orange Chocolate Chip Muffins. They are gluten- and dairy-free too. Clever girl.
More vegetable offerings here with these surprising Sweet Spinach Muffins with Chocolate Chips from Veggie Desserts. Apparently the flavour of the spinach disappears leaving the vibrant colour behind.
Muffin recipes with fruit
These Rhubarb and Ginger Muffins from Something Sweet Something Savoury are soft, fluffy brown sugar muffins with fresh rhubarb, ground ginger and sweet and spicy stem ginger in syrup. A classic flavour pairing.
To finish our muffin selection I have another unusual muffin with these easy little vegan Strawberry Milkshake Muffins from The Vegan Lunchbox with the flavour of strawberry milkshake. My children would just squeal! What a great idea.
Legendary flapjack lunch box bakes
My own flapjacks are rather legendary round these parts and there are usually some to be found in a Tupperware pot at my house. They're my children's favourite. Chewy and gooey with crisp edges. You're welcome.
More chewy flapjacks from Lost In Food with these Apricot & Almond Flapjacks. You can add your own favourite nuts and dried fruit too.
Fruity, Nutty, Oaty Flapjack Bars from Farmersgirl Kitchen are easy to make and brilliant for filling lunch boxes and cake tins. Best of all they are endlessly adaptable to the ingredients you have in your larder.
Gluten Free Alchemist thinks very highly of her Cranberry & Apricot Seeded Vegan Flapjacks too. She says, "Packed full of oats, fruit, seeds and nuts, they are possibly the best flapjacks I have ever made (or eaten)." Enough said!
These unusual Halva Flapjacks with White Chocolate from Tin and Thyme. These are wonderfully fudgy, sweet and sticky flapjacks full of Middle Eastern flavours.
Interesting brownie recipes
I have my very special Chocolate Orange Brownies to start with. Deeply chocolatey with an orange twist that works perfectly and is a huge lunch box crowd pleaser as well as my ever popular Nutella Brownies.
Easy Peasy Lemon Squeezy has some Courgette Chocolate Brownies. A great way to hide those vegetables from the pesky kids.
What about these beautiful coloured Beetroot Brownies from Tin and Thyme. They won't know what's hit them with all the hidden goodness.
Easy banana bread lunch box bake recipes
There just has to be Banana Bread in this lunch box fest. I bake my Banana Bread every week for just this purpose and just love the way it cuts into damp slabs. It is stout of crumb and stands up very well to jostling about with a yoghurt pot and the odd Penguin.
Easy Peasy Lemon Squeezy has her version with Banana Loaf with Date and Walnuts. Delicious, moist, reasonably healthy and perfect for using up those bananas 'on the turn' in the fruit bowl.
Easy Banana Walnut Bread from Foodle Club brings another one to the tupperware party. Moist and full of flavour this particular version comes highly recommended.
---
All the gluten-free recipes in one place
Cranberry & Apricot Seeded Vegan Flapjacks
Whole Orange Chocolate Chip Muffins
---
Of course I could go on and on. The fabulous baking world just loves to fill plastic containers whatever the occasion. So I hope I have given you and your little ones enough to get your lunch time chops around. Do tune in next month for more mouth-watering recipes. Let's make it a baking date.
More great treats to bake
Baking: Sweet & savoury muffins for easy snacks
30 great recipes for baking with kids
Jenny is a busy mum of two, passionate home cook and compulsive feeder. Blogging at Apply To Face Blog keeps her obsession with simple but delicious recipes sated. She is never happier than with plenty of sticky buns in the oven. A true champion of comfort food, easy entertaining and good times for all, even the cook. When there are no more mouths left to feed or sponges to slice, you can find her knee deep in cookery books and hormones.