Get ready to munch your way through March with this month's baking round-up. BritMum's star baker Jenny Walters at Apply To Face blog rounds-up the best baked breakfasts from sweet flapjacks to savoury scones.
Yet another warm welcome to this months Baking Round-up. With such a wind swept month behind us we can but only hope for a calmer March and perhaps a glimpse or two of some spring sunshine. I can't quite imagine it at the moment but the only way is up. The hugely inclement weather has only driven me deeper into my kitchen as I have literally baked my way through the storms finding solace in bread, sweet treats and good old fashioned puds. I have thoroughly enjoyed myself and roped in the children too to brighten a very blustery half term. It has been a great way to hunker down but not go stir crazy.
To this end I have been perusing Breakfast recipes particularly the baked kind. I just love the idea of starting the day with something fresh from the oven especially for the children on a school holiday. It appeals to the feeder as well as the glutton in me and the children will take any baked treat when they can get it, so everyone is ecstatic.
Fantastic flapjacks
I first started thinking about baked Breakfasts when my children begged for some of my Flapjacks with their early morning cup of tea. My Flapjacks are a big deal in my house and my children go bonkers for them every time. Deeply syrupy and wonderfully chewy, I don't blame their feeding frenzy as I find it impossible to resist ramming a few or ten down my own throat when nobody's watching. The question now on my mind was what else could I bake for breakfast now that I had a little time on my hands?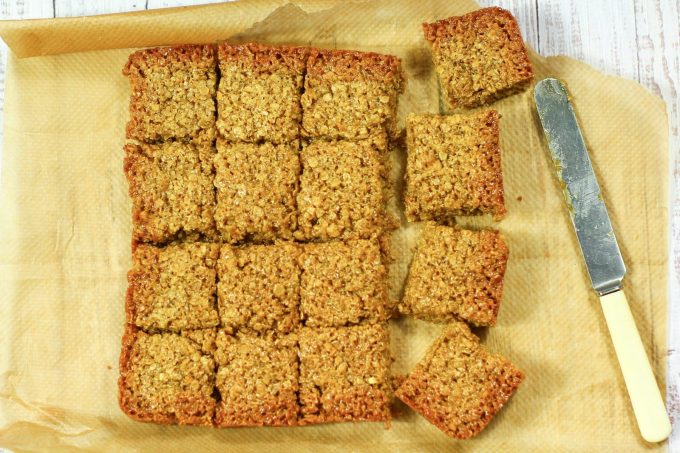 Flapjacks are such a good place to start and Jo's Kitchen Larder has her own version with these delicious Chewy Cranberry Flapjacks. Sprinkled with almond flakes & white chocolate chips, they're a real treat! They make a delicious snack or even breakfast on the go. Exactly my own thoughts on the subject. I love the idea of the chewy cranberries and white chocolate.
If you're looking for a little healthier vibe then these Easy Soft Salted Chocolate Flapjacks from The Fiery Vegetarian have lots of fruit to make them healthier than your usual granola bar/flapjack and with much less added sugar. Gluten-free, vegan, and so quick and simple to make your kids could get in on the production.
Baked rolls and pastries
Keeping on the subject of sweet baked breakfasts bring us to my next personal breakfast favourite. These Danish Cinnamon Rolls are the recipe that I use for Christmas breakfast every year. I make them up ready for the oven on the night before, leaving me free to run round like a headless chicken as per usual. They are moment stopping.
They are made using a real shortcut/cheats Easy Danish Pastry Dough recipe that allows you the real deal with less than half the faff. Absolutely and incredibly delicious. I also suggest these Iced Danish Pastries for your breakfast perusal. What a treat!
Feast Glorious Feast has some fabulous Sesame Bagels for Breakfast here. Homemade Bagels are in a different league to the usual dry supermarket offerings. They're also a doddle to make and include some fun boiling! Not a great option to make with the kids but a fantastic option if you're catering for adults. Smoked Salmon/Cream Cheese/Scrambled eggs come to mind. The Breakfast of Kings.
A dish that I have always wanted to bake but never managed to is a Strata or Breakfast Casserole. Make ahead it has always appealed to the easy panicker that I have become in later life.
Hot baked breakfasts
A breakfast casserole is a golden, puffy savoury treat with bread, eggs, sour or double cream and cheese. It's best made a good few hours ahead to allow the eggs to soak into the bread, which makes the casserole fluffy and irresistible. This Three Cheese and Ham Breakfast from Something Sweet Something Savoury looks INCREDIBLE. Imagine pulling this from the oven all cheesy and burnished, first thing.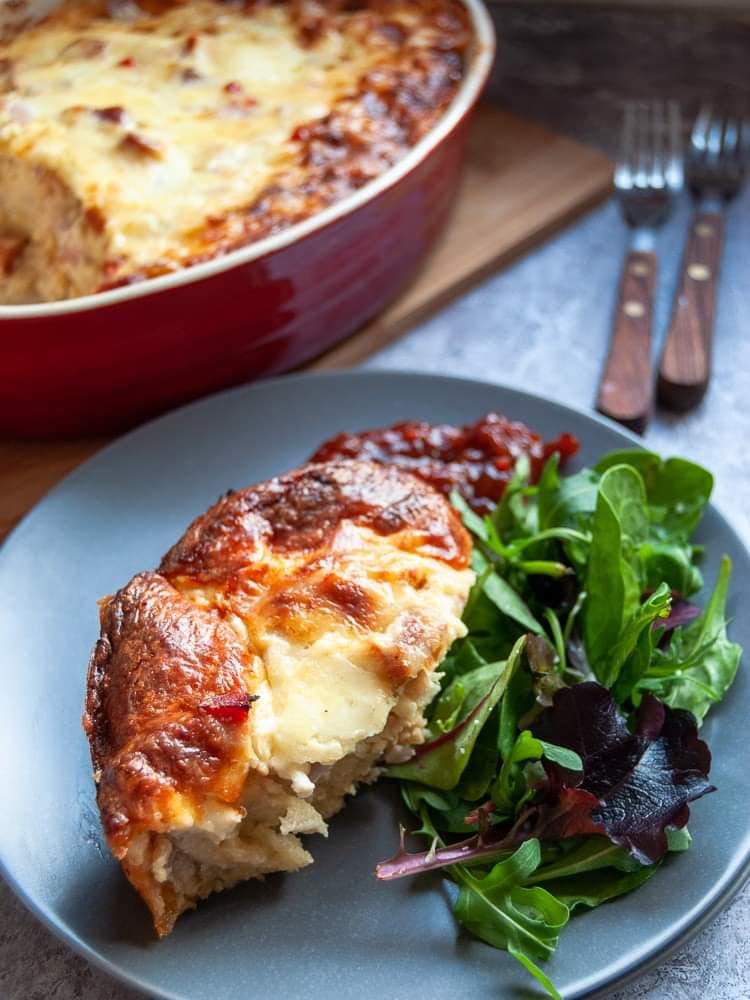 Feast Glorious Feast has a somewhat lighter version for us with her Lighter Ham & Cheese Breakfast Casserole. Chloe says, "This is an (egg) crackingly ooey-gooey-cheesy-meaty way to start the day. By using reduced fat and lighter ingredients this is a prep-ahead breakfast that's a tasty, protein filled way to keep you full right up until lunch." Again, I believe her.
Jo's Kitchen Larder has an even lighter version of the concept with these Breakfast Muffin Frittatas. These super easy and quick to make Breakfast Muffin Frittatas are perfect when you are busy during the week as they can be prepared in advanced and packed as a convenient and healthy brekkie on the go.
Assorted breakfast bites
Still staying with cheese, Easy Peasy Lemon Squeezy believes that her Cheese and Bacon Scones are just a great breakfast idea. I had never even thought of adding some bacon to a Cheese Scone but it's in genius territory. How good do they sound?! Especially warm from the oven and slathered with butter. This one would definitely be a good one to get the kids involved with.
I too have a Easy Cheese Scones recipe that would be perfect served warm with your morning coffee. It is one of my most popular recipes and with good reason. A warm Cheese Scone is a very special thing.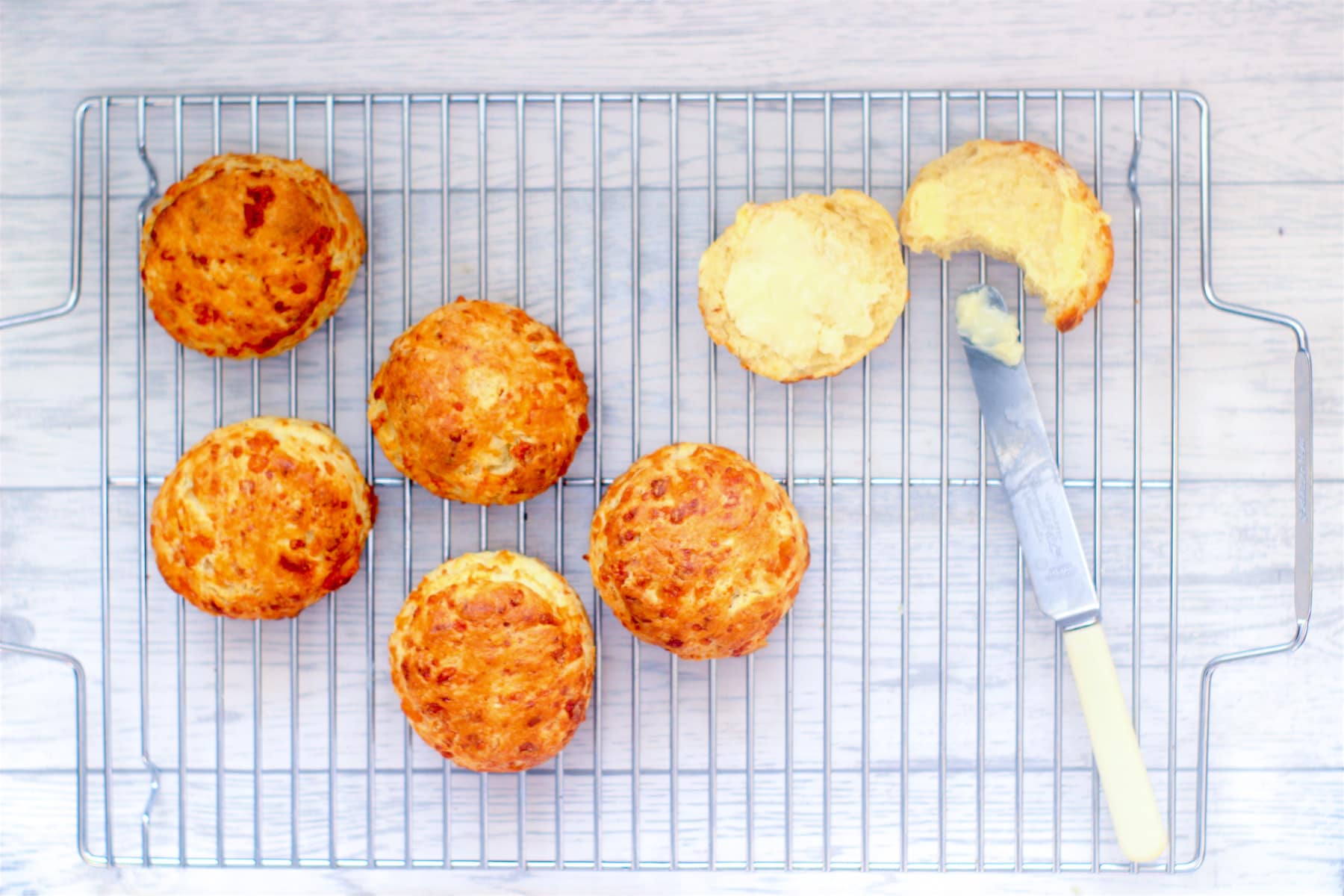 On the other side of the pond they call their scones, biscuits and Chloe from Feast Glorious Feast shows us how it's done. Breakfast Biscuits are a Southern US classic. They're effectively savoury buttermilk scones that are flaky rather than crumbly & make an excellent side or breakfast. Ideally served warm and smothered with butter. These are most firmly on my to make list. Head on over to the recipe to find out how easy they are to bring to your Breakfast Table.
I am now very pleased to be able to bring you this fabulous recipe from Tin and Thyme that caught my attention a while back. This Breakfast Banana Bread just got under my skin in a way that a lot of Choclette's recipes do. She advises toasting it and spreading with Peanut Butter to a standing ovation from all in her kitchen I imagine. It contains little in the way of fat and there's no refined sugar. In fact the only sweetener other than the bananas is a little bit of honey. Another recipe in the genius category.
Marvellous muffins
Muffins are a great way to bake your way to Breakfast Nirvana and my Savoury Muffins are also another easy breakfast on the go as well as on the table. My children love a cheese and ham combo warm and smothered with ketchup. The beauty is that you can add whatever leftovers you have in your fridge.
Jo's Kitchen Larder gives us a sweet version with her Mary Berry's Blueberry Muffins. One of her own personal favourites they are quick and easy to prepare and perfect for a lazy weekend breakfast.
Next we have a healthier recipe with these wonderfully clever Spiced Sweet Potato Muffins from Gluten Free Alchemist. Made with Fullgreen Sweet Potato Vegi Rice, they also contain hidden healthy veggie stuff (although you would never know). Sweet potato is a great source of fibre and of vitamins and minerals and these breakfast muffins are nutritious too for the ground almonds, protein, fibre-rich flours and also eggs they contain.
The best breakfast bars
Staying with the healthier vibe and
Gluten Free Alchemist
, we have a couple of Breakfast Bars packed full of nutritious ingredients. Firstly we have these delicious
Oatie Choc-Nut Breakfast Bars
. Containing no refined sugar they are sure to keep you going until lunch time.
And finally we have these
Breakfast Bars with Coconut Oil
from Easy Peasy Lemon Squeezy. They are made not only using Coconut oil, but pumpkins seeds, oats, cranberries, apricots and honey." It's all about the honey Mummy!"
I hope you have been able to find suitable Breakfast Inspiration. Please do let me know in the comments below how you have got on baking any of these recipes. I love a good old hairy chinwag. Until next time.
You might also like:
50 recipes to make with eggs and leftovers
Jenny is a busy mum of two, passionate home cook and compulsive feeder. Blogging at Apply To Face Blog keeps her obsession with simple but delicious recipes sated. She is never happier than with plenty of sticky buns in the oven. A true champion of comfort food, easy entertaining and good times for all, even the cook. When there are no more mouths left to feed or sponges to slice, you can find her knee deep in cookery books and hormones.