Hello and a big welcome to this month's Baking Round-up. My name is Jenny Walters, I blog over at Apply To Face Blog and I am a fervent eater/feeder. In fact it is all I can do to NOT overfeed my family. The better I get at baking the harder I find it to stop. It is just such damn fun and so stress reducing to bake delicious things and then watch people enjoy them. I literally bake my cares away. Give me a School Cake Sale and I am a pig in you know what.
Comforting bakes
This month we have a fabulous and dribbling inducing round-up of Baked Sponge Puddings that, quite frankly, had me slavering. As we edge towards November and the nights draw in, I always look forward to the baked puddings that accompany the chillier weather. It is somewhat of a UK speciality and one that I absolutely adore. Comfort food at it's very best, especially at the weekend when you have the opportunity to lie back on the sofa and loosen the trousers. It more than makes up for all the depressing dampness in my opinion.
Easy and stress free recipes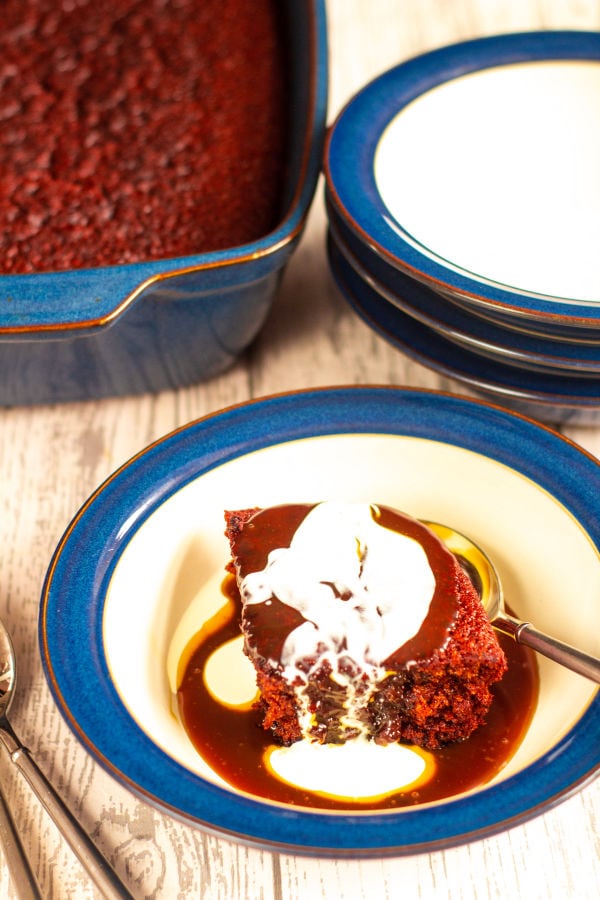 So it is with much joy that I bring to you this comfort food extravaganza of a Round-up. Comfort food is very close to my heart. Easy and stress free recipes that bring joy to the soul as well as the belly are actually what my blog is all about. So sit yourself down, grab something nice to nibble and let's take a very moreish moment together.
Scrummy sticky toffee puds
So I will start as I mean to go on with the king of sponge puddings, Sticky Toffee Pudding. This is my son's absolute favourite pudding and he still gets mega, mega excited when he realises it's on the menu. I love this recipe not just because it tastes incredibly delicious but also because it makes a light, moist sponge that reheats so well for ages afterwards. The leftovers are just as good as the real deal. Something that I view as a cooks treat, first dibs on the leftovers. Alone in a silent kitchen and soused with cream, it is a leftover to lift any manky Monday. My recipe here is, as usual, a very simple one. I make the sponge completely in my food processor in a matter of moments. The caramel sauce is also incredible and also super simple to bring together with no tricky caramel to make.
Lucy from Super Golden Bakes puts her own twist on these beautiful and amazing Date and Ginger Sticky Toffee Puddings. She too bakes to feel fabulous and recommends these puddings for their great mood lifting qualities. Sweet, sticky and fragrant with spices they are irresistible.
Cooking With My Kids has these Easy Sticky Toffee Puddings from BBC Good Food Recipes. She makes them with her children, getting everyone involved. I love that.
Fab fruit sponge puddings
Camilla from Fab Food 4 All made this fuss free Eve's Pudding which she says is the perfect comfort food and super simple and delicious. I would love to bake this for a Sunday Lunch pudding. It would be perfect with custard or ice-cream and such a great alternative to Apple Crumble.
Here is another great Eve's Pudding from Casa Costello. This one has pineapple added to the classic apple.
Sisley from Sew White has a similar recipe here but with summer fruits instead. Summer Fruit Sponge is another simple recipe but topped with a lemon sponge this time. It even has it's own sauce that puddles in the bottom of the pan and again is great as leftovers.
Fab Food 4 All has another baked sponge pudding with her Banana Pudding. This pudding is a great way to use up bananas and perfect served warm with ice cream. Gooey in the middle and crisp around the outside it is a firm family favourite at her house.
Jane from Hodge Podge Days created these incredible Fig, Honey & Cinnamon Sponge Puddings. They sound absolutely divine. Figs baked in honey and topped with a cinnamon sponge. Oh my indeed. Can you imagine?
Moreish chocolate sponges
Of course we simply cannot ignore the chocolate sponge category. A real crowd pleaser especially with the little ones.
The Cooking Journey Blog has this Chocolate Pudding Cake. Made with peaches this is a moist and chocolatey pudding.
Gluturama has this wonderful Self Saucing Chocolate Pudding for us. Rebecca describes this as one of the best ultimate comfort puddings on a winters day. Served with lashings of custard and so simple to make gluten free and vegan too.
Here is a recipe for a fancier chocolate sponge pudding. I regularly make these myself and once mastered it is such a brilliant pudding that is so worth the small amount of faff. The Baking Explorer shares her recipe for Chocolate Fondants here. It is a great recipe with step by step photos to show you exactly how to make them.
Choclette from Tin and Thyme has these Salted Butterscotch Chocolate Fondants. Fabulously decadent. Need I say more.
Awesome almond sponge puddings
We have a couple of Almond Sponge Puddings for you too. Clare from Easy Peasy Lemon Squeezy has this epic Easy Cherry Frangipane. Using fresh cherries and a pastry bottom she tops with a moist almond sponge for maximum delight.
Janice from a Farmersgirl Kitchen has her Bakewell Pudding for us. Again with a pastry bottom and almond sponge but this time with raspberry jam and crushed fresh raspberries. Both of these would be a welcome addition to any autumnal feast.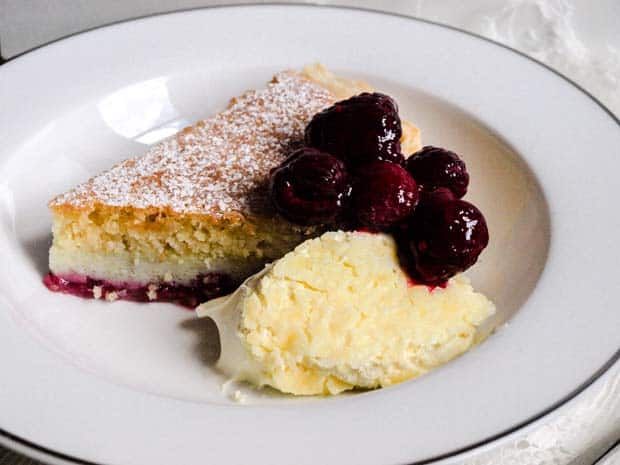 Perfect pudding cakes
We also have some seriously fabulous recipes that can double up as both pudding and cake. The first of these is another from Easy Peasy Lemon Squeezy. Her retro Pineapple Upside Down Cake had me at golden syrup. Such an easy recipe with amazing results.
Another great variant is this Caramel Banana Upside Down Cake from Searching For Spice. Caramel lovers just won't be able to resist this yummy banana upside down cake! It's delicious warm with cream or ice cream and certainly won't last long! The caramelised bananas on the top are so so good!
Jo's Kitchen Larder has her Easy Blood Orange Upside-Down Cake. It is fruity and sweet with a subtle backdrop of citrus. Served warm with ice cream it is a really wonderful dessert.
My very popular and easy Apple Crumble Cake is another. I serve this just as much as a pudding as I do as a cake. Stewed apples topped with cinnamon sponge and a crumble topping served warm with cream would be on my last meal menu. I feel exactly the same about my Rhubarb Crumble Cake.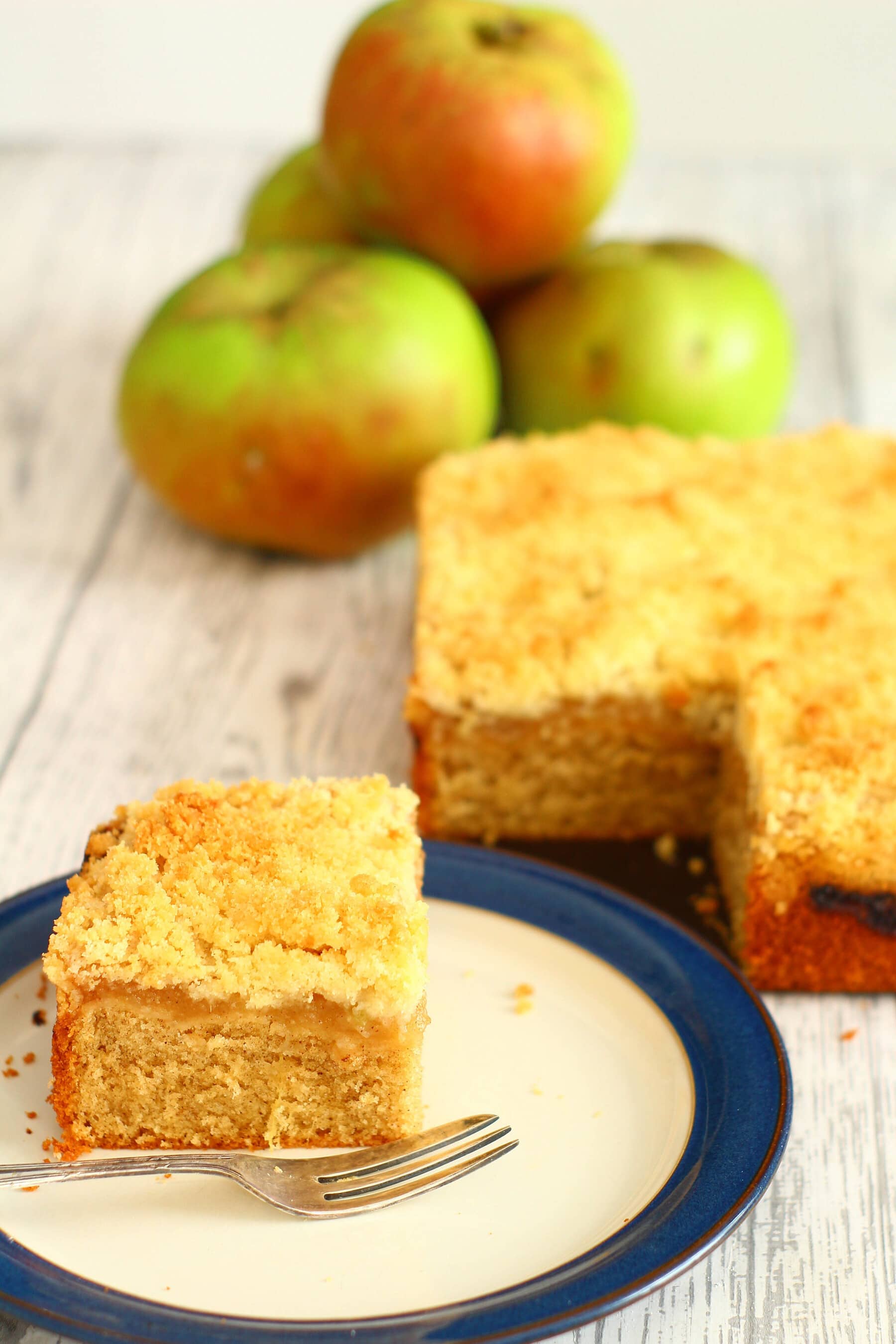 Craft With Cartwright has a gorgeous gluten free Blueberry Crumble Cake version. Made with gluten free self raising flour, blueberries and a cinnamon spiced crumble topping this is pudding perfection.
Kate from Gluten Free Alchemist is closing this Round-up for us with her wonderfully purple gluten free Plum and Blueberry Upside Down Cake. Made with an almond sponge and topped with vibrant plums and blueberries it is delicious with cream, ice cream or custard. She and her daughter have tried it with all three! Girls after my own heart.
I sincerely hope that I have gladdened your slightly chillier souls with some fantastic comfort food. These are great family recipes for everyone to enjoy baking as well as eating. Thank you so much for stopping by and please feel free to drop me a line below. I love to hear from you.
More autumn recipes and dishes
30 horrifying Halloween sweet treats
Slow cooker recipes for autumn
Jenny is a busy mum of two, passionate home cook and compulsive feeder. Blogging at Apply To Face Blog keeps her obsession with simple but delicious recipes sated. She is never happier than with plenty of sticky buns in the oven. A true champion of comfort food, easy entertaining and good times for all, even the cook. When there are no more mouths left to feed or sponges to slice, you can find her knee deep in cookery books and hormones.