A huge warm welcome to this month's Baking Round-up. I hope it finds you all well and still baking your lockdown popsocks off. I don't know about yours but mine seem to be always at half mast these days and my big toe has gone through the right one….or is that just mine?!
So as restrictions seem to be finally lifting, I can't help but ditch my saggy pop socks, reach for the flip flops and look to the fast approaching Summer for inspiration as to what exactly I should be baking in Apply To Face Blog's kitchen. Of course I have my old favourites but I would like to mark this new chapter with something a little different, something a little celebratory.
Now I adore a good old British Summer and preferably an endless one at that. I also can't get enough of Wimbledon or the Henley Regatta (I've never been to either one) and give me some bunting and a cucumber sandwich and I'm literally anybody's. Easy and superficial I know but I am unashamed. I am loud and proud to be British twee every single Summer. Kiss my Sausage Rolls.
There was really only one Baking Round-up subject that came to mind as July and the easing of lockdown approached, and so here I am with much excitement and chicken paste, to bring you the best of British Summertime Baking in the elegant and very British guise of "Afternoon Tea". Much hand clapping…
I'm thinking scones and strawberry jam, tarts and traybakes, biscuits and buns. Infact I'm feeling positively giddy with it. Even just thinking about fondant fancies may well send me over the baking edge. I mean when else can you have so many different cakes etc on your plate in a civilised setting without looking a big piggy?
Apparently Afternoon Tea was introduced into Britain in the early 1840s. It became popular throughout the Edwardian era among the wealthy and elite as a small meal to stave off hunger (no rice cakes for the Edwardians). Dinner was often not served until 9 pm. It also gave people the chance to show off their best china and table linen. I'm not sure what they would have thought of Emma Bridgewater.
Traditionally it includes tea, scones, small cakes and sandwiches. I have widened the menu slightly to include bigger bakes, buns and biscuits. Let's not stand on ceremony where deliciousness is concerned. Size does not matter here amongst friends.
To keep things simpler though, I'm going to leave the savoury for another day. We have our plates more than full with all these sweet treats as it is…..I'm not complaining mind.
So I put the monthly call out and again my talented food blogger friends did not disappoint me. In fact I was almost knocked off my broken deckchair by fabulous recipes, and it is my great delight to share them here with you. I'm more than a little excited. Sorry….did I just dribble on you?
33 Afternoon Tea Recipes
I shall begin with a couple of stately sandwich cakes. One of these sat atop a beautiful cake stand looks the British business. Wedge me right up and don't get crumbs on the doily.
Cakes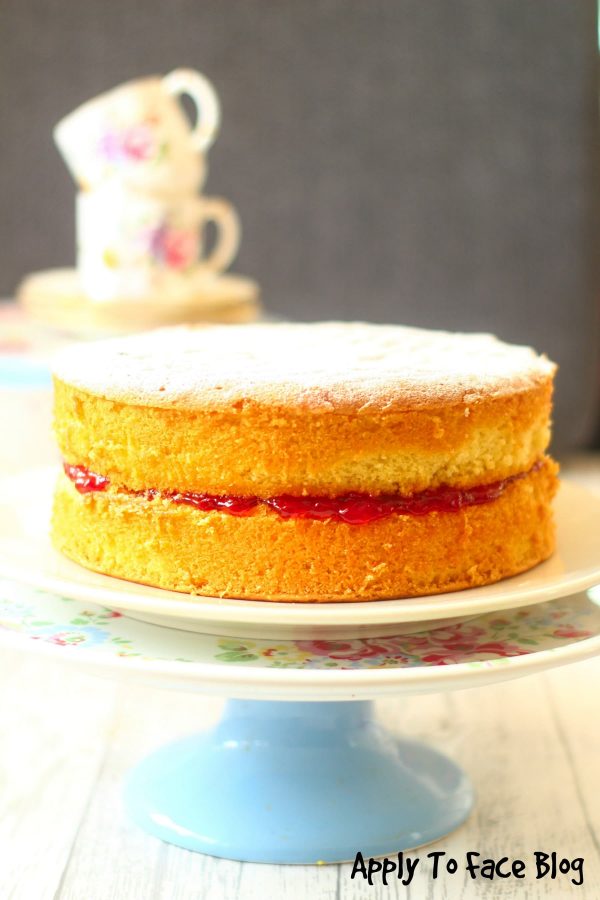 This is my go to sponge cake for every vanilla occasion and perfect for an afternoon tea in the garden. My Chocolate Cake is another favourite too. I regularly make it as a traybake and simply ice the top. This can easily be cut into smaller squares for a more elegant bite.
Talking of elegant, here is a fabulous Earl Grey Tea Cake from Taste Botanical. This easy loaf cake combines the citrus notes of Earl Grey or Lady Grey tea with orange. Just gorgeous.
We also have some classy Fruit Cakes for you. Easy Peasy Lemon Squeezy has her Apple and Fruit Loaf . Clare says this lovely loaf couldn't be a more perfect cake, it's moist, easy and tasty!
Talking of Fruit Cakes, Lavender and Lovage has this authentic Welsh Tea Loaf. A traditional recipe for Bara Brith, which translates as "speckled bread" in Welsh. Served with butter it is actually an authentic High Tea recipe.
I have a pretty special Light Fruit Cake too. A very easy cake to eat, as well as super delicious. I cannot tell you how good it is with a cup of tea.
Feast Glorious Feast has a fabulous Fiery Ginger Cake. It is a simple and moist store-cupboard ginger cake topped with a ginger buttercream and crunchy sugar topping. Easily adaptable to make cupcakes or a layer cake as you please.
I just had to end this section with this really, really, really beautiful Cherry-Chocolate Battenberg Cake (gluten free) from Gluten Free Alchemist. A fun and modern take on the traditional tea time treat. Made with cherry sponge that uses real freeze dried cherry and chocolate sponge… all encased in easy home-made cherry-almond marzipan.
Traybakes
Traybakes are a great idea for an Afternoon Tea if you are catering for a crowd. As I mentioned above, they are easy to cut into small squares and look super pretty.
Supergolden Bakes recommends her Tottenham Cake. Pretty in pink this delicious cake topped with pink icing is an easy all-in-one cake recipe that's perfect for sharing!
I have an incredible Carrot Cake with Cream Cheese Icing and a Coffee and Walnut Cake that I regularly make as a traybake. Lemon Drizzle is another classic cake that works well here.
Sew White has this beautiful Raspberry and White Chocolate Cookie Traybake. This super easy to make cookie traybake is a family favourite. The perfect bake for relaxed afternoons or even a party.
Cupcakes and Mini Cakes
Mini cakes make me squeal! So pretty and cute. I can't help but go all high pitched. The Baking Explorer has these stunning Mini Victoria Sponges. I have to give these a go, just have to.
Another show stopper from The Baking Explorer are these delicate and dainty Fondant Fancies, with rose and lemon flavour and pink icing. More squealing from me!
Tin and Thyme has these delightful Raspberry Rose Friands. They're full of summer flavour, quick to prepare and only take twenty minutes in the oven.
Feast Glorious Feast has an old time classic here with her Vanilla Butterfly Fairy Cakes. The oldies are definitely the goodies. A real crowd pleaser and good looking too.
These Mini Lemon cakes too would be perfect for afternoon tea or anytime from Nic's Adventures.
Simply Sensational Food has these Mini Lemon Rose and Pistachio Bundt Cakes with mouth watering middle Eastern flavours of rose, lemon and pistachio, make these cakes delectable and simply delicious.
Keeping with lemon, Something Sweet Something Savoury has these zesty Lemon Drizzle Cupcakes. They are absolutely divine – soft, tender sponge with a jam filling and a crunchy, sugary topping! I love the idea of the jam inside.
Scones
Where would an Afternoon Tea be without Scones? Perhaps the star of the show and a real favourite of mine. Heavy on the jam and cream of course.
Feast Glorious Feast assures us that her Scones are the best in town. They certainly look the scone business.
Casa Costello has a Scone recipe that is without eggs. A great recipe if the cupboard is a little bare.
And If you are looking for a gluten free alternative then Gluten Free Alchemist has her Cherry Bakewell Scones. Why have plain scones when you can have the cherry-almond flavours from Bakewell? These scones are packed with fresh cherries, infused with almond and have a texture to rival their wheat-based cousins.
Tarts
An elegant tart or two would not go amiss on your outdoor Afternoon Tea Table. Try these stunning Strawberry and Custard Tarts from Charlotte's Lively Kitchen. Crispy pastry filled with creamy vanilla custard and topped with fresh, juicy berries. A delicious, elegant summer treat.
My Gorgeous Recipes has these Pastéis de Nata Recipe, or the famous Portuguese Custard Tarts, some heavenly delicious bites that are super easy to make at home using ready-made puff pastry and homemade custard.
The Petite Cook has this gorgeous Nectarine Tart made with a magic dairy-free olive oil crust – A delicious simple treat that's super easy to make. Cut into slices it would be as pretty as a Summer picture.
Biscuits
I love a pretty biscuit and we have some here that are real British classics.
Viennese Fingers were the very first biscuits that I ever made at school. I will never forget making them under the watchful eye of our very strict cookery teacher. Cooking with My Kids has a much more relaxed recipe for us with her version of Viennese Fingers.
I just love these Classic Empire Biscuits from Something Sweet Something Savoury. They are one of the most popular bakery treats in Scotland – but you can easily make them at home! Tender, buttery biscuits filled with jam, topped with icing and topped with a cherry or jelly sweet. Perfect.
Charlotte's Lively Kitchen has the most elegant of biscuits here with her delicious soft centred Lemon Amaretti Biscuits. So easy to make, crisp on the outside, chewy in the middle and packed with lemon flavour. They're naturally gluten-free too.
Cream Cakes
Who doesn't love a cream cake? Cooking With My Kids is a girl after my own heart with these divine Chocolate Eclairs.
We also have a brilliant gluten free version from Gluten Free Alchemist. Gluten Free Chocolate Eclairs – Exactly as you remember from pre-GF days. Decadently crisp and light, filled with pillowy cream and temptingly smothered in rich chocolate ganache.
I often make my Iced Buns into fingers and split them to fill generously with strawberry jam and whipped cream. Not much gets better and made mini sized, quite possible to eat like a lady.
And that, as they say, is Afternoon Tea that, lockdown readers. I hope you are feeling suitably inspired and I hope that this new socially less distant chapter lifts us all and allows us to enjoy lots more treat filled summer get togethers in the garden.
Happy Baking and do let me know how you get on with any of the recipes!
Pin it for later!
Other baking posts you might be interested in:
Jenny is a busy mum of two, passionate home cook and compulsive feeder. Blogging at Apply To Face Blog keeps her obsession with simple but delicious recipes sated. She is never happier than with plenty of sticky buns in the oven. A true champion of comfort food, easy entertaining and good times for all, even the cook. When there are no more mouths left to feed or sponges to slice, you can find her knee deep in cookery books and hormones.