Hello and a big welcome to this month's Baking Round-up. My name is Jenny Walters, I blog over at Apply To Face Blog and I am a fervent feeder. However it has not always been so. Meringues are what kind of started it all for me. One bite of my sister in law's meringues and something deep down flickered to life. By the time I was picking the chewy bits out of my teeth with a finger, it was a big fat flame. Could a home cook really create such amazingly delicious things in his/her kitchen? She assured me you could…….. I was in.
Meringues
Since then I have taken them well and truly to my baking bosom and I have a whole lot to thank them for (the meringues, not the bosoms). Due to their gorgeousness, simplicity and great make ahead qualities, plus the fact that my children squeal for them, I now make them for nearly all our favourite family occasions. I make them for family meals, dinner parties, days out and picnics. Knowing the delights within, I feel all fuzzy when handing someone a large crisp, mallowy meringue (they have to be large obviously). We go away a lot in the caravan too and they are just so easy to transport and last so well that they are always my dessert of choice to take away with us. Another favourite way of mine to serve these beauties is as hand held picnic food, al fresco. I produce a Tupperware container filled with whipped cream from a cool box, a big bowl of strawberries and invite everyone to scoop out cream with their meringue. The children love it. It is a glorious face full.
I'm sure I have had something to do with it but seemingly meringues have naturally woven themselves very tightly into my family's narrative and I imagine that my children as adults will feel warmly nostalgic whenever they eat one. That makes me feel all fuzzy too. They just keep on giving.
Here is my tried and very well tested family meringue recipe.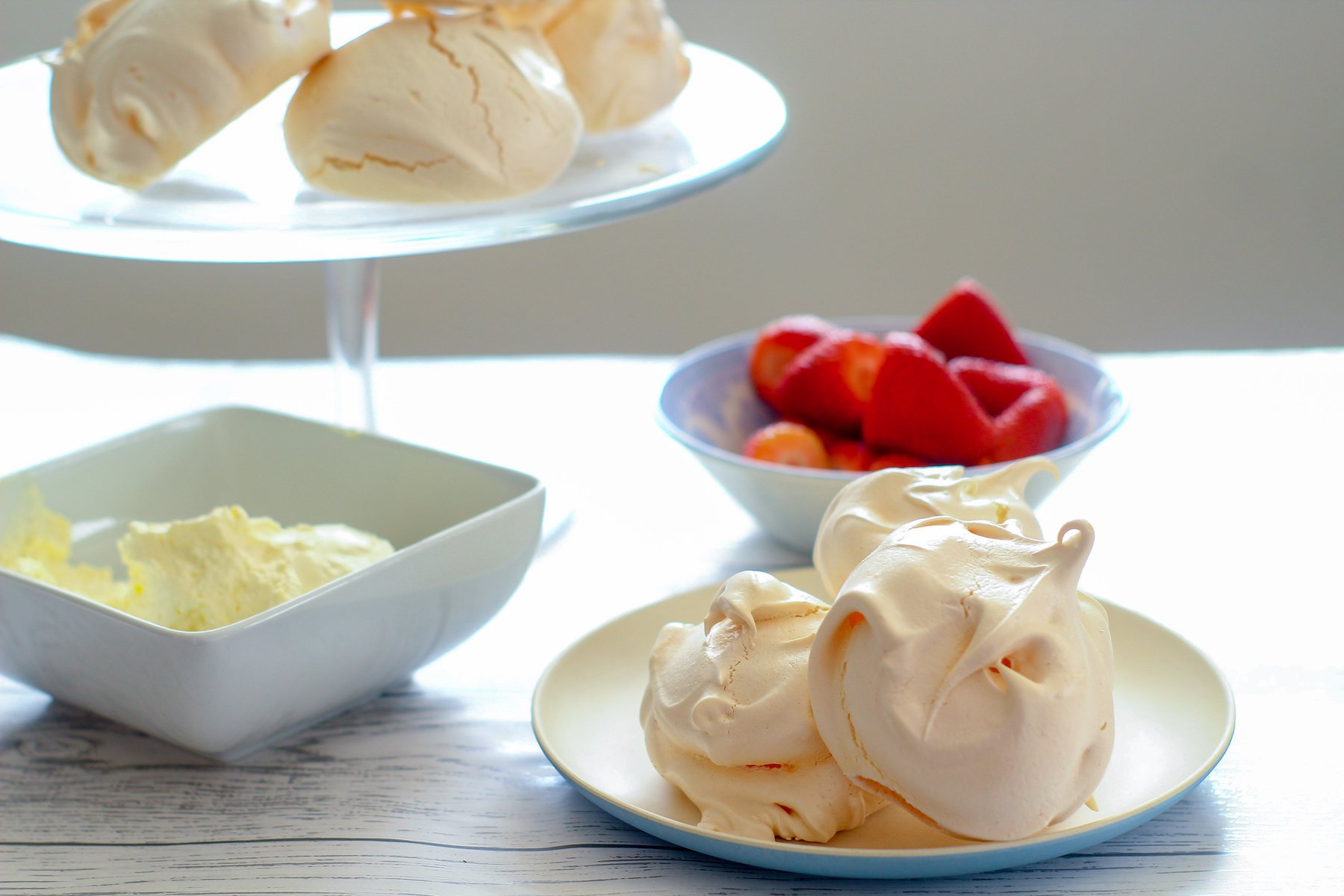 Of course I have only been scratching the surface of the whole Meringue genre. In fact it can be seen as a bit of a complicated subject. I will attempt to clarify for the eager amongst you. There are essentially three different types of meringue.
Swiss Meringue
This is a cook as you whip meringue. You follow the same basic meringue recipe but do so over a saucepan of simmering water. It can be finished off with a blow torch or in a really hot oven for a golden touch. This is often used as a topping for pies or cakes as it is so stable. If you can use a thermometer the meringue is cooked at 70 C
Italian Meringue
This is as stable as swiss meringue but made with hot caramel instead of sugar. The caramel cooks the egg whites through. If you can use a thermometer then the caramel should be 120 C before adding to the egg whites. The caramel is slowly poured into the whisking egg whites. The meringue is fully cooked by the caramel.
French Meringue
This is the most common used and easiest meringue recipe and the one that I have listed above as my own. It is made with simply egg whites and caster sugar. It is usual to use 50 grams of sugar per egg white. I always like to add an extra 50 grams of sugar to the recipe for any more than 3 egg whites. Go hard or go home. I like to add a tsp of cornflour and white wine vinegar too as I think it gives you a chewier centre. The most important message that I want to get across here is that this is a very EASY recipe to follow. If you make sure there are no egg yolk in your whites, have a clean bowl, whip in your sugar slowly until the mixture is super stiff and glossy you will have a stupendous dessert. There is not a lot else to it. You can have meringues or a pavlova in the oven in under ten minutes. That's a huge bonus in a busy family itinerary/madhouse.
Meringue Recipes
Another super simple but stunning dessert made with meringue is, of course, the Pavlova. The juxtaposition of the crisp crust and the soft, almost mousse like centre is incredible and when paired with softly whipped cream who wouldn't feel a little weak at the knees? Pavlova too is a make ahead dessert bringing calm to the kitchen. Here is my favourite Pavlova recipe.
Prodigious Chocolate Pavlova with Raspberries. This classic combination of dark chocolate and raspberries is incredible. A real favourite of mine for a dinner party dessert.
Recipes Made Easy's classic Summer Berry Pavlova is every inch a stunning bake too. Topped with Summer Berries and whipped cream it's a real crowd pleaser.
Super Golden Bake's Brown Sugar Pavlova with Caramelised Peaches is just beautiful as well as delicious. Can you imagine?
Lucy from Baking Queen 74 gives us her take on a pavlova with this Meringue Cake with pretty layered discs of meringue sandwiched with whipped cream and raspberries. A simple but very effective centrepiece.
Casa Costello's Mini Egg Pavlova's are fun and fabulous as are these Mini Chocolate Easter Nests from The Baking Explorer. However I just couldn't stop thinking about these Crème Egg Mini Pavlovas below from Mummy Mishaps. So simple they're brilliant. Great for any time of the year, not just for Easter. The kids would go potty for them.
I love the sound of Curly's Cooking Raspberry and Lemon Curd Meringue Nests too. Filled with lemon curd and raspberries they are a great and elegant summer dessert.
These gorgeous Chocolate Orange Meringue Nests from A Strong Coffee sound divine. Such a classic combo, well loved across the land.
I also have two roulades for you. Roulades may look tricky but the only tricky bit is the rolling and once you've done it a couple of times it's a cinch. Do have a go. This White Chocolate, Lemon and Raspberry Roulade from Mummy Mishaps is very good. She says" It's delicious, mallowy meringue filled with a decadent lemon and white chocolate cream. It really is very, very nice." I so believe her. And this White Chocolate and Raspberry Roulade below is mega delicious. Another one of my own. I'm a little obsessed obviously…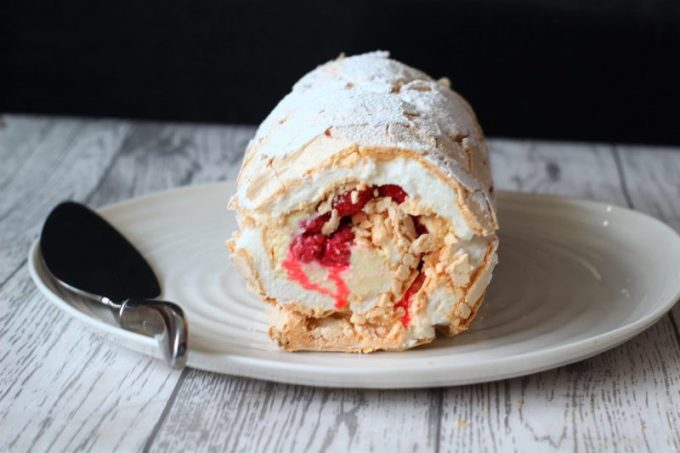 I have fallen a bit in love with these beautiful Meringue Kisses from Cooking With My Kids. They are just the cutest and the children love to make them. These White Chocolate and Raspberry Kisses from Only Crumbs Remain are just so perfectly pretty I can't quite believe it.
Curly's Cooking offers us a stunning Eton Mess made with her incredible stripy meringue kisses. What a genius idea. This Hazelnut Meringue Ice Cream Sandwich from Family Friends Food is a real taste sensation. The meringues sound nuttily good and the berry ice cream brings it all together wonderfully. Another meringue dessert that is a little different is this Queen Of Puddings recipe from Dragons and Fairy Dust. With a layer of custard and jam as well as meringue it would tick a lot of boxes in my house. Another interesting take on this subject is Tin and Thyme's Rose and White Chocolate Meringues. These delicate flavours sound wonderful and another great dinner party dessert.
I love the sound of this Warm Rhubarb and Raspberry Meringue Trifle from Farmersgirl Kitchen. Fabulous comfort food. I would love this as a Sunday Lunch pud. I bet the tart rhubarb works brilliantly with the sweet meringue.
Tin and Thyme also uses rhubarb in her Mini Chocolate and Rhubarb Pavlovas. She tops with a rhubarb and elderflower curd and roasted rhubarb. Amazing flavour combinations in every bite.
I love too this Peach and Bramble Meringue Slice from Farmersgirl Kitchen. How delicious does that sound. I just have to bake it and soon. Picking berries from brambles is such an idyllic thing to do, especially with the children. It's got to be good for the soul as well as the belly.
This Gluten Free Lemon Meringue Pie with a biscuit base from Gluten Free Cuppa Tea is just stunning as well as wonderful to eat. I am a real sucker for a Lemon Meringue Pie. There is just something about the flavour combo that really works for me. It has to be smothered in cream though which says a lot about me and not much about this recipe as it is also dairy free.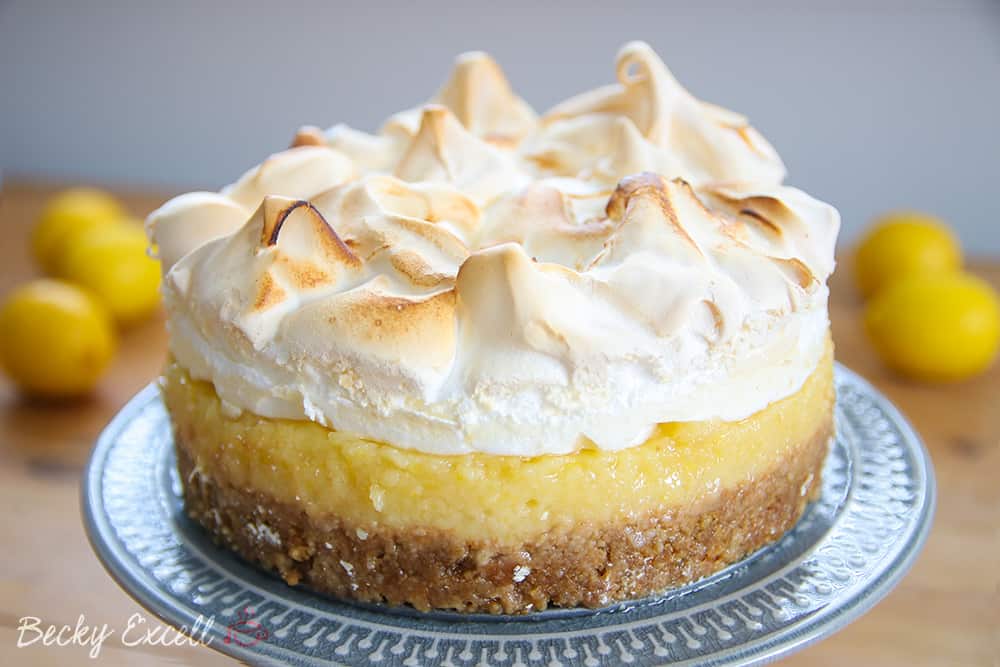 Here is my own deep dish Lemon Meringue Pie recipe. I love the deep dish bit. It's a towering slice of pie.
My last recipe from Little Sunny Kitchen is something a little different and the only recipe to use Italian Meringue. It is beautiful and a real romantic treat. My daughter would think she was in heaven if I served her this Pink Latte with Italian Meringue
I hope you have enjoyed all these great meringue recipes from my fellow bloggers and thank you for all of your links. I'm sorry I couldn't include them all. The next Baking Round-up theme will be Cookies. Another favourite genre of mine! Email me a link to your recipes (click on the mail link below in my bio and put BritMums Baking Round-up in the subject area) to be considered for inclusion. I really can't wait to see all your incredible recipes. It's a hard job to be spreading the word….not.
Jenny is a busy mum of two, passionate home cook and compulsive feeder. Blogging at Apply To Face Blog keeps her obsession with simple but delicious recipes sated. She is never happier than with plenty of sticky buns in the oven. A true champion of comfort food, easy entertaining and good times for all, even the cook. When there are no more mouths left to feed or sponges to slice, you can find her knee deep in cookery books and hormones.