Hello and yet another warm welcome to this month's Baking Round-up. Pull up a chair, pour a hot cup of what you fancy, I have a real peach for you. This month's theme is Chocolate cake, an absolute classic and out and out favourite in homes all across the land, including and especially mine. For me it comes in two major flavours, dark and fudgy or wonderfully middle of the road, milk chocolate. They are ying and yang but I crave them with equal ardour when the mood takes me, and it regularly does.
Chocolate cake speaks to us all in different ways with it's many flavours and countless variations. When it comes to sweet stuff our childhoods are responsible for a lot of our adult fancies and the oldies are still the goodies. A damp, dark, retro, swirly Chocolate Fudge Cake is iconic to anyone born in the 80's, as is a Black Forest Gateaux for a child of the 70's. My own love affair for chocolate cake really began in my teens. There was a seriously amazing local coffee shop and my best friend worked there on a Saturday. It was the most evocative place I had ever been in. Shadowy and full of little wooden booths it was always engulfed in a sophisticated fug of roasted peppers and just baked dark chocolate cake. They served the chocolate cake in huge damp wedges with a large dollop of sweetened cream and a cake fork. It was always rammed packed with people who looked like they ate like this all the time……it was a stupendous place and when I felt brave enough it was the chocolate cake that I always ordered. It was so good that I have held it in my mind ever since. A childhood hero of a chocolate cake never to be revisited in reality. Perhaps as it should be for nostalgia's sake but it hasn't stopped me always keeping a chocolate ear to the ground for the recipe.
Curiously I have, until recently, never found a fool proof recipe for a really good one bowl plain old chocolate cake. I have made many but all that have been simple have lacked depth and all that have depth have been too fiddly. A chance but wonderful encounter with a lovely food editor and expert baker at a recent P.R event gave me the idea of how I just might go about it and, after a couple of experiments, my Easy Chocolate Cake was born. It ticks all the boxes and the icing is a hit with the kids. At last I can throw something of epic chocolate cake proportions together in a stress free minute. I am thrilled to have it as one of my go to bakes. I am nearly complete.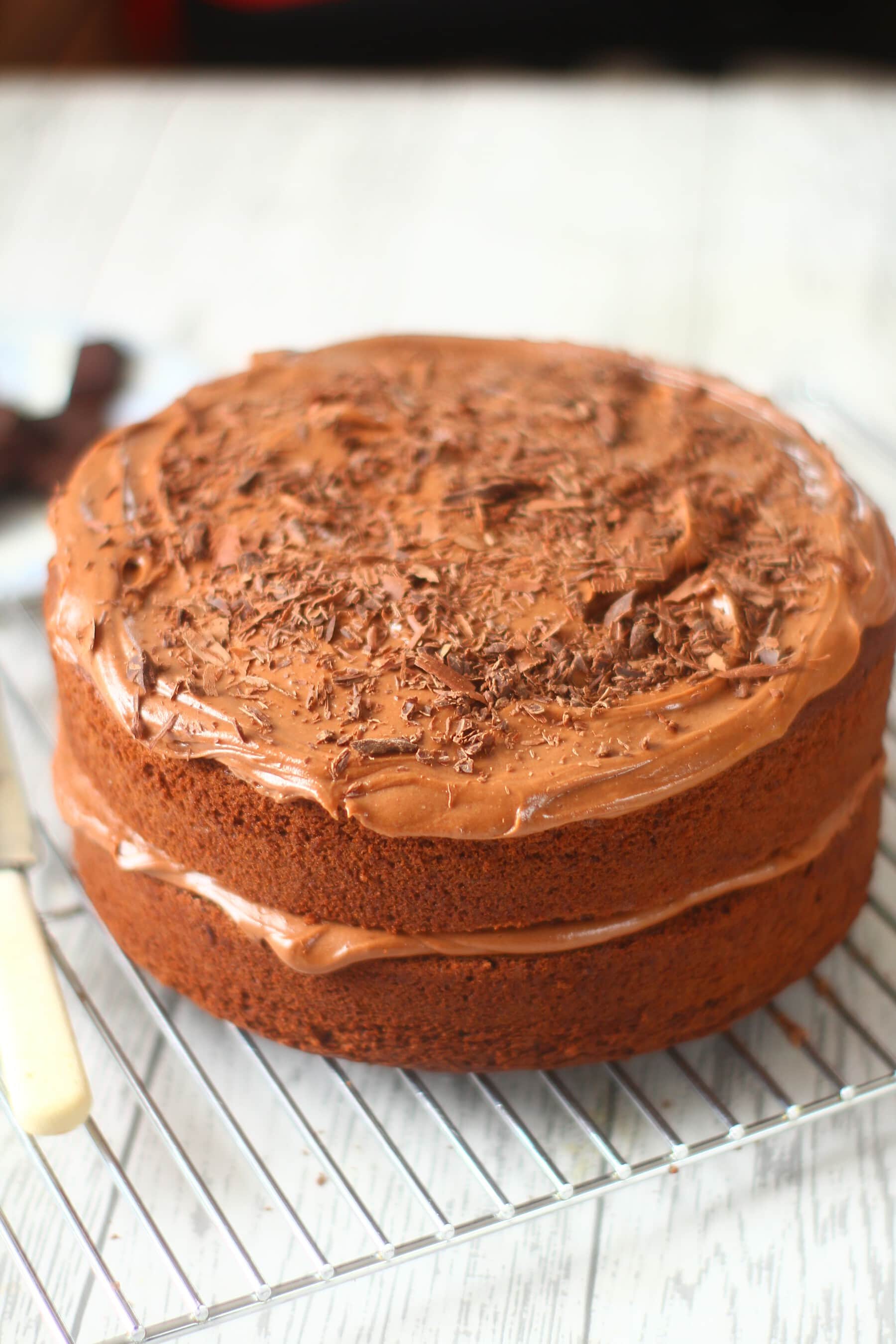 Cooking with Kids has another one bowl recipe with her Chocolate Fudge Cake. A simple but great recipe that encourages some kid friendly icing.
Me, Annie Bee also has a kid friendly bake that she remembers making with her mum too. This is her go to Chocolate Cake recipe.
Here is another crazily easy chocolate cake, Chocolate Loaf Cake. This is the cake I go to for the school cake sales and when I feel like a slab of chocolate cake. Studded with milk chocolate pieces it is incredibly good and made in the food processor it is a doddle to whizz up. It really is fabulous and another one bowl mix.
Something Sweet Something Savoury has this Chocolate Sour Cream Banana Loaf Cake. It is full of chocolate chips, cocoa and of course bananas. A match made in heaven.
Recipes Made Easy has a very special Sunken Pear and Chocolate Loaf Cake.This cake brings together a classic pairing and looks sensational when sliced.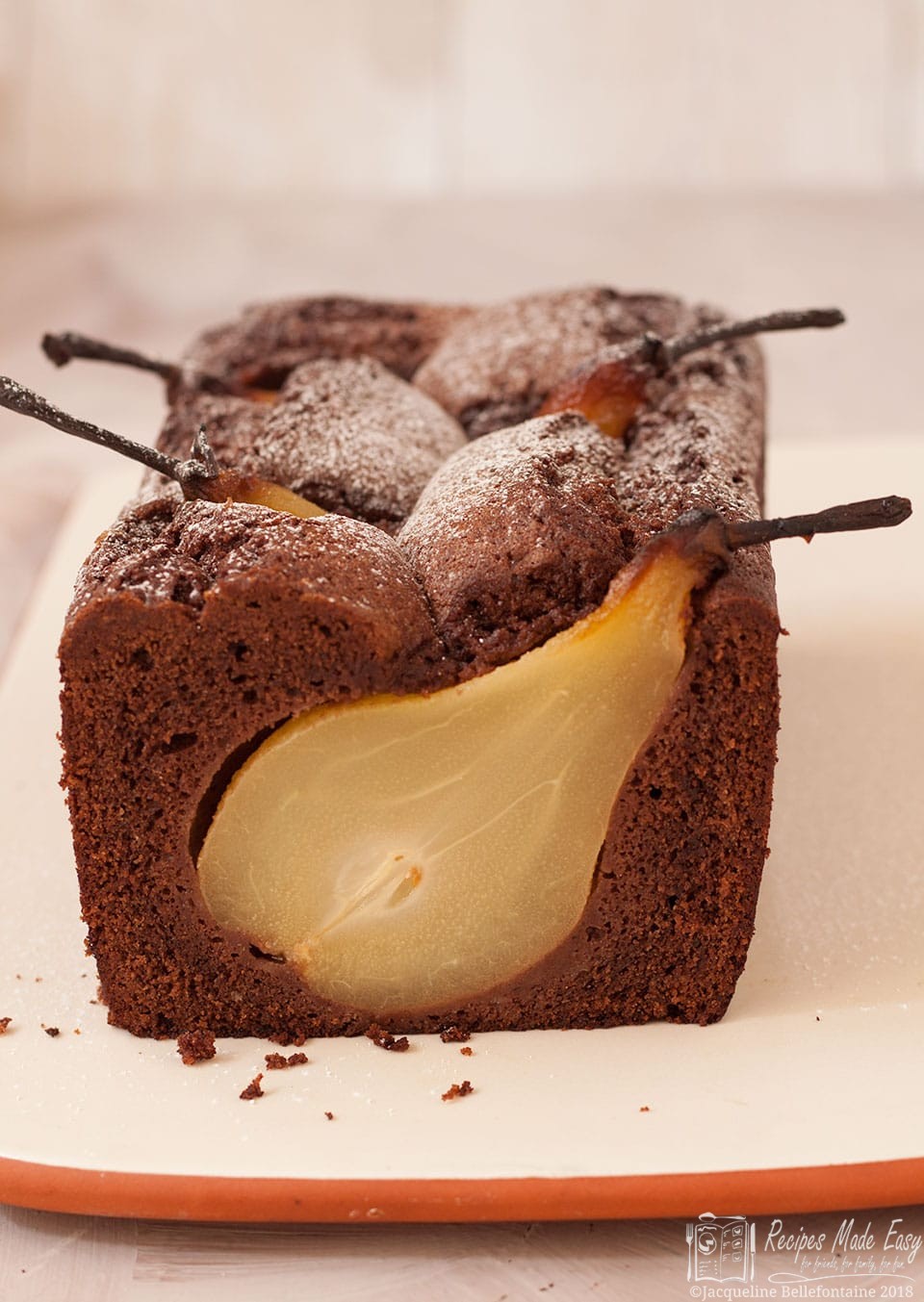 Casa Costello has another classic combination with her Double Chocolate Orange Loaf Cake. This cake is made with melted chocolate and topped with orange icing and Terry's Chocolate Orange pieces.
The Mum and The Mom offers up this clever Chocolate Marble Loaf Cake. Fantastic to bake with the kids and great for their lunchboxes.
Craft with Cartwright has this delicious Chocolate Chip Loaf Cake recipe for us. Easy to whip up it is again perfect for lunchboxes and feeding a crowd without fuss.
We have some more adventurous chocolate bakes for you too. Choclette from Tin and Thyme has this incredible Scandinavian Chocolate Cake. Made with rye breadcrumbs and layered with blackcurrant jam and cream it sounds out of this world. It really is something else. She also has a Triple Chocolate Cake. White chocolate mascarpone icing sandwiches two chocolate sponge layers together topped with a fabulously slightly bitter chocolate and honey glaze.
Fab Food 4 All brings us her Simple Cherry Chocolate Cake. This cake is indeed simple to make and has the most delicious crunchy almond topping.
Everyday Healthy Recipes actually offers us a healthy solution with this Healthy Chocolate Banana Cake. Made with oil instead of butter she uses the bananas to bring a natural sweetness and buttermilk to create a tender crumb.
Jo's Kitchen Larder has a brilliant Chocolate Courgette Cake that is fudgey and packed full of chocolate. The courgettes make little noise at all apart from adding some vegetable goodness. Most obliging.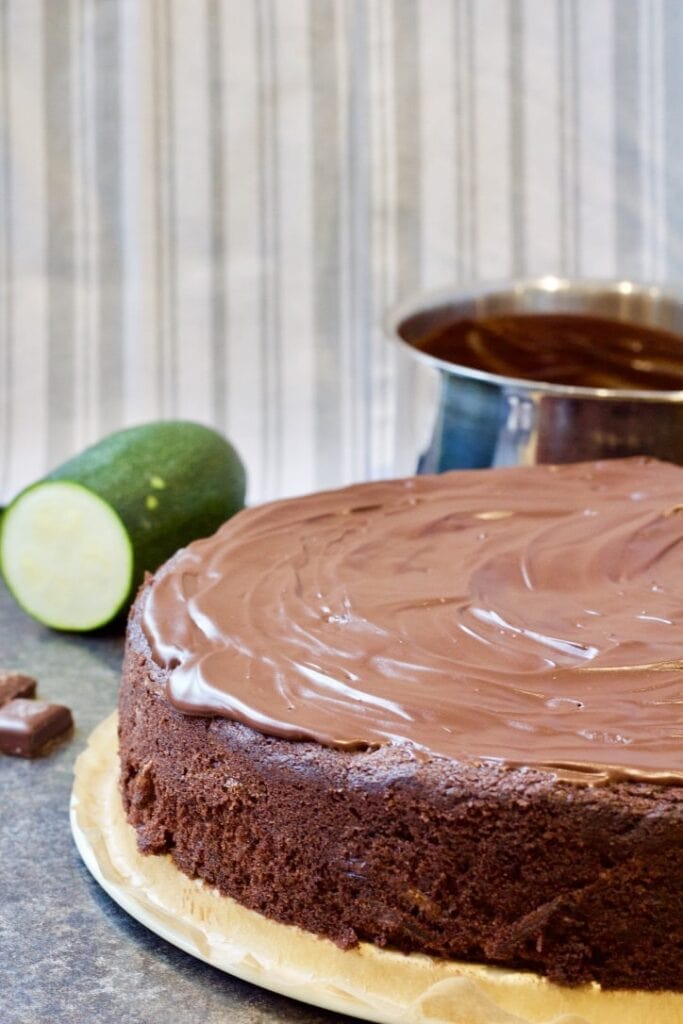 Finally Lathi's Kitchen has a fabulous Mexican Chocolate Cake . She includes chilli powder and cinnamon for a sophisticated cake with a kick.
We now move into the free from section and what an incredible selection we have. Family Friends Food starts the chocolate ball rolling with her Super Low Carb & Gluten Free 'Diabetic' Chocolate Cake. Created for her diabetic Father In Law this chocolate cake is a real triumph considering the brief. It looks delicious.
Veggie Desserts gives us this beautiful Vegan Black Forest Cake. A vegan retro cherry and chocolate delight.
Glutarama has this incredible Gluten Free Chocolate Orange Cake with a Chocolate Orange Glaze. Simple to make and a fabulous family bake.
Gluten Free Alchemist made this Chocolate Birthday Bundt for her daughter's birthday. Very damp and chocolatey this beautiful bundt is perfect for a special occasion. She also has this stunning Mocha Celebration Cake which is nut free, gluten free, rice free with an optional dairy free sponge and frosting.
Craft With Cartwright has a Gluten Free Chocolate Fudge Cake that is made in a saucepan. Who knew?! Simple but rich.
Beach Hut Cook bakes this decadent Gluten Free Chocolate and Coconut Cake. It actually improves with time and is made without flour using ground almonds and desiccated coconut instead. Great when you are wanting something a chocolate hit with a difference..
We even have an Air Fryer Gluten Free Chocolate Cake for you from Recipes From A Pantry. This one bowl recipe sounds fabulously rich and looks gorgeous.
And now to the Show Stoppers……There has to be show stoppers when we're talking Chocolate Cakes. This deceptively simple One Bowl Chocolate Cake with Chocolate Mascarpone Icing is super stunning and according to Supergolden Bakes just about "THE" best Chocolate Cake ever.
Easy Peasy Lemon Squeezy showcases her Easy Chocolate Birthday Cake. Simply but very effectively decorated with Kit Kats and Maltesers. A fabulous cake for any birthday surprise.
Something Sweet Something Savoury has this amazing Chocolate Cherry Drip Cake. A three layer cake sandwiched together with cherry jam and chocolate buttercream. A shiny chocolate ganache is then piped on top and dripped down the sides to great effect before topping with fresh cherries.
Casa Costello also has a great Simple Chocolate Drip Cake. Piled high with chocolate treats it is a regular cake with a high wow factor.
The Baking Explorer brings this fabulous Chocolate Mint Cake to the show stopper party. Another straight forward cake cleverly decorated to impress the crowd. This classic flavour pairing is sure to go down a storm and as Kat most cleverly points out, the coolness of the mint makes it easy to eat a big slice!
I hope I have more than filled your chocolate cake boots. Tune in next time for another full on baking fest. I know I falsely purported to be going in hard with muffins but my head was turned by The Chocolate Cake. Be assured that I will be returning to the original brief next post. Can't wait. Please feel free to comment below. We love to hear from you big time.
Pin it for later: Chocolate cake recipes to make your mouth water on Pinterest
Jenny is a busy mum of two, passionate home cook and compulsive feeder. Blogging at Apply To Face Blog keeps her obsession with simple but delicious recipes sated. She is never happier than with plenty of sticky buns in the oven. A true champion of comfort food, easy entertaining and good times for all, even the cook. When there are no more mouths left to feed or sponges to slice, you can find her knee deep in cookery books and hormones.