A big warm welcome to another Baking round-up and I can't wait to get started. I hope you all are well and raring to bake your socks off. Because as the time draws nigh for Christmas baking to begin and as we enter another lock down, it is exactly the opportunity to bake your traditional Christmas Cake if you fancy it. Bake it now and feed it with your favourite boozy tipple so that it is rich and gorgeous in plenty of time for the fruity festive period.
Let's quickly start at the beginning and get our Christmas Cake facts right. Christmas Cakes have been with us since the late 19th century and are more traditionally topped with marzipan and royal or fondant icing. The cake is fed with brandy, rum or whisky in the weeks leading up to Christmas before the cake is iced. That way your cake is rich and moist by the time the first slice is cut.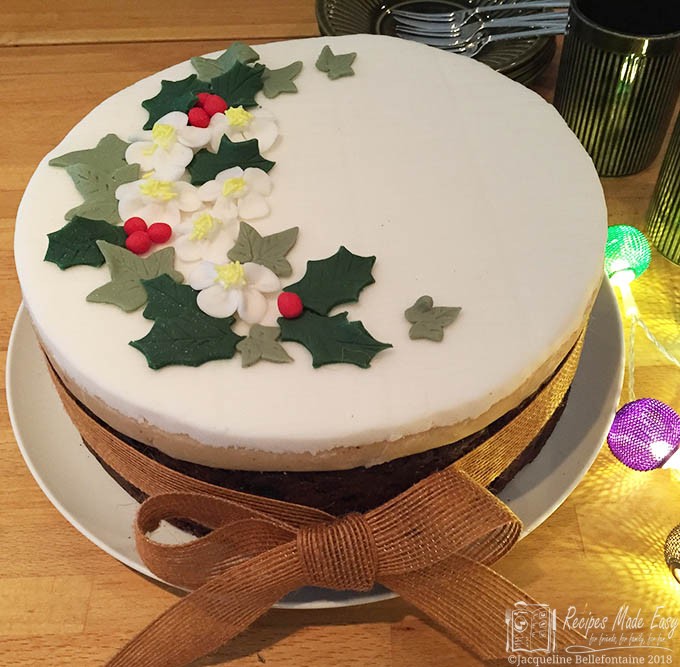 However I must confess that I am not personally a marzipan fan so I always leave my cakes naked. But I do remember making a fabulous one at school with royal icing, a couple of polar bears and a dodgy looking Father Christmas. It was quite the festive picture. Impressed as I was with my yuletide scene, I have not repeated the process, but Christmas would not be Christmas at my house without a naked slice or six.
Of course you don't have to stick to the traditional road here. There are lots of recipes out there for alternative christmas cakes. In fact my Cinnamon Bundt Cake is as important to me as my fruit cake. It's just as good as the real deal and it's perfect for the children. Nobody wants tipsy kids right? Santa would definitely not approve.
Traditional Fruit Cakes
After my school experience I couldn't help to be drawn first to this Easy Retro Christmas Bake from Recipes Made Easy. This Christmas cake is really easy to make and is decorated with a retro-style snow scene which requires little cake decorating skill but still looks fabulous.
Here is my own Easy Christmas Cake go to. It is a one bowl, chuck it all in recipe made with chestnut puree to give it a depth and moistness with or without the liquor. As mentioned previously, that's a foolish question at my house.
Here we have a chocolate Easy Christmas Cake Recipe iced with fondant icing and chocolate stars. It's a post that is full of christmas cake making and icing tips too.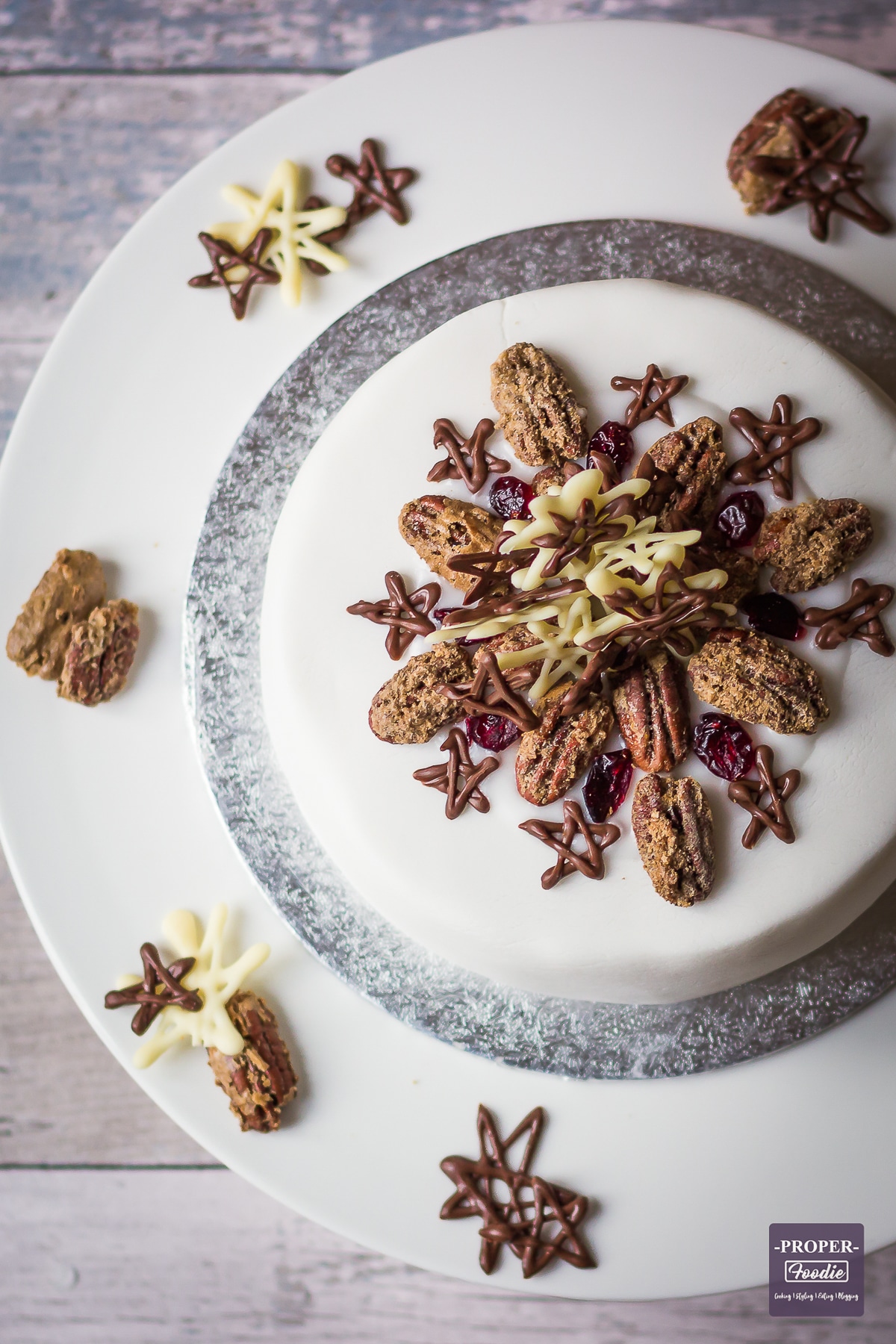 Casa Costello has a detailed post about exactly How to Marzipan a Cake layer on your cake. Great step by step photos and tips show exactly how to get the perfect marzipan layer on your cake.
We even have a Whole Wheat Classic Christmas Cake from Cook with Renu. It is a rich, dense and moist cake loaded with dried fruits, also fed with brandy and a perfect Christmas Cake treat.
Here is a Last Minute Christmas Cake from Farmers Girl Kitchen. Something delicious for the eleventh hour.
This traditional but Gluten Free Christmas Cake from The Free From Fairy can also be made dairy free. It is simple to make and so good nobody will know that it's gluten and dairy free!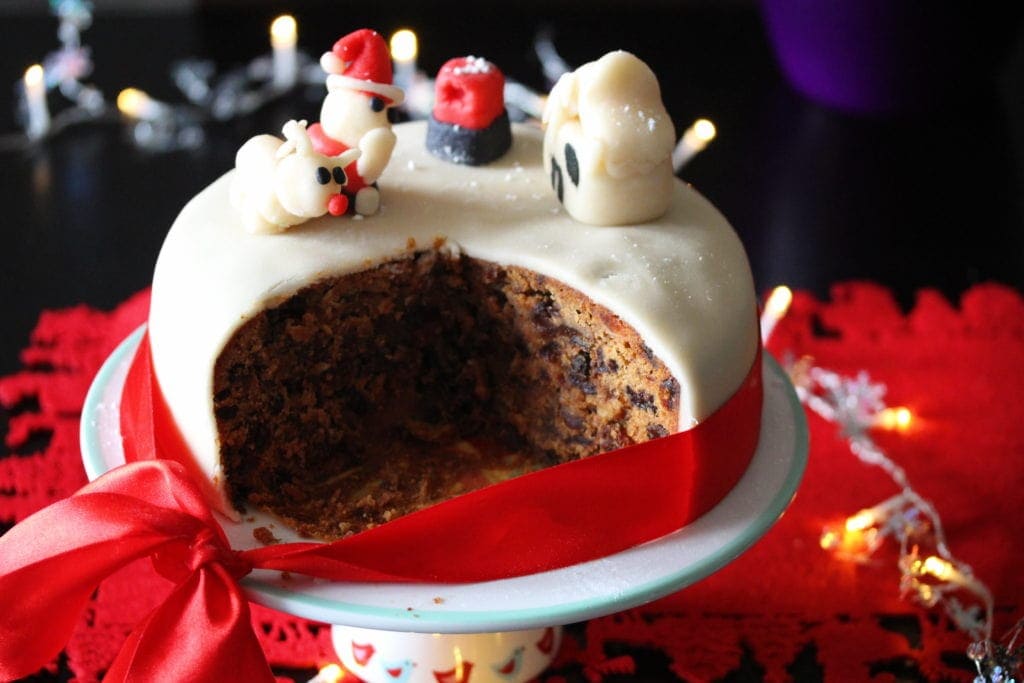 To finish off our fruity section we have this rich, moist and boozy Vegan Christmas Cake – so simple to make and incredibly tasty from The Veg Space.
Alternative Christmas Cakes
I absolutely love this Ice Cream Cake idea for Christmas from Easy Peasy Lemon Squeezy. Full of chocolate, cherries and cookie dough the kids are sure to go crazy for it. You can keep it in the freezer as you take slices from it.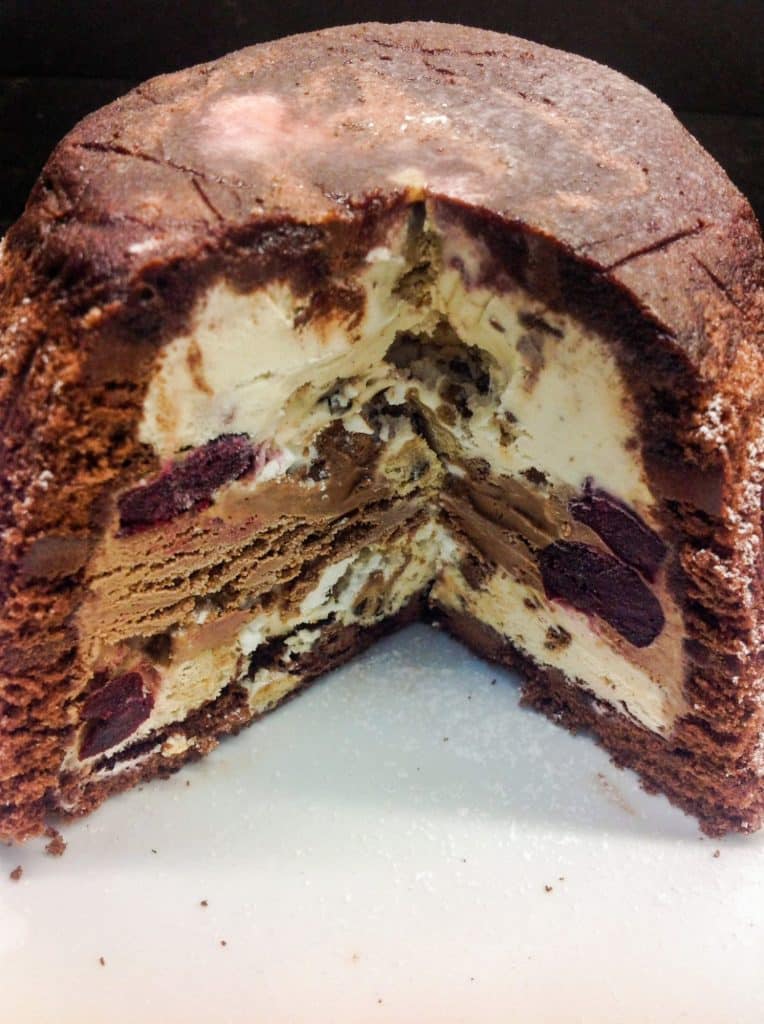 Look at this beautiful rustic alternative from Lavender and Lovage. This Cranberry & Walnut Bundt Cake had me at first sight. It would look very special on anyone's Christmas table.
I just had to include a Chocolate Yule Log from Recipes Made Easy. I do make one some years, they are obviously a huge crowd pleaser and this one looks perfect.
This Fig Almond Cake from Tin and Thyme can be made a few days in advance or right at the last minute. It is delicious any time of the year, but this cake works particularly well as a Christmas bundt in lieu of a traditional Christmas cake.
I have admired this next cake from a far for a few years. It is simply stunning as well as deliciously festive. This Gingerbread Cake from Supergolden Bakes with Cinnamon Cream Cheese Frosting is simply perfect for Christmas celebrations! Lucy even has a Vegan Chocolate Gingerbread Cake version
Sew White has an incredible White Chocolate Cranberry Cake. It's soft, moist, chocolatey and fruity in every single bite! The white chocolate and cranberry combination is a popular one for good reason – it's delicious!
Here is one for all the family to join in with. Gluten Free Alchemist has this wonderful kitsch Layered Chocolate-Mint Christmas Tree Cake. Kate says that it is really very straight forward to put together and the kids can have plenty of fun helping to 'decorate the tree'.
So I hope you have enjoyed all the fabulous festive bakes this round up. I know I am feeling suitably inspired and have already baked my main Christmas Cakes. They are thinking rich thoughts as I type. The brandy is in the cupboard and the feeding has begun…I'm talking about the cake obviously……
More Christmas recipe inspiration
Jenny is a busy mum of two, passionate home cook and compulsive feeder. Blogging at Apply To Face Blog keeps her obsession with simple but delicious recipes sated. She is never happier than with plenty of sticky buns in the oven. A true champion of comfort food, easy entertaining and good times for all, even the cook. When there are no more mouths left to feed or sponges to slice, you can find her knee deep in cookery books and hormones.