Jacket potatoes can be eaten in a million different ways. Thankfully for our busy family schedules, there's also not just one way to cook a delicious jacket potato (or as Americans call them: baked potatoes)! Here we have 5 of the easiest, fool-proof tips to making the perfect jacket potatoes that will leave you with a fluffy soft interior and a perfect baked potato each time. This post is part of a paid campaign with Love Potatoes.
Are jacket potatoes healthy?
Jacket potatoes/baked potatoes have loads of benefits and can be the basis for an exciting hot lunch , slimming diets and easy family dinners. They are gluten-free, fat-free, and can be prepared so they are vegetarian or vegan.
Potatoes are a source of potassium, which contributes to the normal functioning of the nervous system, muscle function, and maintenance of normal blood pressure
They are a source of thiamin (vitamin B1), which helps with the release of energy from foods, aids normal psychological function and contributes to normal heart function
Potatoes also make a contribution to vitamin C, vitamin B6 and folate intakes in diets of adults in the UK Get more information about potatoes here https://www.lovepotatoes.co.uk/health/health-and-nutrition/.
How to cook baked potatoes
1. The first step is to pick the right potato. What type of potatoes are best for jacket potatoes? Floury, fluffy varieties are best for jacket potatoes and yield the soft fluffy results. These include:
Maris Piper
King Edward
Desiree
Vivaldi
Elfe
Marfona
You can also simply look for packages marked 'baking potatoes'.
2. Prepare your potatoes. Wash thoroughly with water (don't scrub though, as this can easily rub off the skin!). Then prick the potatoes with a fork. Why do you prick baked potatoes before baking? So they don't explode from trapped steam while they're cooking.
3. While they're baking, prepare your toppings. With a well-baked potato, you can enjoy it simply – we love them with a knob of butter, low fat spread, a dollop of natural yogurt or sour cream melting into the fluffy white folds. But you can also pair it with just about anything – hearty chilli, tuna and spring onions, bacon and cheese, fresh greens, even Asian slaw! https://www.lovepotatoes.co.uk/recipes/asian-slaw-baked-potato/
4. Adapt it to your needs. Jacket potatoes make fantastic warming midday meals, supper for one, filling family dinners and so much more. They are gluten-free and depending on your toppings can be vegetarian or vegan. Plus, you can cook jacket potatoes for the entire family and let everyone top theirs individually – we find it's a great way to turn leftovers into a full meal.
The 5 best methods for cooking the perfect jacket potato
1. How to make jacket potatoes with the crispiest skin (in the oven)
For super-crispy skin, we learned this method from Annie Murchie, a caterer in the Cotswolds and co-author of A Treat in Store. (She's also Jennifer's mother-in-law.) Here's how to make jacket potatoes in the oven…and an answer to that age-old question: How long do jacket potatoes take to cook in the oven?
Put directly on oven rack and bake it in the oven at 180°C / 160°C fan / gas mark 4 about 45 minutes, until a metal skewer goes into it smoothly and it feels soft. Then turn the heat up to 200°C for an additional 10-15 minutes to crisp the skin. (Keep an eye on it – it can quickly go super crispy/dry – but once you know the timings in your oven, the jacket potatoes will be perfect every time.)
For even crispier skin: Moisten the skin before cooking (or simply pat dry a little less than usual with paper towels after you wash them) and sprinkle or roll in salt. This not only crisps but seasons the potato!
And here's a cook's tip: To make things quicker, Annie doesn't even bother with preheating. 'I tend to put my potatoes in before I turn the oven on,' she reveals. 'That's mainly because I'm trying to get ahead. I always have people to feed.' Sound familiar?
2. How to make the fastest jacket potato (in the microwave)
Microwaving a baked potato is a quick and easy method. Wash, pat dry and pierce several times with a fork as usual, then place the potato on a microwave-safe plate. Drying it thoroughly to ensure it doesn't steam too much in the microwave.
Use the baked potato setting or microwave on the full setting for 3 ½ minutes, turn over then microwave for another 3 ½ minutes in an 800-watt microwave (if necessary, adjust the time depending on your microwave's wattage). If the potato is not tender when poked with a skewer or squeezed, do additional time in 1-minute increments until it is. Let rest for 2 minutes before cutting it open and loading up with your favourite toppings.
How to get crispy skin with a microwaved jacket potato
Have your oven heated to 220°C / 200°C fan / gas mark 7 and pop your microwaved potato in for 10 to 15 minutes to crisp it up.
3. How to make the most outdoorsy jacket potato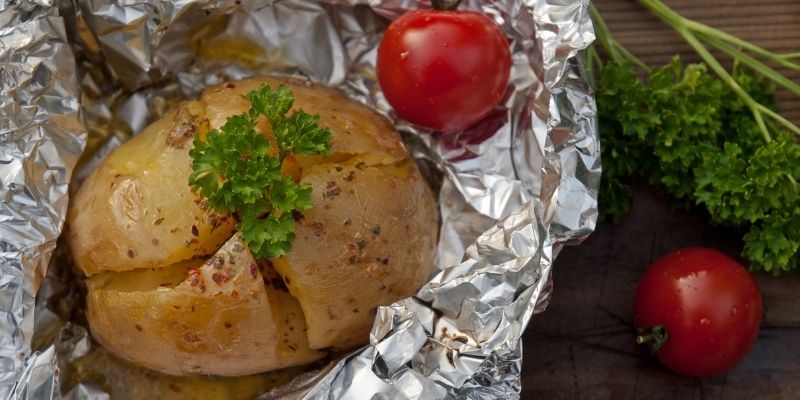 Baking a potato on the BBQ, on an open fire or in a bonfire is the ultimate in outdoorsy eating. While experts don't recommend baking a potato in foil to cook it in the oven (they say it results in a wet skin and less-than-ideal interior), when cooking directly over a fire, foil protects the skin from burning. You can use a charcoal or gas BBQ or put directly into the fire.
To cook a potato on a BBQ or on a bonfire, wrap each potato (pricked with fork) individually in foil so it's entirely covered. Place on the BBQ or in the fire for 40-45 minutes, rotating every 15 minutes or so. They're done when a metal skewer goes in and comes out clean. Be careful removing from the fire as the foil will be hot!
Want crispy skin? Coat in a neutral oil (sunflower or rapeseed) and roll in salt before wrapping in foil.
4. How to make an Air Fryer baked potato
Using an Air Fryer is another easy method for creating perfect jacket potatoes. You don't have to preheat your oven and it's an energy efficient method of cooking.
Prepare your potato, coating with a bit of oil (rapeseed, sunflower or avocado), place into the Air Fryer basket and set the Air Fryer to 200C for 30 minutes. If skin is browned, then use tongs to turn over and continue cooking for another 30 minutes. Check with a skewer and add more time if needed.
When they are done, allow them to cool for 5 minutes or so before taking them out.
To make your potatoes even more flavourful, season the skin with sea salt flakes, ground black pepper, dried spices such as garlic, onion, smoked paprika, chilli – whatever you like! You can make it even more low-calorie by using an oil spray.
5. The most convenient method: aka cooking frozen baked potatoes
Longing for jacket potatoes but really short on time? Frozen baked potatoes give you the ease of microwaving a fully baked potato. Pick these up in the frozen aisle and keep them in the freezer. So how do you cook a frozen jacket potato? You microwave for as little as 5 minutes depending on your microwave and number of potatoes you're cooking. Leave to stand for 2 minutes before eating. How's that for convenient?
Get tasty ideas for jacket potato toppings on the LovePotatoes.com site.
This post is part of the #JacketPotatoHacks Campaign, a paid activity with AHDB Potatoes.
More easy potato recipes and ideas on BritMums
50 inspiring recipe ideas for Maris Piper potatoes
Best roasted potato recipe: Crunch sage and polenta potatoes
Hot lunch ideas: 6 easy jacket potato recipes
---
About
BritMums is the UK's original collective of lifestyle bloggers and digital influencers, fueling the country's most influential social content. We lead the online conversation with members who are parent social influencers creating content on topics ranging from food, parenting, travel, politics, style and more.