BritMum's baking aficionado Jenny Walters presents her mouthwatering round-up of the tastiest festive bakes. There's everything from traditional Christmas cakes and mince pies to yule logs and bundt cakes.
Hello and a big welcome to this month's Baking Round-up. My name is Jenny Walters, I blog over at Apply To Face Blog and I am a fervent eater/feeder. In fact it is all I can do to NOT overfeed my family. The better I get at baking the harder I find it to stop. It is just such damn fun and so stress reducing to bake delicious things and then watch people enjoy them. I literally bake my cares away. Give me a School Cake Sale and I am a pig in you know what.
So, of course, the theme for this month is Christmas bakes. A subject so wide and expansive it makes my brain boggle as well as rejoice. Just where do you begin with all that Christmas baking promises? It is the season of gorgeous gluttony and one that has a bake or ten for each magical moment in the advent calendar. No pressure…..
It is easy to feel overwhelmed with all the Christmas shenanigans. I have two young children and all the Elf expectations alone are enough to make me want to go back to bed very drunk. Already they are hyperactively excited for what hilarious antics he will come up with this time…..I'm so over it already. Kill the Elf.
Traditional favourites
So I tend to stick to traditional baking in order that I don't go around weeping and wearing the same clothes all month. What I mean by traditional baking is baking the same thing every year. Over December I bake a Christmas Cake, Cinnamon Bundt Cake which is my alternative Christmas Cake, Sticky Ginger Cake, an old fashioned favourite just as my mother used to bake and my absolute favourite Cinnamon Rolls. I make these either as a standard bake or as these stupendous and Christmas moment stopping Cheats Danish Cinnamon Rolls. All of these recipes are simple even the Danish Cinnamon Rolls (the secret is in the word cheats) so I manage to remain almost calm about the catering or at least the baking anyways. Throw in the odd pre bought vol-au-vent and I'm virtually horizontal…..or on the Baileys.
When I put my call out to fellow bloggers for their Christmas contributions I could have done with a P.A to sort through them all. Christmas obviously brings out the bakes across the board like no other star spangled occasion.
So with out much further ado shall we begin? Stay close it will be very easy to get lost among the mince pies or bundt cakes and look out for the Christmas Meringue Cookies, I lost at least ten minutes just staring…….
Christmas cakes for all tastes
Only Crumbs Remain has her Easy Retro Christmas Cake to kick us off. As the name suggests it is an easy recipe requiring no advanced fruit soaking and topped with marzipan and royal icing. Decorate with your best retro holly and cut your first fabulous fruity slice.
Here is my own Easy Christmas Cake. Another simmering recipe. I have pimped it to suit my families tastes but you can do the same to suit yours. Dial the zestiness up or down or soak with a different tipple. I love that it can be as personal as Santa's list.
We have a vegan Christmas Cake for you from Cook Veggielicious. Mandy says that this dairy free and eggless Christmas cake is perfect for any festive celebration. It certainly looks the part.
We also have a gluten free one too. Boozy and delicious this cake is a real corker. Made a month or so in advance I can just imagine how fabulous it tastes. I'm loving her Santa.
We even have some Low syn Mini Christmas Cakes from Basement Bakehouse. They're low syn but still pack all the punch and flavour of a traditional Christmas cake…including the booze!
And I'm loving these Christmas Cake Muffins from Easy Peasy Foodie. The flavour of Christmas Cake in a speedy muffin. What a great idea.
Alternative Christmas bakes
I thought I would include some alternative Christmas Cakes too. I have my Cinnamon Bundt Cake which I love as much as my fruit cake and wouldn't be without. A plain but delicious buttery cake full of cinnamon spices, not to mention syrup. So lush you have to lick the plate.
I would love to try this Black Forest Christmas Bundt Cake from Sew White.Com. It's made with delicious cherry yoghurt and chocolate chips. Can you flipping imagine?
Tin and Thyme has another boozy offering for us. This time it is a Fig Almond Cake with Whisky. This light Christmas or New Year fruit cake is made with almonds and figs soaked in a cheeky dram or three of whisky.
I fell in love with these dark Mini Chocolate Peppermint Bundts (gluten free) from From The Larder. Light gluten-free chocolate sponges infused with peppermint. Crowned with a white chocolate peppermint ganache and frosted with crushed candy canes. Squeal….
Yummy yule logs
Christmas wouldn't be Christmas without a Yule Log either. A chocolate Swiss Roll traditionally iced with chocolate buttercream. Recipes Made Easy has a stunner for you with her version of a Yule Log.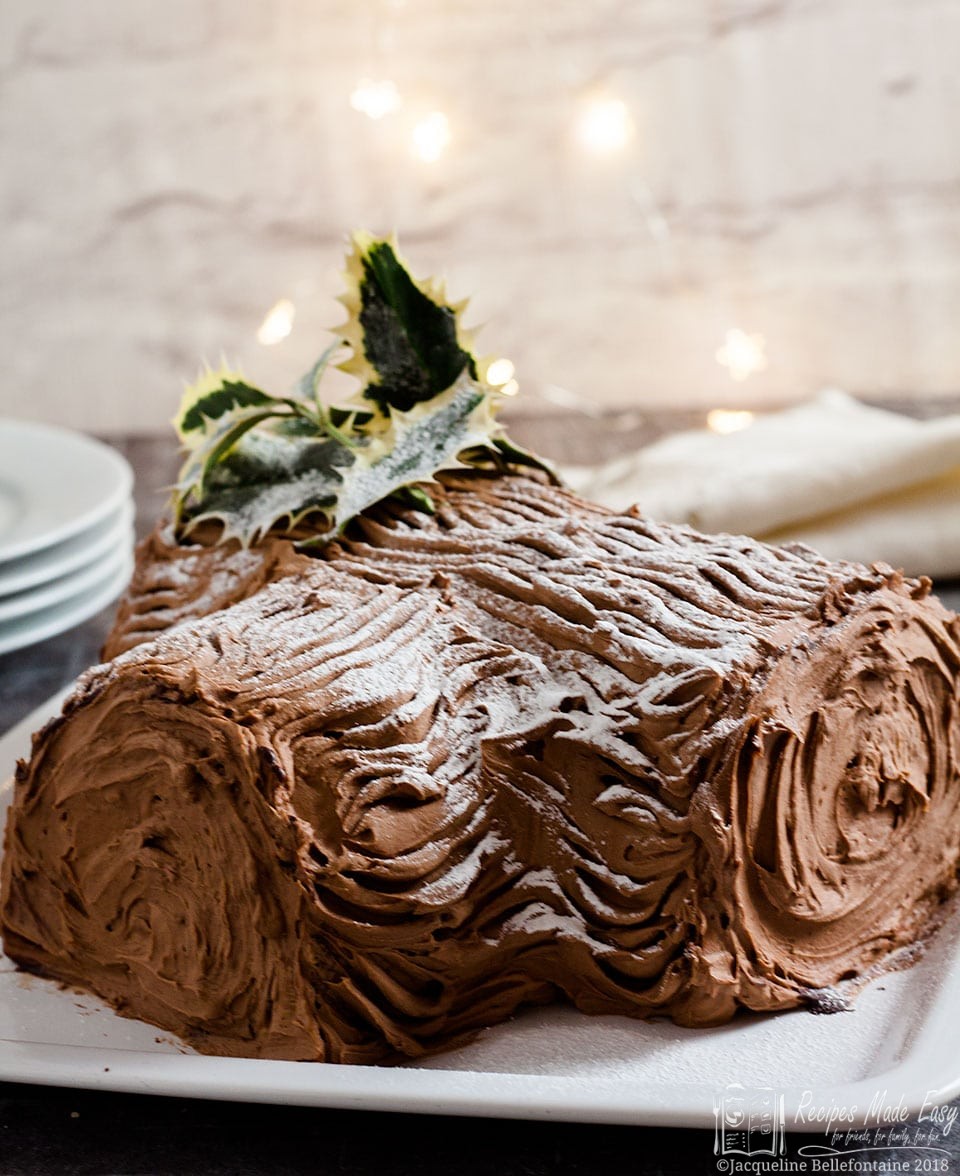 The Baking Explorer has her Chocolate Yule log here. She makes at least three every year so you know this recipe has got to be good. I've so got to make one now.
I love the sound of this Gingerbread Roulade Cake from Crumbs and Corkscrews. A moist, light chocolate roll cake, filled with a gingerbread liqueur spiced creamy filling gives a delicious twist on a traditional yule log. Another one that I am going to be thinking about for a month…
Ginger winners
I have my popular Ginger Cake to bring to the ginger party. An old fashioned Sticky Ginger Cake just like my mother used to make. I love to bake it and send her round a sticky slice.
Supergolden Bakes has this Easy Ginger Cake. A perfect tray bake to feed a Christmas crowd easily. It is super simple to make and can be whipped up in five minutes flat. A brilliant recipe to have up your elf sleeve.
Basement Bakehouse has our tubby backs again with this Gingerbread Low Syn Sticky Gingerbread. So you can still enjoy holiday treats without adding to the inevitable sense of holiday guilt that hits post-Christmas.
Marvelous mince pies
And now onto Mince Pies. Glorious, buttery pastry with sweet and rich mincemeat inside. I can't get enough and love to bake them with the kids at home. This Easy Mince Pies recipe from Searching For Spice is ideal for just that occasion.
Jo's Kitchen Larder has an almond take on this delicious situation with her Almond Mince Pies. These are melt in the mouth as well as being buttery and short. The almond pastry is a genius touch.
Another Low Syn recipe from Basement Bakehouse with these Low Syn Filo Pastry Mince Pies to help you stay on plan this Christmas.
The best festive biscuits
Christmas Biscuits are one of my favourite ways to entertain the children and I have a wealth of recipes for you. Something Sweet Something Savoury starts us off with these Easy Iced Gingerbread Biscuits. She made these with her boys when they were little every year. Absolutely beautiful.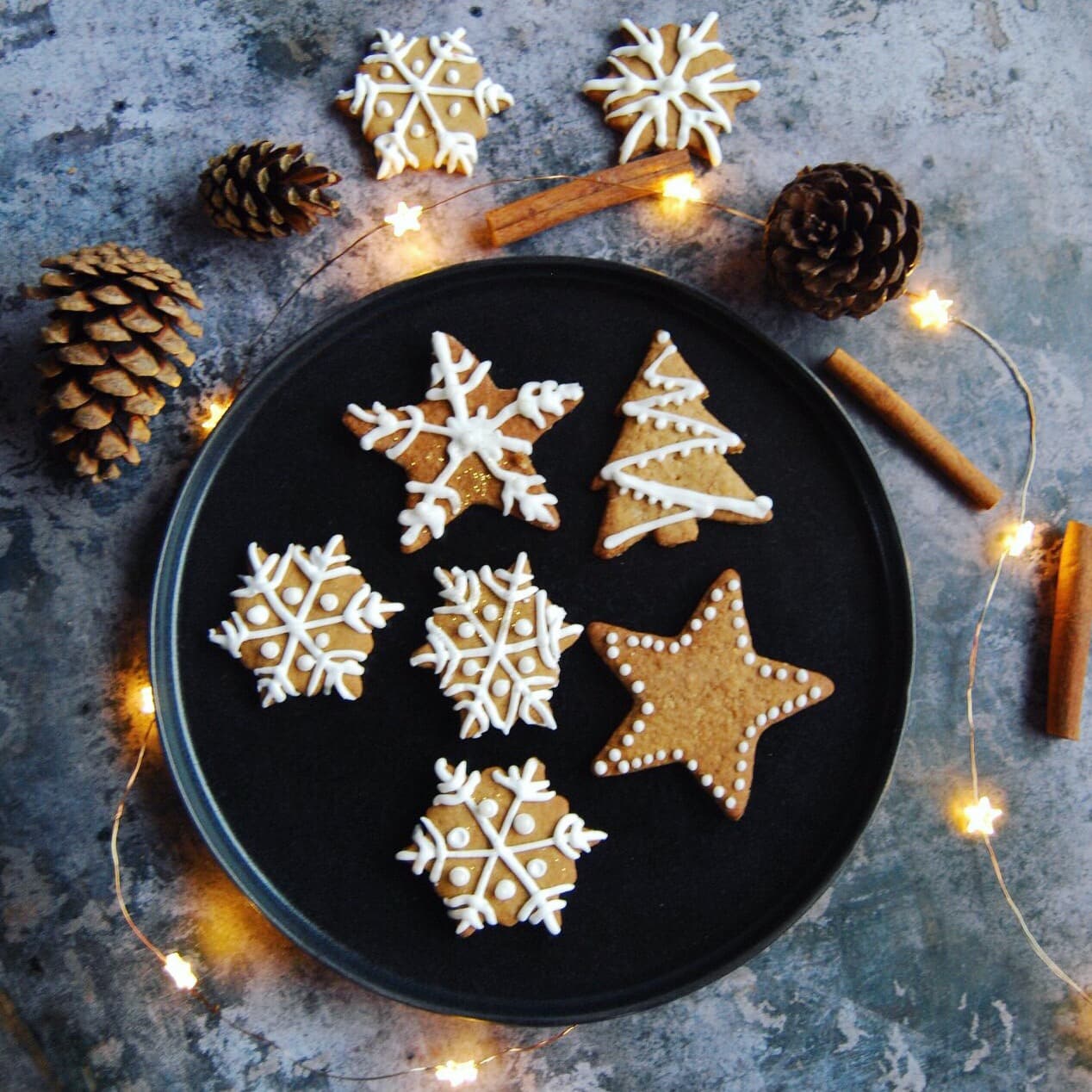 Cooking With My Kids has these Easy Christmas Sugar Cookies. Another perfect recipe to bake with children. In fact it is centered around doing so. About as child friendly as it gets.
I love these brilliant Gingerbread Reindeer Cookies from Crumbs and Corkscrews. Upside down gingerbread men cleverly decorated to produce the cutest reindeer. A real fun recipe.
Jo's Kitchen Larder has her Easy Chocolate Gingerbread Biscuits, Warmly spiced with a touch of cocoa. Delicious.
Lost In Food has these delicious spiced Christmas Cookies. They were a regular bake in Michelle's house when she was growing up. Michelle tends to bake half the batch and then freeze the other half. Again a great idea to get ahead at this busy time.
Fab Food 4 All shares her recipe for Crispy Clementine Cookies. A recipe that she has been baking all her life and one that is a real tradition in her home. In fact her story about how much they have integrated themselves into her family's Christmases made me quite emotional. Just lovely.
Tin And Thyme has her clever Christmas Butter Biscuits. They look super festive and great fun to make.
An alternative Christmas Biscuit are these Lebkuchen from Searching For Spice, they are the perfect Christmas treat. These delicious spiced German cookies are delicious as a snack or even as an edible Christmas present!
Or these Italian Ricciarelli Biscuits from Easy Peasy Lemon Squeezy. Chewy, sticky and yummy. A real alternative to Mince Pies.
Or even these incredible Christmas Tree Meringues from Crumbs and Corkscrews. How flipping pretty are these?
I absolutely have to end with a Gingerbread House and this one is a corker. A Gluten Free Gingerbread House from Gluten Free Alchemist. We all see the Gingerbread House kits in the shops but how many of you have tried making your own? I tried making my own for the first time last year and it was much easier than I had imagined, actually easier than a bought kit. So give it a go and make it a future tradition at your house.
Thank you so much for stopping by. I would love to hear about your own Christmas bakes or let me know below how you have got on baking any of the above. I love a hairy chinwag. But most of all enjoy your Christmas baking whatever you choose to bake or not to bake.
Homepage images courtesy of Sew White.com, Crumbs and Corkscrews and Something Sweet Something Savoury.
More Christmas recipes
Jenny is a busy mum of two, passionate home cook and compulsive feeder. Blogging at Apply To Face Blog keeps her obsession with simple but delicious recipes sated. She is never happier than with plenty of sticky buns in the oven. A true champion of comfort food, easy entertaining and good times for all, even the cook. When there are no more mouths left to feed or sponges to slice, you can find her knee deep in cookery books and hormones.