January is typically the healthiest month of the year with everyone trying to eat wisely and lose weight after the excesses of the festive season. BritMum's bakeaholic Jenny Walters at Apply To Face Blog has no such aspirations but reveals how you can still get your bake on and stay relatively diet conscious in this month's healthier baking round-up.
I am a fervent eater/feeder. In fact it is all I can do to NOT overfeed my family. The better I get at baking the harder I find it to stop. It is just such damn fun and so stress reducing to bake delicious things and then watch people enjoy them. I literally bake my cares away. Give me a School Cake Sale and I am a pig in you know what.
No doubt we have all eaten our own body weight in Quality Street and puff pastry over the festive season and are ready for a breather. For a lot of people it is all about the "New Year, New Me" ethos. I remain gloriously unswayed in my gluttony but I aim to remain topical and bring the most desired recipes to your screens.
To be truthful I have learnt a lot writing this post and am feeling suitably inspired to try out some of these fabulous healthier bakes just alongside some of my usual recipes. Frankly I have been surprised with the wealth of healthy ingredients out there. Once you have them in your kitchen it is amazing what diverse and delicious treats can be created.
Being a bit of a comfort food baker the only baking recipe I have on my website that is approaching healthy is my Date and Chocolate Cookies. Outstandingly delicious and light on the sugar, they are a huge hit with my children. I often make them without the chocolate too.
Flapjacks, Brownies and Bars
Talking of Dates we have these Date and Banana Oaty Bars with no sugar from Searching For Spice. They are perfect if you're looking for healthy homemade recipes for after school snacks. With no added sugar and just naturally sweetened by the dates and banana they are a tasty alternative to traditional sugar-laden flapjacks.
Jo's Kitchen Larder brings us her Healthy Banana Flapjacks. These are wholesome family snacks, refined sugar free and full of natural sweetness. Quick & easy to make these are perfect treats for kids & adult lunchboxes or even as breakfast on the go! I love how you still get the squidge of a flapjack without the calories.
Cooking With My Kids has her delicious looking Fruity Honey Flapjacks. They are a bit healthier than some as they include sultanas and apricots but you could substitute any other dried fruit, nuts or seeds that you like. Helen has also removed all the refined sugar and just used honey, which makes them a great snack if you're trying to avoid too much sugar.
Feast Glorious Feast has these brilliant and delicious Cocoa Orange Date Bars, a Nakd copycat which are naturally gluten and dairy free.
These Chocolate Cherry Energy Bars are positively rammed full of healthy ingredients. Farmersgirl Kitchen tells us that these moist beauties are an easy to make, healthy cereal bar that is perfect for breakfast or any time of the day. They look fudgily delicious.
Our final flapjack is this wonderful Cashew Nut Butter Brownie recipe from Tin and Thyme. Choclette has a real passion for healthy bakes and she says" Well I know it's very hard to make brownies healthy, but bear with me. I've done my best to make these cashew nut butter brownies as healthy as possible whilst still retaining their essential sweet fudgy brownieness. I think I've done it."
Cakes
Moving onto the cake section I was surprised to see such a expansive collection. We have some very talented bloggers out there readers.
To kick us off is Easy Peasy Lemon Squeezy and her Vegan Chocolate Cake. She is emphatic in her praise. " I have to tell you (real & honest) it's amazing!! And the icing? Just incredible – made from avocados?!" I have always wanted to try avocado chocolate icing everyone always raves about it.
Jacqui from Recipes Made Easy has this High Fibre Raspberry Yoghurt Cake. If you think all high fibre cakes are stodgy and heavy, think again. This cake has a delicious, light, moist, crumbly texture. No one will know that it has more fibre than a regular sponge cake making it a much healthier choice.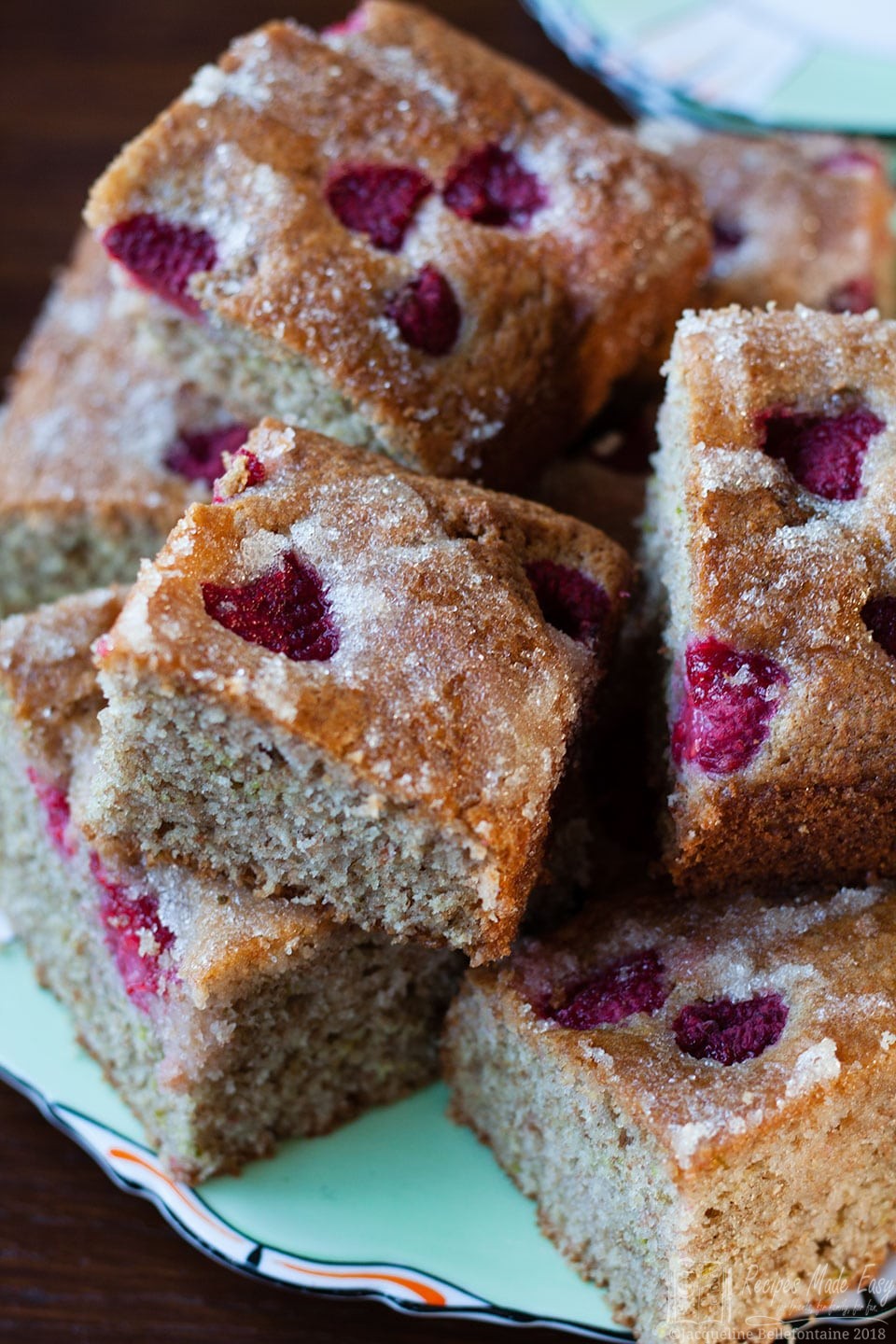 Next is this Sugar Free Date and Apple Cake from Searching For Spice. A rich and sticky date and apple cake recipe with no added sugar. This cake is perfect as a mid-morning snack and makes a healthy dessert too.
Here is another Banana Loaf but this time with Dates and Walnuts too. Another great recipe from Easy Peasy Lemon Squeezy. Delicious, moist and reasonably healthy.
Fab Food 4 All has this amazing Easy Ginger Avocado Cake. Packed with nutrients and fibre from the avocados and wholemeal spelt flour this avocado cake is almost in the realms of health food.
I have saved this one for last simply because I think it encapsulates what most of us are looking for in an all round healthy bake. A hugely popular recipe for Crumbs and Corkscrews this Super Simple All Bran Fruit Loaf is packed full of fruit and fibre.
Muffins
Another popular healthy bake and a great snack or lunch box filler is the Muffin. Again I was sent so many fantastic recipes full of wonderful and worthy ingredients.
Starting us off with a couple of savoury recipes is Gluten Free Alchemist with her Gluten Free Pizza Muffins. I am actually baking these tomorrow for my children as I just love the sound of them and I know my children will too. Kate says " Without a doubt, they are perfect picnic and packed lunch fodder (and may be exactly what you need to get some healthy stuff into the kids at lunch time). But they also make welcome party food (for kids and adults alike) and an equally welcome healthy snack.
Kate also has these original sounding gluten free Spiced Sweet Potato Breakfast Muffins. Sweet potato is full of goodness… a great source of fibre and of vitamins and minerals. But these breakfast muffins are nutritious too for the ground almonds and fibre rich flours.
These Easy Raspberry Baked Oats Muffins from Crumbs and Corkscrews would also be great for breakfast. Make ahead and you're ready for the week. And they're Slimming World friendly too. Perfect.
Jo's Kitchen Larder has another banana treat for us. Her Healthy Banana Muffins are a perfect breakfast on the go or as a wholesome snack. Quick and easy to make, moist & delicious!
I am loving the sound of these Vegan Peanut Butter Banana Muffins from Tin and Thyme. Not only are these muffins super delicious, but they're made with wholemeal spelt flour and are vegan too.
Casa Costello has some delicious Reduced Sugar Blueberry Muffins here. A perfect way to enjoy a sweet treat without the sugar fix.
Desserts
And now to the big finale…Desserts. Yes it is possible to do decadent without the calories. Go home or go hard….
This Sweet Potato Chocolate Truffle Torte from From The Larder is so decadently delicious you won't believe that it is dairy-free, flourless and refined sugar-free. A fabulous and clever recipe that will bring a whole new chocolate spin to your table.
If you are looking for a very easy, tasty and surprisingly low calorie dessert while on a diet then you have come to the right place! This Slimming World Quark Cheesecake from Supergolden Bakes will satisfy your sweet tooth without ruining your good intentions!
You can even enjoy Donuts albeit baked not fried. These genius Carrot Cake Baked Donuts from The Baking Explorer are dairy and egg free, and they could be nut free too if you use soya milk rather than almond milk and don't add the chopped pecans on top. No one needs to miss out on yummy donuts!
I hope you have enjoyed our healthier ride and do let me know if you baked any of the recipes included. I love a good old hairy chinwag. Please leave your comments below. Very much looking forward to next time on the Baking Round-up. Same time, same place. See you then.
You might also like:
Give your diet a healthy kick-start in 2020
How to adopt a plant based diet
Jenny is a busy mum of two, passionate home cook and compulsive feeder. Blogging at Apply To Face Blog keeps her obsession with simple but delicious recipes sated. She is never happier than with plenty of sticky buns in the oven. A true champion of comfort food, easy entertaining and good times for all, even the cook. When there are no more mouths left to feed or sponges to slice, you can find her knee deep in cookery books and hormones.