A very warm and springlike welcome to all of you. I hope the promise of new beginnings all round has you cheered and ready for some Easter baking inspiration. Quite frankly I just can't wait to sprinkle those cinnamon spices and load up those chocolate eggs. Each year as Easter comes around I find myself positively heady/hysterical with all the wonderful possibilities afforded to us bakers. I hope this post can offer you some solace as I narrow down somewhat the quite gargantuan selection of incredible Easter bakes that are out there.
Traditional Bakes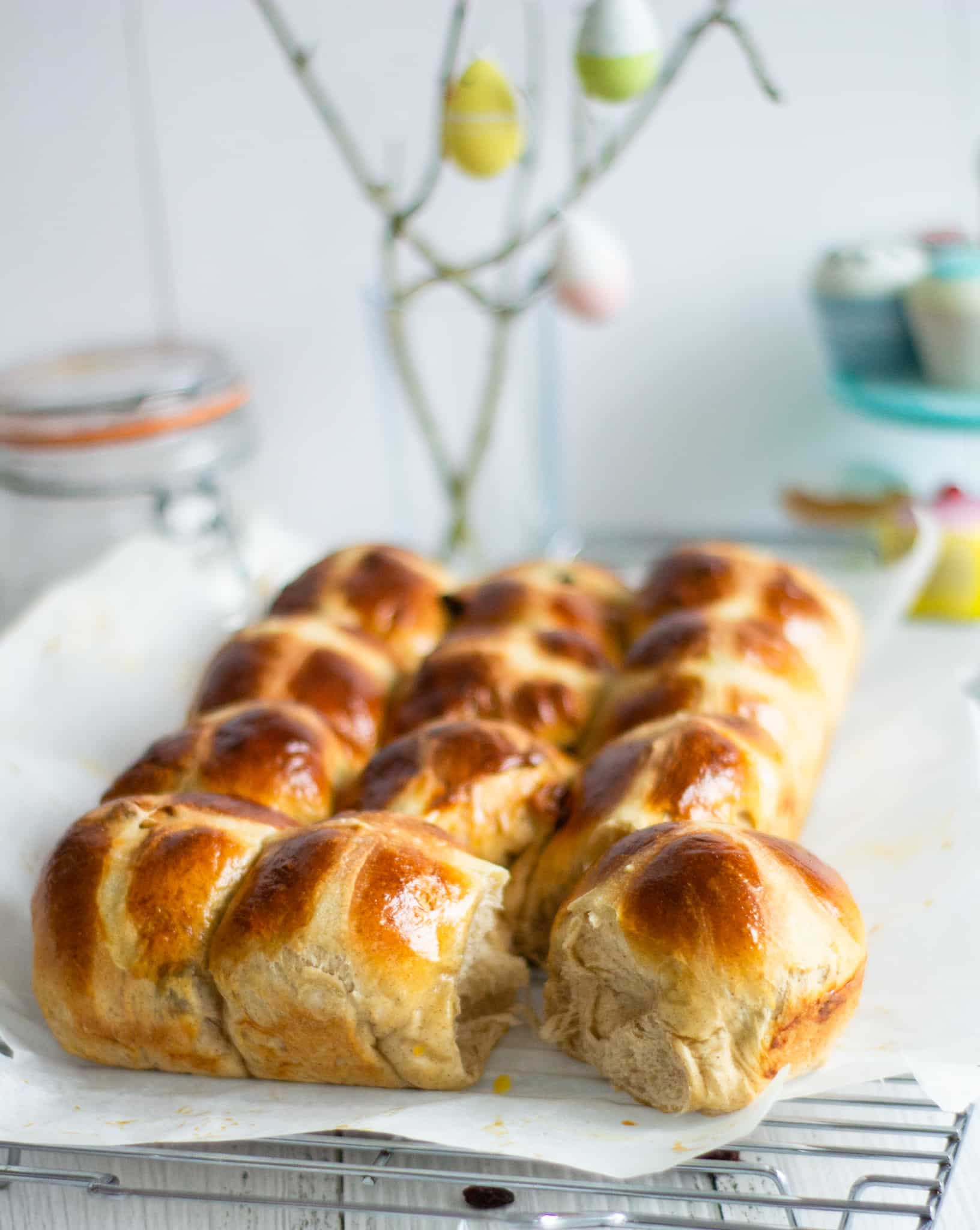 Hot cross bun recipes
These Hot Cross Buns of mine are INCREDIBLE. The smell alone of them baking is enough to drive me crazy. Served warm and slathered in proper butter, my life is almost complete.
Recipes Made Easy has her Sour Dough Hot Cross Buns version here. I bet they are off the scale in the delicious stakes. I adore sour dough sweet bakes. They have something about the decadent all over them. Gluten Free Alchemist has a brilliant Gluten Free Hot Cross Buns recipe. She always impresses me with her attention to detail and no stone left unturned attitude to creating her outstanding gluten free recipes. Something Sweet Something Savoury has Chocolate Orange Hot Cross Buns for your extreme pleasure. What a genius twist.
Easy Simnel Cake recipes for Easter
Simnel Cake is one of the most traditional Easter bakes and Supergoldenbakes has her fantastic Simnel Cake recipe for this elegant light fruit cake topped and decorated with marzipan. Choclette from Tin and Thyme has her take on Simnel Cake with added chocolate and a layer of squidgy marzipan in the middle! Go hard or go home. Easy Peasy Foodie has a more casual recipe here with a Easy Simnel Cake Traybake. Perfect for cake sales or entertaining for an Easter crowd. Another simpler recipe is from Lavender & Lovage with Easy Simnel Cake as a loaf bake. Although it is just as pretty as the standard round cake. Karen has decorated it with dainty spring flowers and pastel chocolate eggs.
Feast Glorious Feast has a beautiful alternative with her Lemon & White Chocolate "Simnel Cake". A moist lemon drizzle cake is topped with white chocolate ganache and Lindt white chocolate truffles for a super easy, great looking and tasty alternative!
Chocolate Easter Bakes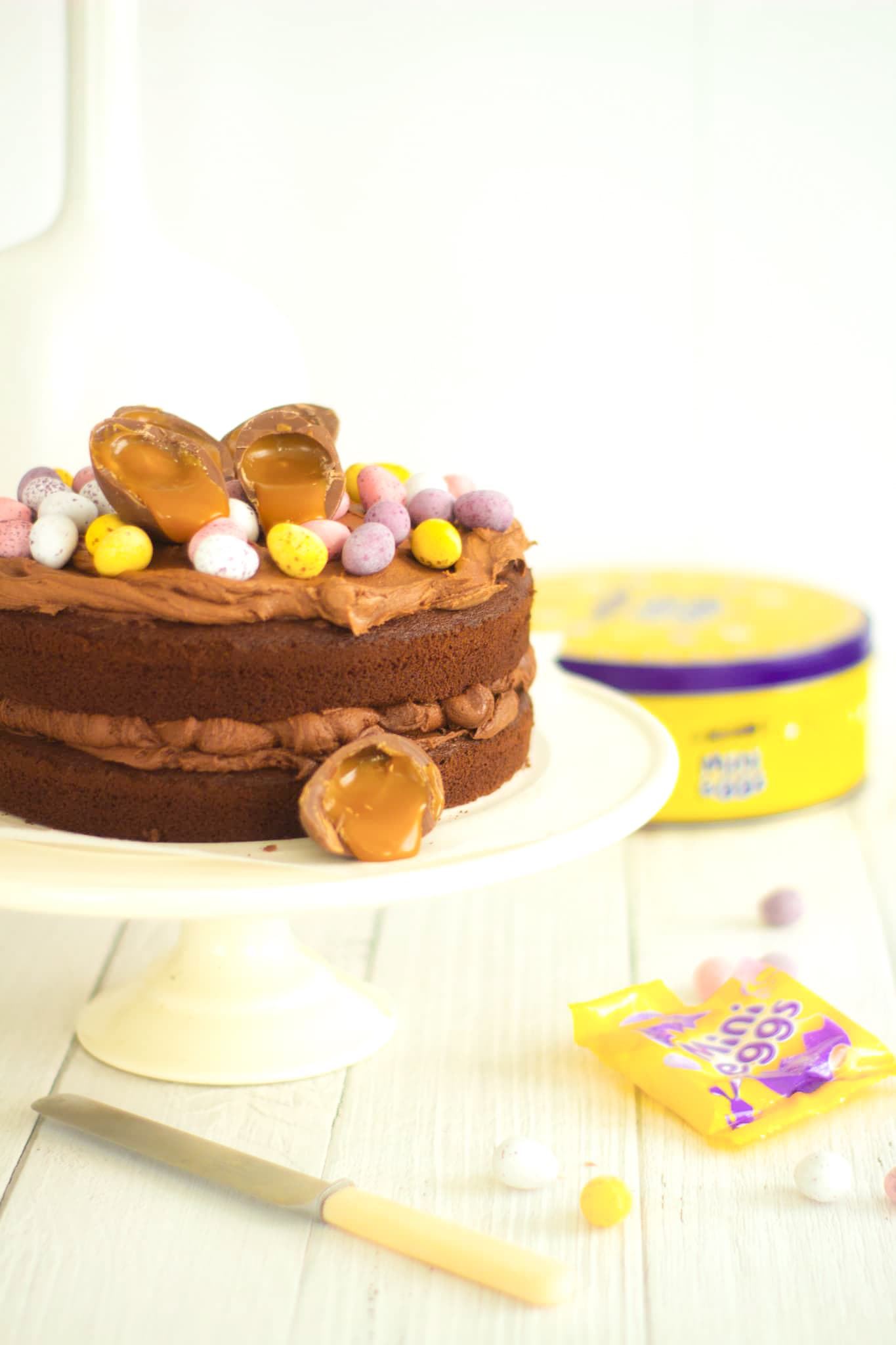 Talking of go hard or go home we come to the Chocolate Bakes and we are completely spoilt for choice. Oh yes please, Louise. My Chocolate Easter Cake is all about the "More is More" vibe with a chocolate cake, chocolate icing and a whole basketful of chocolate eggs squished on top. Gluten Free Alchemist comes up trumps again with another showstopper, Golden Egg Cake. Gluten Free chocolate sponge sandwiched together with vanilla buttercream and topped with a chocolate ganache and golden chocolate eggs. It looks incredible. Easy Peasy Lemon Squeezy uses galaxy golden eggs too in this decadent Chocolate Tart.
Easter bakes with Cadbury Creme Eggs
Cadbury Creme Eggs are not just a staple to eat straight from the Easter basket; they also are amazing to use in a variety of easy Easter bakes, from cookies to browns to cakes.
I just had to include these Cadbury Creme Egg Chocolate Brownie Cookies from Something Sweet Something Savoury. Flipping heck! Curly's Cooking gives us these Double Chocolate Mini Egg Cookies. Deliciously decadent cookies crammed with mini eggs.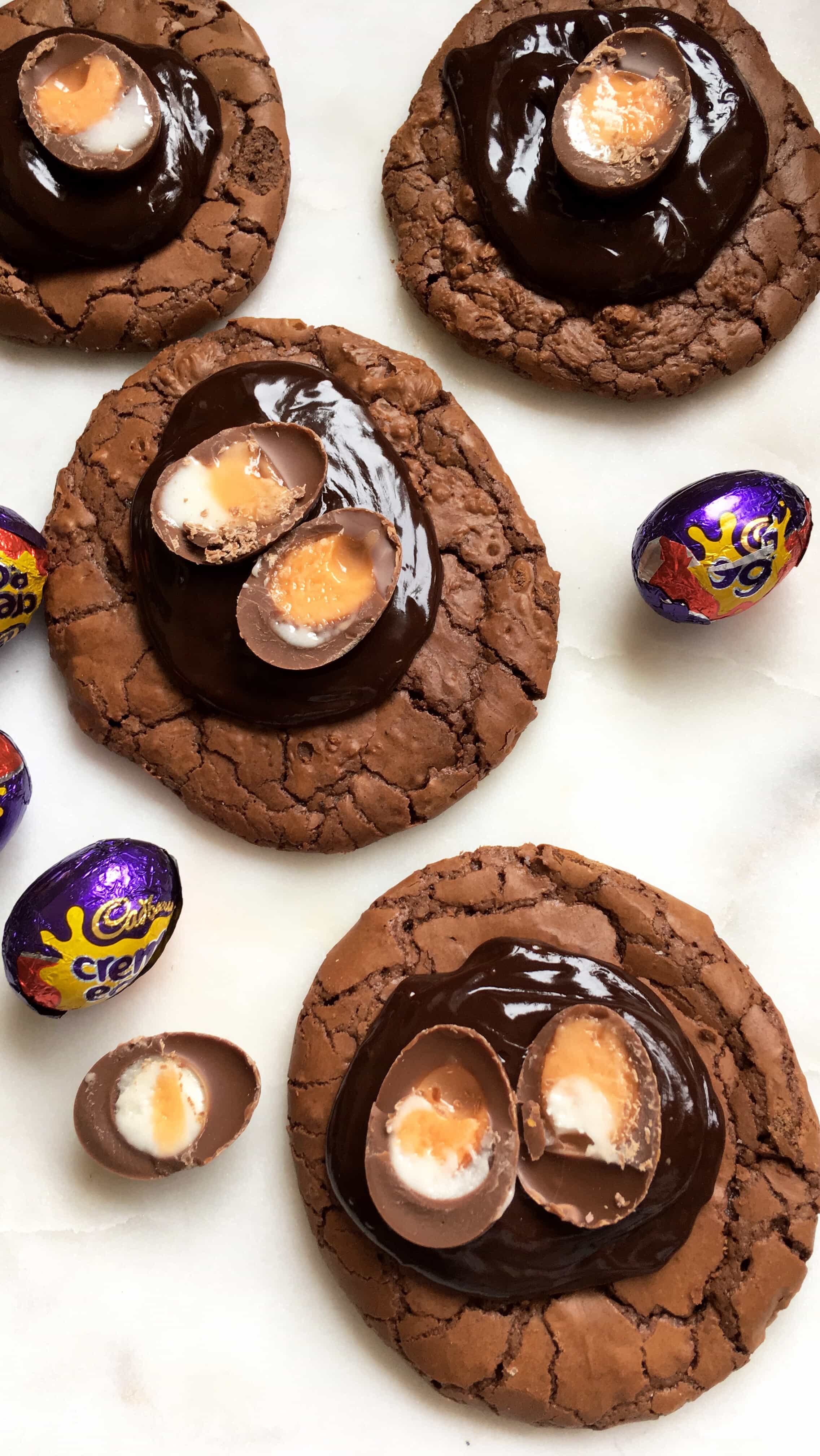 Of course a great bake to make with the kids are Easter Brownies. Fab Food 4 All has these gorgeous Creme Egg Chocolate Brownies for us. They are filled with molten creme egg, dark and milk chocolate then topped with mini creme eggs no less!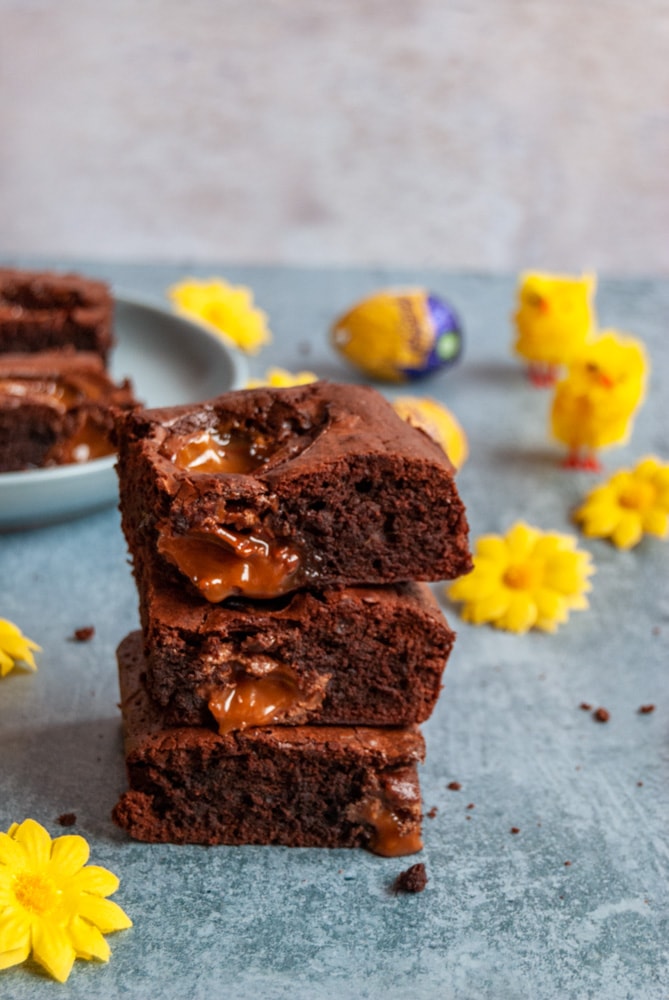 Something Sweet Something Savoury has her Cadbury Caramel Egg Brownies version. Gooey, rich chocolate brownies with a Cadbury caramel egg centre! I feel faint….Donna Dundas has another really decadent bake with this Creme Egg Millionaires Shortbread. My children love this stuff and I can only imagine what it tastes like when topped with creme eggs!
Easter Bakes: Biscuits and Cookies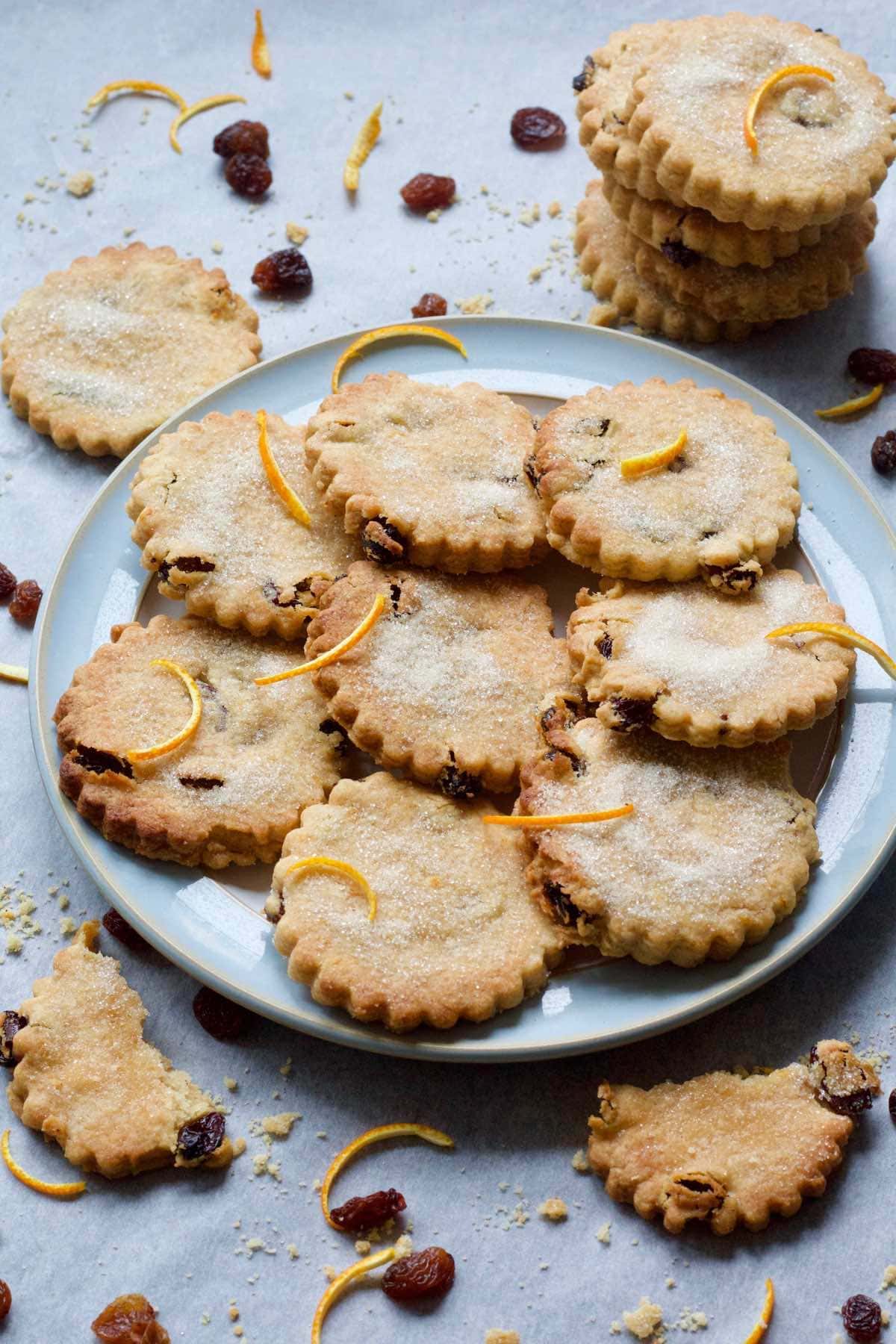 Moving onto biscuits and cookies we begin with Jo's Kitchen Larder Easter Biscuits (egg free, dairy free and vegan). These are perfect to make with kids & are a great alternative to all things chocolate! Crunchy, gently spiced & full of raisins or currants, they're melt in the mouth delicious. Farmersgirl Kitchen has her inspired Hot Cross Shortbread Cookies which are shortbread cookies with all the citrus and spicy flavours of a Hot Cross Bun. Cooking With My Kids has a fun recipe for getting kids busy in the kitchen this Easter with these Easter Cookies. Simple but delicious.
Easter Cupcakes
I fell in love with these Easter Bunny Butt Cupcakes from Only Crumbs Remain at first butt sight. They are absolutely brilliant and cute as can be. Her Easter Chick Cupcakes are very special too. Perfect if you're feeling creative.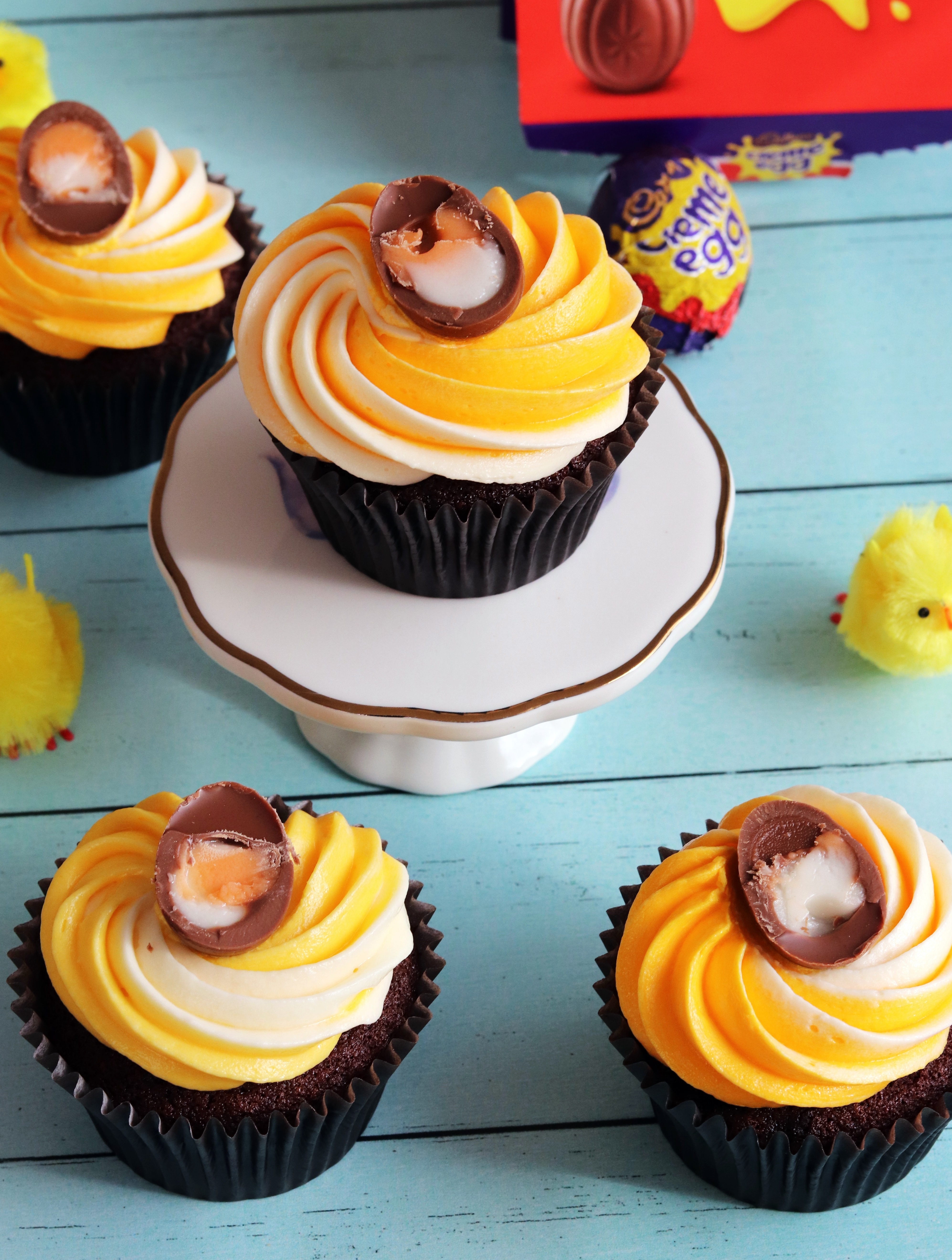 Curly's Cooking has these stunning Chocolate Creme Egg Cupcakes for us. They have clever colour coordinated icing and a mini creme egg inside so they're sure to get some squeals. Gluten Free Alchemist has a gluten free alternative with her Creme Egg Cupcakes. Searching For Spice has a more conservative Chocolate and Banana Creme Egg Muffin recipe here. For those that are looking to at least keep a small ode to health in the baking mix.
Well that's all folks. I hope you've had as much fun as I have and I hope you have an Easter baking ball. I know I can't wait to get my oven gloves on.
More great Easter ideas for families
Pin it for later!
Jenny is a busy mum of two, passionate home cook and compulsive feeder. Blogging at Apply To Face Blog keeps her obsession with simple but delicious recipes sated. She is never happier than with plenty of sticky buns in the oven. A true champion of comfort food, easy entertaining and good times for all, even the cook. When there are no more mouths left to feed or sponges to slice, you can find her knee deep in cookery books and hormones.