Celebrate February 14 with these Valentine bakes that are fun, easy-to-make and heart-warming! We've got cookies, cupcake ideas, vegan Valentines baking and heart-shaped treats you and your children will love.
BritMums master baker Jenny Walters at Apply To Face Blog shares the love with a plethora of biscuits, cakes and other bakes to keep your sweetheart sweet this Valentine's Day.
Why Valentine's Day is a great excuse to bake
Valentine's Day is rooted in history and has been celebrated for hundreds of years. In fact it originated in AD 496 to honour Saint Valentine who was executed on the 14th of February. Not quite the fluffy, warm story you would associate on a day typically dedicated to celebrating all that is love, I know. But bake me some pink, heart shaped biscuits and I'll ignore all the grisly details..
A day of celebration of all that is love is of course a great excuse to bake your socks off. So many fabulous recipes to bring to the loved up plate. This year my daughter is old enough to enjoy all the baking fun of the day and I genuinely can't wait to share it with her. She is ALL about her crushes at the minute. Such fun. However my son is still of the age to make retching sounds and throw himself violently around whenever he sees kissing on the T.V or in real life. He will be more than prepared to eat the results of our Valentines baking but he would rather eat a Brussel Sprout than be involved in cutting out love hearts or making meringue kisses. One day, I tell him, one day….
So back to the romantic matter at hand. I absolutely loved going through the Valentine's recipes offered up to me from my fellow bloggers. Such creativity and fun from so many. The cheesier the better.
Heart-shaped cookies and biscuits
Searching For Spice starts us off with these perfect Strawberry Heart Shortbread Biscuits. Crisp crumbly strawberry heart shortbread biscuits made with freeze-dried strawberries. These devilishly cute biscuits are perfect as a snack or as a Valentine's gift. Corina advises that shortbread is lovely at any time of year but make strawberry flavoured shortbread and it's the perfect romantic bake. Apart from chocolate, berries have to be the next most popular Valentine's ingredient. This fruity flavoured shortbread is very hard to resist!
Cooking With My Kids has two heart themed biscuit recipes for us. Super cute and super easy. I can't wait to give them a try. Her Valentine's Hidden Heart Biscuits are so clever with a beautiful red heart shaped centre surrounded with buttery biscuit and her Jammy Heart Biscuits are equally cute and delicious. Who can help falling hard for a jammy dodger?
We have some delicious sounding Chocolate Orange Love Heart Biscuits from Fab Food 4 All. These were a huge hit with all of her family. A match made in heaven if ever I heard one.
Next we have some very beautiful Iced Sweetheart Biscuits from Recipes Made Easy. She shows us how we can make the most delicate of patterns quite easily with the minimum amount of technical ability. Perfect as a love gift and sure to bag you a Sweetheart.
We even have a cheesy version with Curly's Cooking Chilli Cheese Hearts. Cat says that these are the perfect treat for that special someone in your life that is more in love with cheese than chocolate. They also have a subtle chilli kick because everyone needs a little spice! You gotta love a bad boy.
I too have a Shortbread Cookies dough recipe over at Apply To Face Blog that I will be using to cut out heart shapes from for the big day. So simple and fun to bake with the kids. I'm not sure mine will be as pretty though.
Valentine's cupcakes
Still staying with Curly's Cooking and the heart theme are these squealingly cute Hidden Heart Valentine Cupcakes from Curly's Cooking. These vanilla frosted cupcakes are quite simple to do and brilliantly effective to express your love.
The Baking Explorer has two stunning cupcake recipes just full of the Valentine spirit. Perfect desserts or gifts for the big day. Her Red Velvet Cupcakes and Chocolate and Raspberry Truffle Cupcakes are just dreamy. Who could resist your charms with these.
One of the greatest love questions of all time is do you love someone enough to give them your last Rolo? These decadent Last Rolo Hot Chocolate Cookies from Crumbs & Corkscrews will help you decide. Or will you keep these Rolo hot chocolate cookies all for yourself? Soft chewy cookies, with a gooey marshmallow and a melty chocolate caramel topping them off. The best hot chocolate you'll ever have!
Chocaholics delight: Chocolate Valentine's desserts
As chocolate is the food of love, I thought these Fruit and Nut Chocolate Truffles from Gluturama would be perfect for a Valentine's gift. Really simple to put together and the most wonderful flavour combo.
Choclette from Tin and Thyme reckons that her Triple Chocolate Cake – a Voluptuous Valentine Special is perfect for Valentine's Day or any other occasion when you want to show how much you care for the ones you love (if not perhaps their waistlines). It looks pretty special to me too. I love the idea of all that chocolate.
Gluten-free and vegan Valentine recipes
Gluten Free Alchemist brings us our last heart shaped offering and it is a real show stopper. These brilliant The Best Maple Gluten Free Shortbread are a real treat for any day of the year. A decadent, perfectly textured gluten free shortbread biscuit recipe made with Maple syrup for a deep caramel richness. Melt in the mouth and easy to make, this shortbread is also refined sugar free, optional vegan and dairy free, and egg free. Being a real shortbread lover this shortbread sounds pretty special to me.
I thought I would end with a few Valentine's Desserts. My own Easy White Chocolate and Raspberry No Bake Cheesecake is absolutely incredible and just beautiful. A great dessert to share with your loved one. It is creamy with white chocolate and sweet cream cheese, studded with raspberries and supported deliciously by a custard cream biscuit base. The whole thing just works baby.
The Baking Explorer has Vegan Strawberry Mousse with Pistachio Shortbread for your lovers table. Freeze dried strawberries are blended with silken tofu and topped with coconut cream, served with a side of shortbread it's bound to earn you a snog.
The final show stopper is one of my absolute faves. Chocolate and Raspberry Pavlova. It is is a dessert of joy, love and calm. Crispy, chewy, soft, chocolatey meringue studded with dark chocolate chunks and topped with a thick blanket of cream and raspberries. The sort of thing you want to eat when you've been chucked too. Plenty more fish in the sea.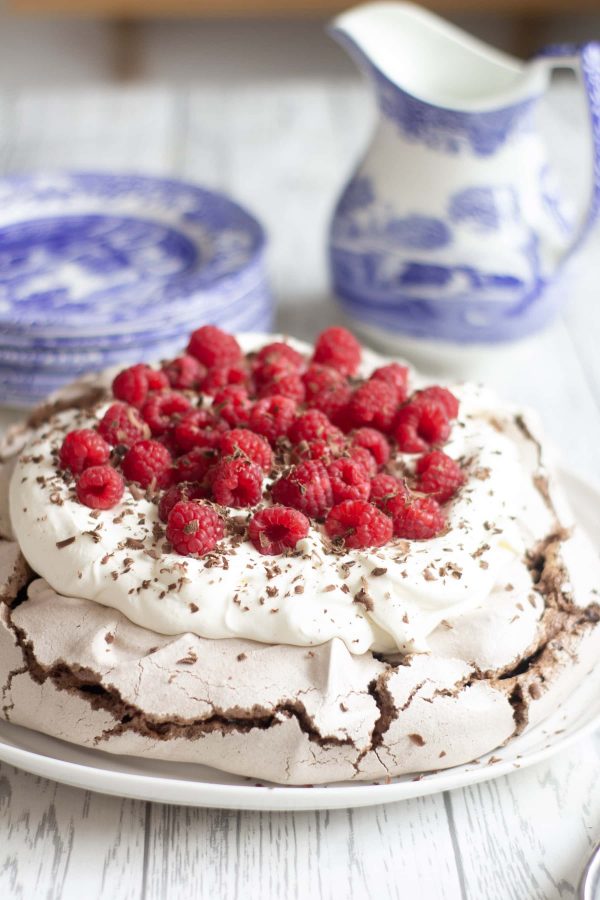 I hope you have enjoyed our Valentine's ride and do let me know if you baked any of the recipes included. I love a good old chinwag.
More Valentine's Day recipes and celebration ideas
Tasty and easy Valentine's Day recipes for breakfast, lunch and dinner
40 tips for Valentine's Day from the UK's top parent influencers
Even more Valentine's desserts
Pin it for later!
Jenny is a busy mum of two, passionate home cook and compulsive feeder. Blogging at Apply To Face Blog keeps her obsession with simple but delicious recipes sated. She is never happier than with plenty of sticky buns in the oven. A true champion of comfort food, easy entertaining and good times for all, even the cook. When there are no more mouths left to feed or sponges to slice, you can find her knee deep in cookery books and hormones.