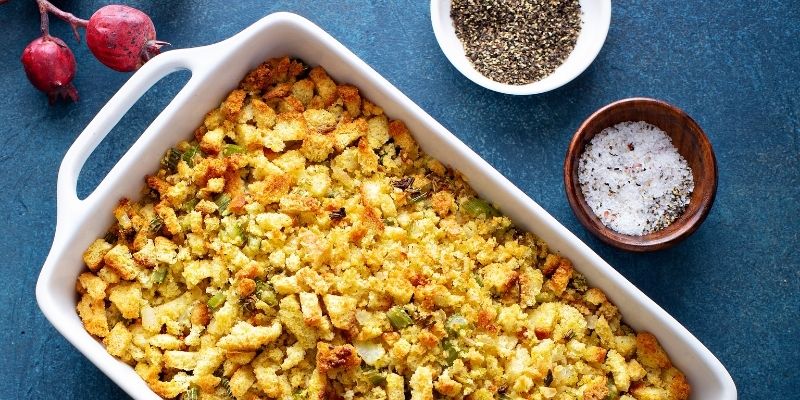 Paxo stuffing is a staple of many a family meal, including Sunday roasts and of course Christmas dinner. It's great on its own, but there are also loads of things you can add to Paxo to suit your family. (These Paxo stuffing hacks are great with any boxed stuffing brand.) You can also add them in while making dishes with leftover to adjust the taste and add variety!
Hack your Paxo stuffing with these 15 tasty ideas. These are all simple ingredients you can add to Paxo that give it a twist on the straight-out-of-the-box experience. The great thing about zhuzhing up your Paxo? They'll rave about your brilliance in the kitchen and you'll have saved loads of time while turning out a delicious stuffing tailored to your meal.
Why tweak your Paxo stuffing?
We'll be honest: We enjoy Paxo stuffing just as it comes. But adding things to Paxo when you make it with turkey, chicken, lamb, beef, sandwiches means you can build on the flavour to create delicious meals your family with enjoy in a load of different ways! (Imagine our hack with bacon, below, served with eggs for breakfast!) These recipes work whether you're preparing the stuffing in the oven, in the microwave, in a slow cooker or even in an air fryer.
Below, we share the add-in ingredients for Paxo stuffing we love and how to integrate them into the recipe. You can mix and match these add-ins to create even more flavourful stuffing. (Also check out the sage and onion stuffing using Paxo from famed chef Marco Pierre White. He also describes how to stuff a bird with it.)
1. Dried cranberries
Chop up dried cranberries to add a bit of sweetness. Make the stuffing as directed, then mix in the cranberries before forming into balls or putting into a dish and baking. We use just a handful but add as many as you like — kids particularly like this one!
2. Sausage
Brown your favourite sausage and mix it through before baking. A chorizo or spicy sausage will give zing while a more traditional cumberland or simple pork sausage will give a hearty taste. Blot the sausage meat before stirring into the stuffing mix to reduce the amount of oil it adds.
3. Apple
You can add chopped apple to stuffing in two ways — chop finely and saute it in a bit of butter until softened then mix in the stuffing before cooking — this adds sweetness with a softer texture. For a bit more crunch, add it raw before baking. We like green apples but choose your favourite. The key is to make sure the chunks are too big.
4. Celery
We love celery at BritMums — we think of it as the magic ingredient for so many dishes. It adds a depth of flavour and body and just some sort of deliciousness we can't put our finger on. You can add celery with practically any of the ingredients listed here to improve the flavour. Slice finely and cook with the stuffing.
5. Slivered almonds
For a bit of crunch, spread the prepared Paxo into a baking dish and scatter slivered almonds over the top before baking. If the almonds brown before the full cooking time, cover with foil. These provide a lovely sophisticated look and a tender crunch.
6. Crispy fried onions
These provide a lovely crunch. Sprinkle them on stuffing spread in a pan or you can roll stuffing balls in them before baking.
7. Shallots
Onions are always great with stuffing, but the slightly more subtle flavour of shallots really wins us over. Finely chop 2-3 shallots, soften in olive oil or butter then stir in before cooking the stuffing.
8. Lemon juice/rind
Give stuffing a citrus lift by squeezing the juice of half a lemon into the mix before baking, or grate some of the rind in, mix and bake. Alternatively, squeezing some juice over your stuffing just before serving gives it a nice lemony bite. You can even plate it small wedges of lemon for a do-it-yourself flair. For an alternative to the tartness of lemon, try the same method with orange.
9. Chestnuts
These meaty nuts add body — our advice is use sparingly so they complement without overwhelming the stuffing's flavour. Chop the nuts so they the pieces are still big enough to add some crunch and stir through before baking.
10. Apricots and pecans
We have to list these two ingredients together because they are a masterclass in flavour. Chop a handful of dried apricots along with a similar amount of pecans and stir through before baking. The apricots give a rich sweet flavour and the pecans add a lively crunch. Together they hint at the flavours of the American South.
11. Leeks
Leeks are one of our favourite alliums. Wash well, being sure to get all the grit from between the layers, slice finely and soften in a pan with butter or olive oil. Mix in and bake with the mixture.
12. Bacon or lardons
Many might ask, 'What isn't made better with bacon?' Crisp up bacon or lardons then stir through and bake. Another option would be to bake the stuffing in a dish with bacon or lardons scattered on top or do mini stuffing balls rolled in very finely chopped bits. Yum.
13. Parmesan
This might strike you as having a particular Italian flair — the fruity, nutty flavour of parmesan is the perfect compliment to the herby taste of Paxo. We like to mix it through before baking but it can also be nice as a 'crust' on top of the stuffing. Just watch out for over-browning while cooking.
14. Fresh herbs
This Paxo stuffing hack might sound almost too easy, but that's the beauty of it! Throwing in a handful of chopped fresh parsley, thyme, tarragon, oregano, chives or sage (or a combination) packs a huge flavour punch. We tend to stick to soft herbs we can simply throw in and cook as normal rather than ones like rosemary which can be tougher.
15. Fried sage
In addition to adding chopped sage directly into the mixture, show some visual appeal by frying fresh sage leaves and either placing one leaf atop the stuffing on each plate or crumbling over it before serving. The bluish silvery leaves look gorgeous after frying and are absolutely delicious. The best bit about this hack: frying fresh sage leaves takes only a few seconds, so while they'll think you're brilliant, you can honestly say, 'Oh, it was nothing….'
Got any Paxo stuffing hacks of your own? Leave a comment and share your knowledge!
More great stuffing & turkey recipes & hacks
Marco Pierre White's sage & onion stuffing (pssst — it uses Paxo stuffing)
Leftover turkey recipe: Turkey, ham and sprout pot pie
Roast turkey with citrus & herb butter
About
BritMums is the UK's original collective of lifestyle bloggers and digital influencers, fueling the country's most influential social content. We lead the online conversation with members who are parent social influencers creating content on topics ranging from food, parenting, travel, politics, style and more.