Another warm welcome to this months Baking Round-up. I have chosen a subject close to my heart and more importantly my family's bellies. Traybakes are often at the very heart of a family's kitchen and that is most definitely true for mine. Generally easy to whip up they are what I make week in, week out. Perfect for P.T.A bakes, fetes, weekend treats and everything in between. I am a complete and unashamed Traybake devotee. They suit my throw it in a bowl and simply give it a twizzle or three approach to baking. I am no great technical baker and in fact I make it my mission to seek out recipes that deliver no matter how hammy the fist is. It really is all in the recipe you follow. So slowly I have collected a handful of reliable and moment stopping Traybakes recipes. I am proud and passionate about them although a little wary of saying that I completely and hopelessly lost my heart to a Flapjack recipe in 2016 but tis true. Perhaps now you understand how fundamentally deep I am in. To be honest it's not that bad a place to be, although my trousers are a little tight.
Of course there is much to be said for a tall and stately wedge of Victoria Sponge or Chocolate Fudge (an awful lot) but I adore the whole homely vibe of a square slice or a rectangle of rocky road. These are the recipes that I make in my pyjamas with yesterdays make up still on my face, amidst the chaos of my kitchen.
So it all started for me here with my The Best Flapjacks Ever recipe. Inspired by Smitten Kitchen's ratio of butter, sugar and syrup I went through literally a ton of oats to get just what I was looking for…..a flapjack of deep sugar/caramel chewiness with crisp edges and a texture so satisfying all your troubles disappear for that amazing mouthful moment.
My next core traybake is this fantabulous Brownies recipe. When I first started baking these my children were ickle and favoured a 50/50 milk/dark chocolate ratio and I always felt a little hard done by when it came to munching on them myself. But now they are older they like them full turbo and I rejoice a little every time. They are monumental Brownies and another recipe that I bake week in week out…thank goodness.
I also love to bake these very special Nutella Brownies. If you are a Nutella lover then these are for you with my traybake love….you're so welcome.
It seems my fondness for baking in a tray is shared by my fellow bloggers. Tinned Tomatoes gives us her delicious and speedy Malteser Fudge Brownies. Simple to make and fun to decorate with the children. This recipe is baked with her son on the first day of school as a family tradition, such a wonderful way to make memories with our children.
Where there is Ying there is Yang and Jo's Kitchen Larder gives us her wonderful White Chocolate Blondies with added Mini Eggs. They look seriously, seriously good and one to get the kids involved with. She advises smashing up the mini eggs so most children would be in their element.
I too have a very good Blondie recipe. I was surprised at how much I liked these pale fellows. Pimp them to suit.
Jo also brings her Chocolate Banana Traybake. This is another easy and reliable recipe perfect for using up those left over bananas and whipping up in an instant. A great one for school cake sales and last minute guests.
We also have a plethora of wonderful Apple Traybakes for you. Perfect for the approaching August U.K Apple Season. First is Craft with Cartwright's Apple Maple and Cinnamon Tray Bake. An incredible cinnamon drizzle icing just lifts this traybake into another stratosphere.
Second is an Apple Cake Traybake from The Baking Explorer. Topped with a caramel icing she has the whole toffee apple vibe going on and I for one can't stop thinking about it. I know it's a while away but what a fabulous Autumn bake. A great one for Firework night.
I also have a very, very good Apple Crumble Cake and one that can double up as a warm dessert drowned in custard or cream. I love a nubbly, buttery crumble topping.
Recipes Made Easy has this Easy Apple and Cinnamon Traybake. One of my favourite ever flavour combos. A perfect everyday treat that is just made for sharing with friends.
The next gorgeous bake from Gourmet Mum can also double up as a dessert. She brings her Blackberry and Apple Crumble Cake Foraged Fruit Traybake to the Apple bonanza and what an idyllic way to involve the children in family baking too.
Curly's Cooking has a sophisticated Lemon and Thyme Drizzle Traybake with a twist. She includes some thyme leaves in her lemon sponge and then drizzles with a tangy icing.
Cooking With My Kids has this more traditional Lemon Slice and doesn't it look good? A Mary Berry tried and tested favourite. The oldies are still the goodies and I just love the icing, so pretty. Ideal for afternoon tea or a coffee morning.
Fab Food 4 All offers up her Easy Iced Lime Cake. An all in one method delivers a quick and simple cake that is a big hit with all her family.
We have a couple of great gluten-free recipes. The Bear and The Fox have this nostalgic Mama's Apfelkuchen, a German Apple Cake that is her mother's recipe and one that evokes wonderful childhood memories for her. I love it.
Then we have Craft With Cartwright's Gluten Free Raspberry and Orange Traybake. This is a wonderfully fragrant cake that again delivers as a dessert or a coffee cake. They just keep on giving these Traybakes.
We have some amazing Traybakes with almonds next. The first is The Baking Queen 74 with her Apricot and Almond Traybake. Soft and fragrant apricots nestled in an almond sponge. Wow!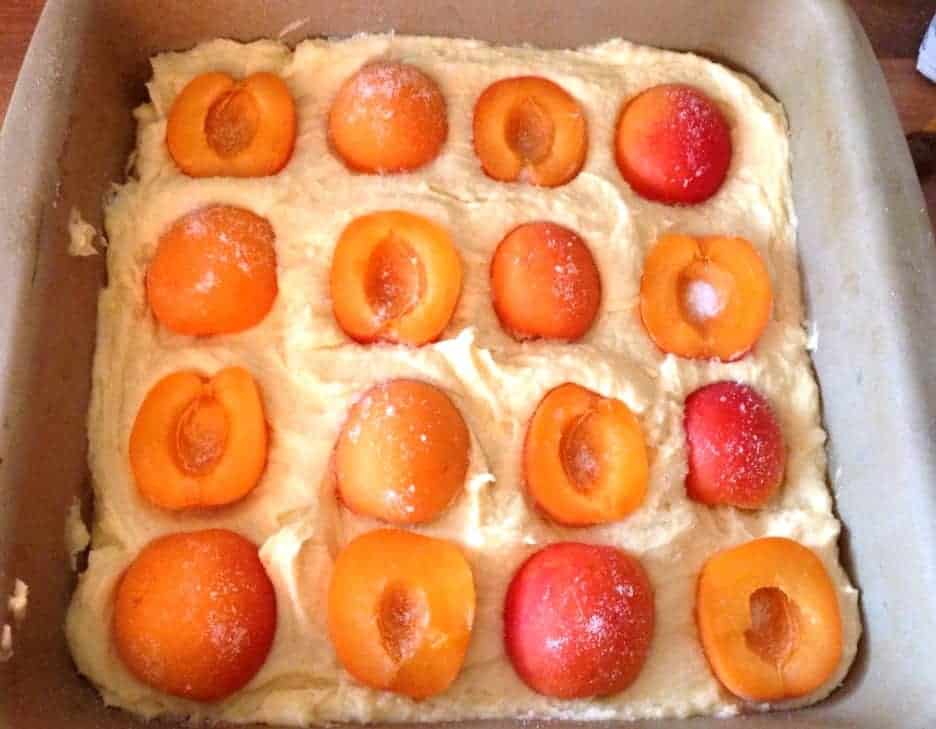 Farmersgirl Kitchen has this Plum and Almond Traybake Cake with a soft almond sponge base, studded with juicy plum halves and sprinkled with flaked almonds.
This next Traybake is a show stopper. Requiring a little more work the results are so worth it. The Proper Foodie bakes this Bakewell Tart in a rectangular tin and slices it into sticky jammy triangles. What a treat and what a recipe.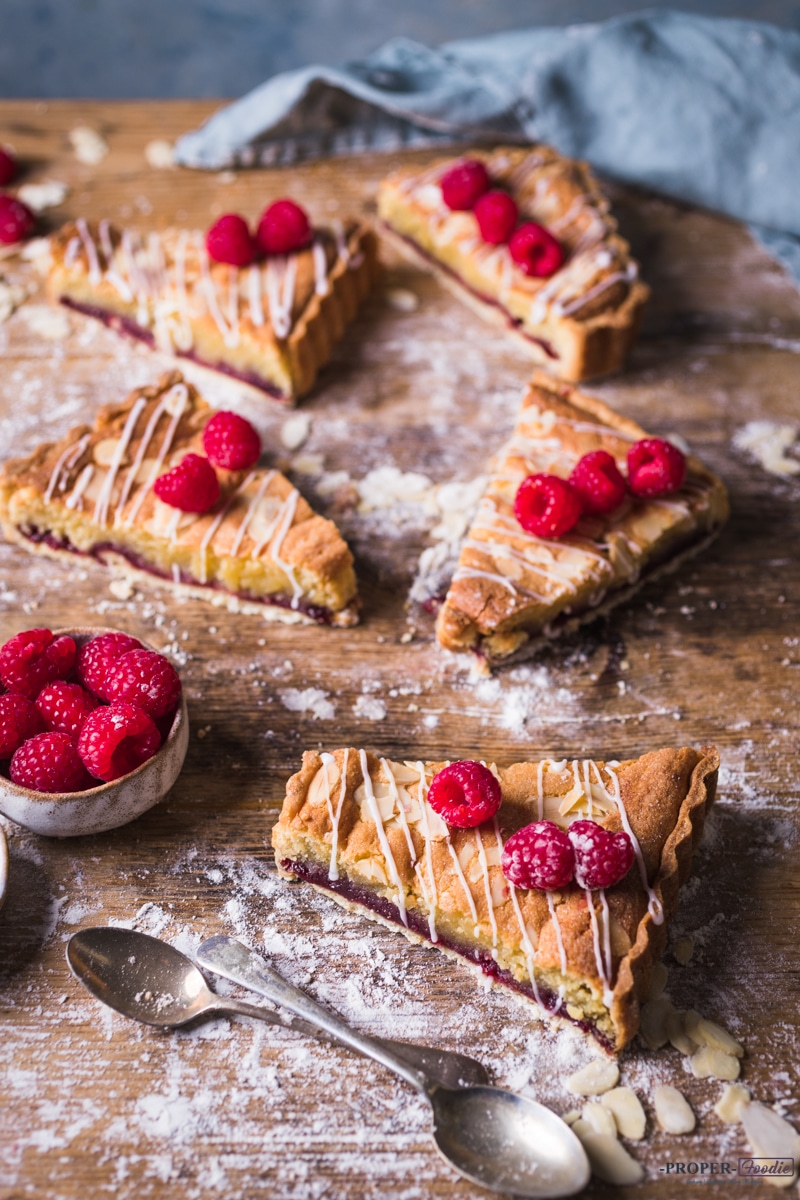 We also have for you these absolutely divine Oaty Rhubarb Cheesecake Bars from Farmersgirl Kitchen . Again a little more technique required but can you imagine how good they taste? The base is a bit like a flapjack, sweet, crisp and oaty, it's topped with a rich, smooth baked cheesecake layered with pieces of tart, roasted rhubarb with more rhubarb puree swirled on top. Wowsers!
Only Crumbs Remain has this exotic Pineapple and Coconut Traybake. Perfect for the coming (eventually) Summer and outdoor picnics.
Choclette from Tin and Thyme brings us another super delicious bake with her Caramel Chocolate Chip Bars. She melts toffees and cream to make a caramel sauce which she pours over the cake before it bakes…..goodness that sounds simply incredible. She also includes dark chocolate chips in the sponge. This is another bake that is going to call to me over the next few weeks if I don't bake it soon.
She also gives us the first of our no bake recipes. Cinnamon Coconut Chocolate Crunch a Traybake with attitude. It has less sugar than normal but it's nuttiness keeps you coming back for more. A minimal effort recipe too.
Tinned Tomatoes is second in the no bake queue with this very moreish No Bake peanut Butter & Cornflake Chocolate Tiffin. Easy to make and difficult to stay away from.
Something Sweet Something Savoury blew me away with this No Bake Mint Aero Traybake. I just wouldn't be able to stop myself eating this all to myself. If mint chocolate is your thing then you just HAVE to make it. Deadly delicious.
I hope you have enjoyed our Traybake Round-up ride and have your eye on a few to try out in your kitchen. Have lots of fun baking/no baking people and I hope your trousers don't get a little tight like mine. Please feel free to comment below. I love to hear from you and look forward to seeing you next time. I'm going in hard with Muffins.
Jenny is a busy mum of two, passionate home cook and compulsive feeder. Blogging at Apply To Face Blog keeps her obsession with simple but delicious recipes sated. She is never happier than with plenty of sticky buns in the oven. A true champion of comfort food, easy entertaining and good times for all, even the cook. When there are no more mouths left to feed or sponges to slice, you can find her knee deep in cookery books and hormones.