With the new year, comes fresh new starts and a promise to be more organised, get on top of things, and keep 'stuff' in order.  Well, for me it does anyway.
I spent the weekend gutting my study, chucking out the old, making way for the new and generally organising things so I can find them.  Tidy desk, tidy mind and all that!
So, spurred on by this, I knocked up a little memo holder, upcycled from a charity shop picture frame,  to keep all those annoying bits of paper in order.
It looks like I'm not alone in my mission to get organised.
Rainy Day Mum has made a brilliant fabric covered storage box for the kid's books, but I guess it could be used for all manner of things.  Pop on over to see how she did it.
I LOVE this idea from Domestic Goddesque.  If you have girls, you will no doubt be as irked as I am at the darned hair clips and bobbles which seem to be everywhere, and yet are nowhere to be found when you need one.
Well, here's her solution – the hairdressing caddy.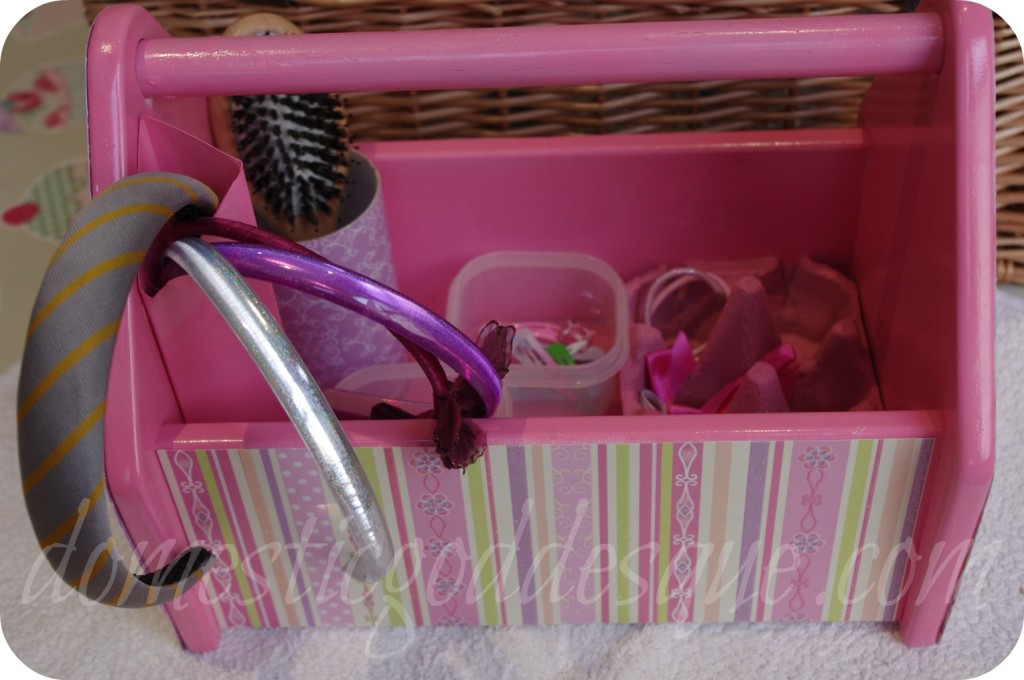 Finally (and this really is my kind of organising), the very gorgeous Lucy from Capture by Lucy has been re-arranging her mini-bar!!!  I would very happily spend a few hours on this.  Pop over to her blog for all manner of loveliness and life envy.
So how about you? Do you have any crafty plans afoot to get organised for 2013?  And just how long will those good intentions last?
If you've written any great craft posts lately, please link them up below so we can all see.
Liz Burton is a stay-at-home mum with a 4 year old daughter. She blogs at Me and My Shadow about all things pre-school related with lots of craft and bargain-hunting thrown in. An avid fan of recycling and upcycling, she can often be found in the charity shop or at a car boot sale. Check out her Magpie Monday link up for inspiring second-hand finds that don't cost the earth. You can find her on Twitter and also on Facebook